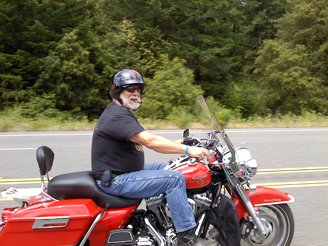 Kenneth Mark Murphy Sr. aka "Ken" or "Murph," born August 7, 1950, left us for the long ride in the sky on October 25, 2020. Ken was a strong man who fought cancer and a bad heart for many years. He is proceed by his father, Bud Raymond Murphy; mom, Eva Murphy-Crandall, and sister, Carol Kuopus-Smith.

He leaves behind his beloved sons. He was so proud of who they had become. Kenneth Mark Murphy Jr., who has lived in Montana for 20 years and is a manager for a rock and gravel company. Ken Jr. has three children — Jackson, Emma, Allie — two stepsons, Vince and Dustin, as well as his wonderful fiancée Jessica. Ken Jr. has always been active in sports and still is. Ken enjoyed giving Ken Jr advice on how to make his game better. Ken was so proud of Ken Jr. He rose above so many obstacles in his life. Ken Jr. was a manager of a tire shop for many years. He changed direction and worked briefly in North Dakota as a truck driver in the oil fields and would have the same passion for truck driving as his Dad. Later Ken Jr. would return to Montana and work for TMC, as a manager and still drive every kind of heavy equipment they had, this would give the two Ken's much to talk about.
Jason Robert Murphy, his wife, Jennifer, and their daughter, Cadence. Jason is the lead instructor/teacher at MMI in Phoenix. His wife, Jennifer, is a respiratory therapist in Phoenix. Jason traveled over the world working on custom motorcycles, they had a great bond over their love of the two-wheels.
His brother Ordell Murphy, his wife Rae Ella — both are retired, their daughters Wendy and Susanne their families. Ken's sister Carol's two daughters Laura and Jennifer, and their families.
Ken's son of the heart, Tony Schuler and his family Brandy, Kailynn and Lily. We celebrated many holidays with them. We were there when there daughter Lilly was born. She has been a delight for us. Tony is a contractor and never heisted to help Ken or take direction from Ken on all the projects. Tony remodeled our house. Ken enjoyed many wonderful dinners prepared by Brandi, especially the deserts.
Ken's buddies, John Brockway and his family, Keith & Mary Daniels and family. Both of these guys were so very special to us both. During the last few years John would have coffee with Ken after work every day. They watched many Giants games together and even traveled to a few. John always included us in his family events. In more recent times John and his son Wes would be there to help with Ken when every needed, this included some very early hours.
Keith & Mary Daniels always included us in their family events. Many good times were had, including the great gatherings at Jason Daniels' home. Ken & Keith several years ago started a hobby motor cycle shop which turned into much more than a hobby. They both worked on other peoples motorcycles, built many custom motorcycles, and won some awards, keeping many of their builds. At one time Ken owned five Harleys. This was truly a beloved obsession for him. In 2005 the crew traveled to Sturgis. In crossing the desert Ken had his Night Train pegged at 115 miles per hour. It was a great moment for him. K&K Motorsports brought much joy and pride to Ken. His passion for motorcycles was wonderful.
Ken was an avid hunter and fisherman for many years. He took great joy in doing both these activities with his sons.
Ken was born in Arcata on August 7, 1950 to Bud and Eva Murphy 9:30 at night. Ken would only know his father for eight years. After his father's death the family moved back to an apartment near the Arcata Airpor. There he would make many lifelong friends. Ken worked on the Bassgard farm during those years and developed a love for all animals and knowledge on how to take care of them. Ken attended McKinleyville High School and graduated from Arcata High in 1968. In school he was active in Football and track. After high school Ken joined the Coast Guard. When he was discharged he returned home and became a truck driver — this would be a 48-year love. Ken drove all kinds of hauls. His favorite was in the woods, hauling logs.
Over the years Ken hauled for many companies, LP for 14 years. When LP changed to independent drivers he went to work for Redwood Coast Trucking. I would personally like to thank the Mitchell family, owners of RC, they always saw the great value Ken added to their company and the last couple of years went beyond being just an employer to Ken.
A special thank-you goes out to the staff at St. Joseph Hospital for the excellent care that was given to Ken in these last few months.
Lastly, I would like to express my love for 42 years, Ken was always there to help me with any of my projects even if he did not think they were needed. He would drive me to conferences, find something to do while waiting for me to finish the day. I never worried about the house he always took care of it (with Tony's help). He loved his toys, animals, fishing, and hunting and of course the Harleys in the garage. I did not think about what was need to keep a car operating, Ken just did that. He was the shoulder I leaned on through the rough patches even with his illness. Ken was strong-willed, openly opinionated, a joker and had a great heart.
###
The obituary above was submitted on behalf of Ken Murphy's loved ones. The Lost Coast Outpost runs obituaries of Humboldt County residents at no charge. See guidelines here.