Southern Humboldt resident Ryan Anthony Tanner stands accused of murder, kidnapping, arson, burglary, carjacking and assault with a deadly weapon, among other allegations stemming from the February killing of Jason Todd Garrett, 33, near Ettersburg.
During a preliminary hearing on Thursday, a witness said Tanner forced him, Garrett and a dog at gunpoint to stand in a bathtub and cover themselves with a tarp before Tanner shot and killed both Garrett and the dog with an AK-47 rifle.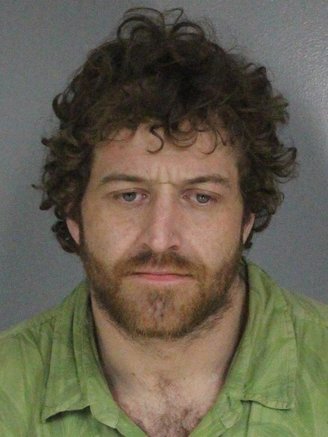 Tanner, who will turn 33 on Friday, has pleaded not guilty to all charges. Defense attorney Russell Clanton had expressed doubts about Tanner's mental competency to stand trial, but in July, Judge John Feeney ruled, following a psychiatric evaluation, that he is competent.
Appearing before Judge Feeney again today, Tanner wore an orange prison jumpsuit and face mask. With his hair cut short and hands gloved — likely as a health precaution against COVID contamination — Tanner spent much of the day taking notes by hand as the witness testified.
That witness, a man named Christopher Champagne, offered a lengthy and, at times, convoluted recounting of events leading up to and including the shooting death of Garrett.
Champagne, whose nose and mouth were covered by a black bandana tied behind his neck, testified that he knows Tanner from childhood, used to live next door and has helped him with manual labor on the cannabis-growing operation on Tanner's Ettersburg-area property. And around the time of Garrett's killing, he said, Tanner was dating Champagne's mom.
Deputy District Attorney Whitney Timm asked Champagne if he believed Tanner had been abusive toward his mom, and Champagne relied, "Yes, she had a black eye two times." Yet Champagne also described Tanner as a respected elder and "a positive role model."
"Are you scared of Ryan," Timm asked at one point. "Sometimes," Champagne said. Timm asked him if he recalled telling investigators that Tanner had shot him, to which Champagne responded that he couldn't remember for sure who shot him — he may even have shot himself. The incident happened a year-and-a-half to two years before the killing of Garrett, Champagne said, and all he remembers is waking up in a yard, bleeding. He later testified that he experiences short-term memory loss due to the traumatic brain injury he suffered from the gunshot wound.
On the day Garrett was killed, Champagne testified, Tanner and others "on the hill" were angry about a series of residential burglaries. Champagne and Tanner, driving a white truck that belonged to Tanner's dad, came across Garrett and a woman named Natalie "in distress" along the side of the road, trying to fix a broken-down panel van. A dog was with them.
Tanner confronted Garrett and Natalie, accusing them of the recent burglaries, and while the confrontation was taking place, Champagne ran to a neighbor's house, he said. When he returned, he saw Tanner brandishing an AK-47. Tanner searched the van and found stolen property belonging to him and neighbors. The woman Natalie, at some point in the confrontation, had run away.
Tanner proceeded to light the van on fire, using a "pocket torch" to ignite a blanket in the back. He then ordered Garrett at gunpoint to get in the truck and drove him to a cabin. After another confrontation, Champagne said, "Ryan got pissed off. He slit his [Garrett's] throat."
Champagne described trying to save Garrett's life by wrapping a length of cloth torn from his own shirt around Garrett's neck wound and securing it with duct tape. These efforts succeeded in saving Garrett's life, though not for long.
In an odd stretch of testimony, Champagne first said that he is still in possession of the knife used to slit Garret's throat, though immediately thereafter he said he had taken it to a neighbor's for safekeeping, and the neighbor's boyfriend threw it in a nearby spring.
Tanner refused to take Garrett to the hospital, instead taking him to a nearby house where friends and neighbors gathered and ate tacos, Champagne said. The events of the next few hours were difficult to track, based on Champagne's testimony. He offered conflicting timelines and his memories seemed to jump from one moment to others that occurred days or weeks later … or earlier. He admitted to taking bong rips and smoking meth on the night of the killing, and, returning to the night in question, he described Tanner and others running off into the woods with assault rifles after spotting "a flying white orb or a drone or something."
At some point, Natalie showed up at the house, and Garrett, who was being held against his will, "kept walking around, panting and saying 'fuck fuck fuck," Champagne said. "He was freaking out."
Following an hour-and-a-half break for lunch, Champagne resumed his testimony. Late on the night in question, he said,Tanner ordered Garrett into the bed of a truck and ordered Champagne to get into the passenger seat. He also loaded up two weapons — an AR-15 and an AK-47, Champagne said.
They drove to Tanner's dad's property and went inside a building shaped like a hexagon or an octagon. Tanner ordered Garrett to stand in the shower of a bathroom in this building and ordered Champagne to go outside and get a tarp. Champage described Garrett's position as sitting with his butt on the bottom of the tub, "knees-to-chest, holding his dog, like, kneeling down. He was scared, begging for his life."
Tanner ordered Champagne to get in the tub with Garrett and the dog and hold the tarp over all three, Champage said.
"He told me if I didn't do it he was gonna kill us," Champagne said. "Then told us he was gonna kill us anyways. I was scared for my life."
Tanner fired one shot, which somehow managed to kill both Garrett and the dog, Champagne said. Tanner then made Champagne help him with the bodies.
"We wrapped Jason in a tarp [and] dragged him out of the tub, then wrapped the dog in a shower curtain," Champagne said, describing the scene as covered in blood.
They left the dog's body next to a truck and drove Garrett's to the top of the hill. They used the truck to pull a water tank off its hilltop perch, and then Tanner forced Champagne to dig a grave.
"It was hard to dig through the roots with no energy," Champagne said. "I was thirsty, hungry. I think I was still in shock. I was in fear for my life. I was still thinking cops were around me everywhere, like, I was hallucinating from having a bad experience, I guess."
Champagne said he vomited several times that night.
"I wanted to get the fuck out of there," he said. "It's pretty fucked up to see someone you know pretty good get shot next to you, or almost with you."
After burying both the dog and Garrett, Tanner and Champagne put the water tank back in its spot, and Tanner made Champagne refill it, using a diesel pump to pull water from a nearby spring.
Champagne offered some testimony about the days following the murder, saying he was "disgusted" and "didn't want to eat or be around anybody."
On the witness stand, he sat hunched over, often running his fingers through his hair. Shortly before 3 p.m. he said, seemingly to no one in particular, "I don't feel good right now. Do I have to keep speaking?" Judge Feeney asked him to repeat himself, and he did. "I'm gonna go puke or something," he said.
Feeney had planned to end today's hearing by 3:15 p.m. anyway, so he agreed to quit 15 minutes early. The preliminary hearing will resume on Election Day, Tuesday, Nov. 3 at 9:15 a.m. Tanner has waived his right to a continuous preliminary hearing, which may stretch the case out a bit longer than usual.
###