Murder suspect Demetrius Coleman says the person who shot and killed Johnny Mack Renfro in Rio Dell was a Jamaican man named "Dread" who was driving Coleman's car while he crouched down in terror behind the driver's seat.
Today Coleman finished testifying in his own defense, denying he was the drive-by shooter who killed the 26-year-old Renfro on Monument Road on Aug. 29, 2019. Instead it was "Dread," a fellow marijuana broker who had witnessed Coleman being robbed at gunpoint earlier that day at 20/30 Park in Eureka.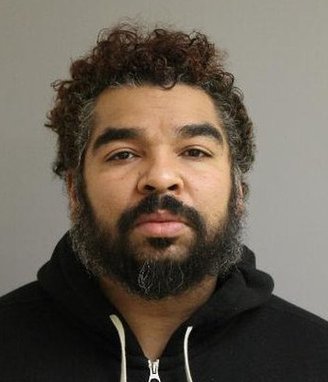 Coleman, testifying under questioning by his attorney Andrea Sullivan, said he was at the park with his fiancee Alma Ahumada-Mendoza and Eureka resident Mariah Acosta. They were there for a "play date" for Acosta and Ahumada-Mendoza's young sons.
Before they left the park, Coleman testified, he saw "my boy Dread" drive up and then walk to Coleman's car. He was looking for a marijuana sample, which Coleman provided him. Acosta and Ahumada-Mendoza were still in the park with the kids.
Dread took the sample to his vehicle and then nodded his head in approval, Coleman recalled. He took the nod to mean "He can sell my product."
Acosta and Ahumada-Mendoza then left for Walmart. Coleman was preparing to follow them in his green Honda.
"Next thing I know these trucks pull up on me," he said. He recognized one of the trucks, a white Dodge pickup, as the one used by the people who had robbed him in the Target parking lot a couple of weeks earlier.
"They bounced out on me and had guns in my face," Coleman said. "I recognized Oliver and Tragic."
Oliver pulled him out of the car and smacked him on the side of the head with a pistol and the gun went off, Coleman testified. The other men were busy taking marijuana out of his car. He said he grabbed Oliver's wrist and struggled with him. The black pistol dropped to the ground and the robbers scattered, getting into their vehicles and fleeing.
"I picked (the gun) up and I put it my car," Coleman said, "just so nobody else would try to harm nobody."
During the robbery, Coleman could hear Dread yelling "Hey! That's my weed!"
Coleman said he then drove to Walmart to meet up with Acosta and Ahumada-Mendoza. Acosta, testifying earlier as a witness for the prosecution, said Coleman followed them immediately when they left the park.
Coleman said as he was driving to Walmart, Dread contacted him by phone and said "I'm on the way. Give me that gun."
Coleman disputed Acosta, who had testified that when she and Ahumada-Mendoza came out of the store, Coleman told Ahumada-Mendoza "Follow me" and then took off southbound on Highway 101.
Coleman's version was that as he was leaving Bayshore Mall to go home, he saw Dread and a "White guy" passing by in a gold-colored Toyota Tundra pickup. Dread motioned for Coleman to pull over, which he did near the Golden Harvest restaurant on Broadway.
Dread "bounces out" of the pickup and announces he's going to drive and Coleman needed to get in the back seat. Then they headed south on the freeway. He said he questioned Dread about what was happening, and he said "I'm about to get the pounds back."
Coleman said he wanted out of the car, telling Dread "It's just weed."
During this time he was on the phone with Ahumada-Mendoza, telling her "This fool ain't letting me out, Baby. I don't know what to do."
But according to Acosta, while she and Ahumada-Mendoza were following Coleman down 101, he was saying "Just stay back. You know what to do."
On the way south, as Coleman kept begging Dread to let him out of the car. Dread responded by pointing the pistol at him and saying "Shut the fuck up."
Coleman said he had clients in Rio Dell, and he wanted to get some samples to show them. They arrived in Rio Dell, where Acosta and Ahumada-Mendoza were already parked on a side street. Ahumada-Mendoza got a small sample out of her car and handed it to him. According to Acosta, however, Ahumada-Mendoza opened up the hood of her Jeep and took something out, hiding it under her shirt as she walked away. Immediately after she returned, Acosta heard the pop of gunshots.
Dread and Coleman drove by Renfro twice. Coleman referred to Renfro as "this kid" and said he had been changing his clothes in the street. When they drove by again, there was the sound of gunshots and the back window shattered.
"Glass started flying everywhere," Coleman said.
Afterward, Dread took Northbound 101. Coleman said Dread threw the pistol out of the car window as they were passing over "the green bridge."
They exited at Highway 36 and Dread drove about a mile before pulling over. Both Coleman and Dread were on their phones.Then, Coleman said, the gold Tundra pulled up. In the Tundra he saw the "White guy" from before. And someone else was in the pickup: Oliver, the man who a few hours earlier had robbed Coleman at gunpoint. Dread got in the truck with Oliver and they left.
There was no explanation offered for why Dread would be vowing to get his weed back from the robber when he was in fact in cahoots with the robber. And how did Renfro's killing figure into this plan?
During her cross-examination, Deputy District Attorney Carolyn Schaffer pointed out that Coleman was "on the run for awhile" after the shooting. He was arrested in North Dakota several months later.
Coleman said he needed to go see his mother, who lived in North Dakota. Schaffer pointed out that Coleman's mother died on Aug. 31, two days after the shooting.
"I still had to go pay respects to my mama," he explained.
Schaffer then went over Coleman's previous felony convictions: attempted residential burglary, aggravated robbery, being a felon in possession of a firearm.
"My bad," Coleman said of his criminal past.
Speaking about Coleman's highly successful brokering career, Schaffer wondered it it was bad for business to be consistently robbed. Coleman said clients are willing to trust you as long as you pay them back.
"That's the Humboldt way," he said. "You pay them back."
Investigators found three firearms in a storage locker rented by Ahumada-Mendoza. Coleman said he kept them there for a friend who was afraid his illegal grow was about to be raided.
A few weeks before he was caught in North Dakota, Coleman was arrested in Idaho. At that time he knew there was a warrant for his arrest in Humboldt County.
"You didn't turn yourself in," Schaffer said.
"No Ma'am I didn't, and that was a big mistake."
He provided Idaho authorities with a false name and was released from custody.
"I wanted to see my mother."
During cross-examination Coleman provided a few more details about Renfro's shooting. He said when Dread drove past Renfro he said "There he is right there." Dread also commented that "I should have gotten rid of him a long time ago."
Coleman said he recognized Renfro as someone who may have been involved in an incident in Arcata, when some men in a vehicle pointed a gun at him. This was a day or two after the robbery at Target.
After his arrest and return to Humboldt County, Coleman spent about two hours talking with Rio Dell Police Chief Jeffrey Conner. Schaffer noted that during the interview, Conner provided him with a lot of information on the case, including showing him a videotape of the shooting.
"He invited you several times to tell him who the shooter was," Schaffer said. She noted that while Coleman told Conner about the robbery at Target and about being robbed of marijuana in a house, he hadn't said a word about what he says happened in 20/30 Park.
Coleman said he got upset when Conner accused him of being the shooter and "I just stopped (talking) right there."
Conner reportedly told Coleman that "if it's not you, I've got a whole lot more work to do."
"But did he do his work?" Coleman asked Schaffer.
"You're here, aren't you?"
The defense wrapped up its case today. Schaffer is expected to call rebuttal witnesses on Monday morning.