Firefighters are seeing more favorable wildfire conditions in and around Humboldt County after several days of strong, erratic winds.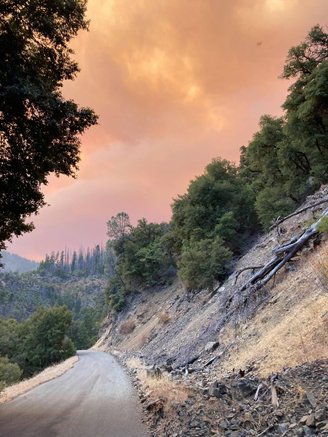 The Red Salmon Complex burning east of the Hoopa Valley saw a dramatic reduction in growth yesterday. The fire reportedly grew by 5,523 acres, a minimal amount of spread compared to yesterday's approximate growth of 23,610 acres.
Red Salmon Complex Operations Section Chief Jeff Hinson said in his video update this morning that "things are looking really good" along the northern and western edges of the fire where firefighters have been able to use aerial infrared units to monitor the flames.
However, firefighters have been unable to use air tankers or firefighting helicopters on the fire in recent days, due to the ungodly amount of smoke blanketing the skies.
Thick smoke from wildfires burning in Northern California and Oregon are expected to blow across the region periodically, which may continue to shade all portions of the fire.
Communities around the fire may see periods of very unhealthy, to potentially hazardous levels of air quality.
Firefighters are seeing a moderate, steady rate of spread toward Denny along the southern edge of the fire. Firefighters were sent into the small community yesterday to conceptualize how to fight the fire while protecting homes in the area.
Mandatory evacuation orders are still in place for Denny residents. A temporary evacuation point has been set up at the Burnt Ranch School located at 251 Burnt Ranch School Road.
The fire is currently 18 percent contained.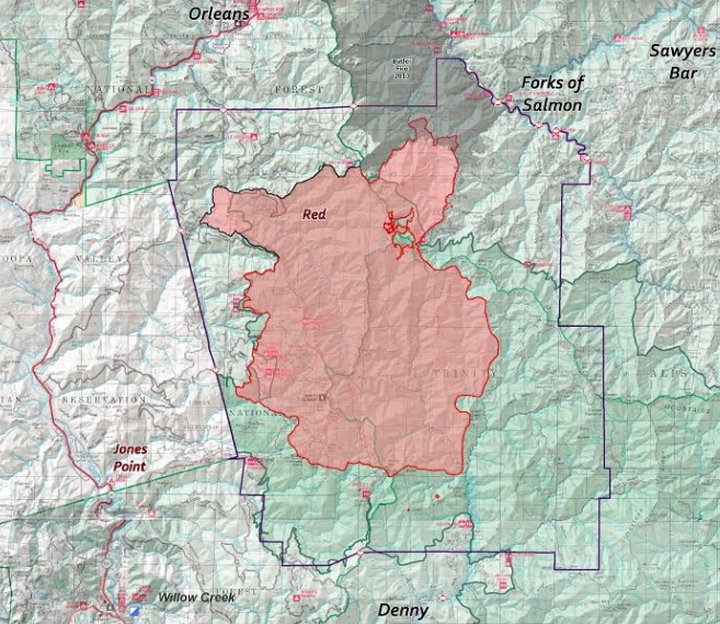 ###
The Hopkins Fire burning along the eastern edge of Southern Humboldt in the Yolla Bolly-Middle Eel Wilderness, continues to grow. However, the exact acreage of growth has been muddled since the fire combined with the Elkhorn Fire to the east.
As a result, the fire has once again received a name change by the fire's incident command team and all fires within the complex are now being referred to as the Elkhorn Fire.
The Elkhorn Fire.
Calfire Fire Captain Specialist Jeremy Ward told the Outpost this morning that firefighters have been able to get a better visual of the fire today after smoke conditions made it nearly impossible to get a complete visual yesterday.
Yesterday was really, really tight and we just got things going," Ward said. "Out here visibility was very minimal, up to a few hundred feet maybe. That made intelligence gathering really tough. We got little bits and pieces of the puzzle last night. Visibility is considerably better than yesterday."
The Hopkins Fire is actively burning south of Peak Road near Kettenpom and east of the Eel river along Kekawaka Creek.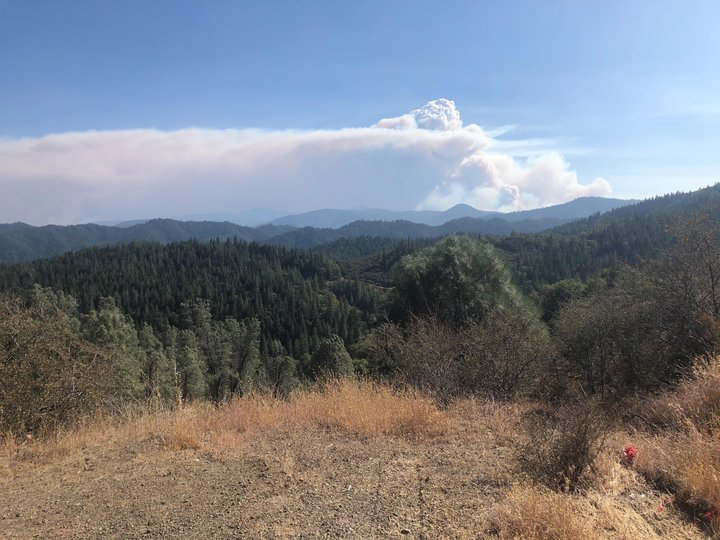 Ward said the fire is closest to jumping to the Eel River where Kekawaka Creek empties into the Eel River at Kekawaka Creek Road and that firefighters are actively working to prevent spread in that area.
"We're really appreciative that we have a lot of local volunteers and paid firefighters helping to staff this fire," Ward said. "The sheer number of fires and amount of acres, have a lot of resources that are already deployed. We really appreciate their commitment."
Ward confirmed that several buildings have been destroyed by the fire, although he couldn't specify where, how many or what kind. Firefighters will be working to save more threatened buildings in the Kettenpom area today.
Blocksburg, Alderpoint, Harris, Palo Verde, Island Mountain are still under mandatory evacuation orders. The Humboldt County Sheriff's Office stated that residents in Myers Flat, Miranda, Phillipsville, Garberville, Benbow, Fruitland Brock Creek, Fort Seward, Steelhead and Eel Rock should be prepared to evacuate at a moment's notice. Evacuation orders for areas Mendocino County can be found at this link.
A temporary evacuation point is still in place at the Humboldt County Fairgrounds, at 1250 5th Street in Ferndale for evacuees from Southern Humboldt. Free car and tent camping, low-cost RV parking, large animal boarding, restrooms, water and Red Cross services are available at this location.
Air quality is expected to vary from "unhealthy for sensitive groups," to "unhealthy," to "very unhealthy" as winds change in the area.
The Elkhorn Fire is currently 27 percent contained. However, the exact containment for the portion formerly known as the Hopkins Fire is unavailable.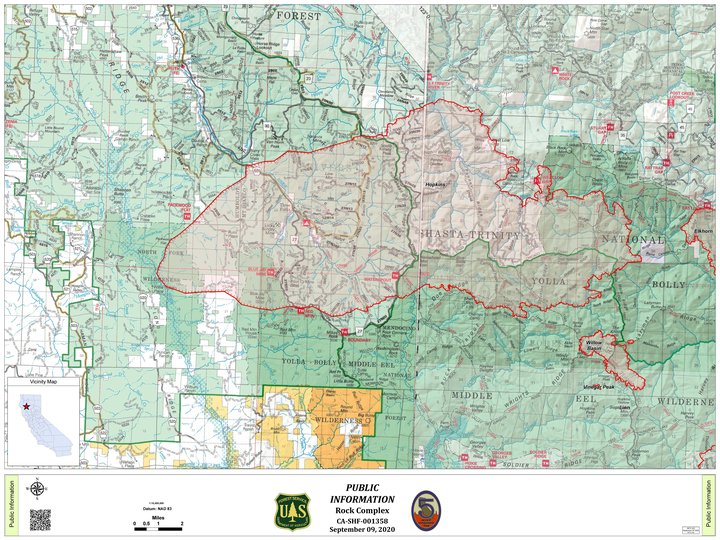 ###
As of this morning, the Oak Fire burning in Mendocino County is 863 acres in size and 25 percent contained. Highway 101 has since been reopened in the area. The cause of this fire is still under investigation.
The site where the Hopkins fire is closest to crossing the Eel River.