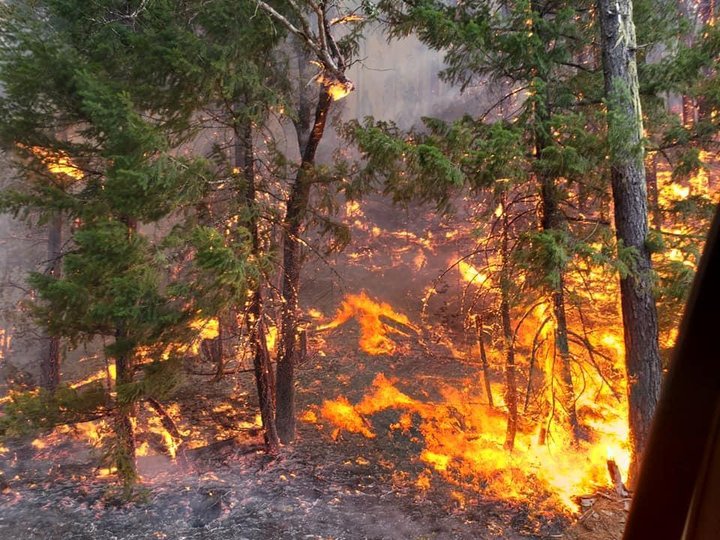 Calfire press release:

August Complex Total Size: 877,477 acres

August Complex West Zone Size: 30,665 acres

Containment: 0%

Expected Full Containment: 9/30/20

Civilian Injuries/Fatalities: 0

Firefighter Injuries/Fatalities: 0

Structures Threatened: 13,926

Structures Damaged: 0

Structures Destroyed: 0

CAL FIRE and the Forest Service are engaged in a coordinated response to manage and suppress the August Complex.

The Complex has been split into three zones to effectively provide a response for the communities at risk.

Yesterday, in the West Zone southerly winds allowed the smoke to thin somewhat over the fire area as warm and dry conditions continue. This caused some moderate fire behavior overnight.

Winds will generally turn more south and then southwesterly and increase as a weather system over the Pacific Ocean approaches the coast. This should clear much of the smoke resulting in warmer temperatures and lower relative humidity. As the onshore wind increases, humidity will eventually begin to increase as well.

Steep, inaccessible terrain and narrow winding roads continue to be a challenge for firefighters. Crews will continue with direct and indirect line construction and identifying structure defense plans.

Assigned Resources: Engines: 47 Water Tenders: 13 Helicopters: 9 Hand Crews: 3 Dozers: 61 Other: 2 Total Personnel: 586.
###
Humboldt County Office of Emergency Services:
CURRENT EVACUATION INFORMATION
The following areas are under an EVACUATION ORDER:

Areas south of Casterlin Road, including all properties on Casterlin Road, to the Mendocino / Trinity County Line and east of Dyerville Loop Road and Bell Springs Road to the county line

The following areas are under an EVACUATION WARNING:

All areas west of Bell Springs Road to Highway 101 spanning from Elk Creek Road / Dyerville Loop Road to the Mendocino / Trinity County Line in Southern Humboldt County.

All areas east of Alderpoint Road spanning from Highway 36 to Casterlin Road, not including all properties on Casterlin Road.

Maps of evacuation zones and routes are available at humboldtgov.org/evacmap or humboldtsheriff.org