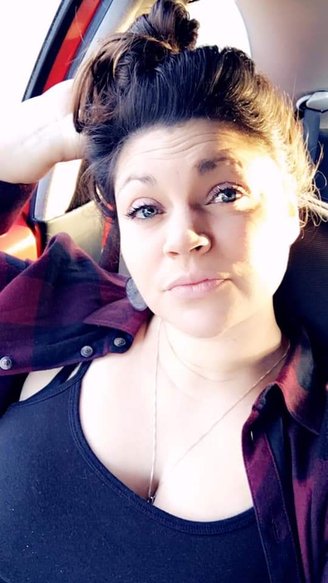 "Goodbyes are not forever, goodbyes are not the end. They simply mean I'll miss you until we meet again."

Our beloved Tawny Deann James (Ervin) was unexpectedly taken from us on Sunday, August 30, 2020 at the age of 32. Tawny was born to Keith Ervin and Libra Salcido on January 13, 1988 at Mad River Community Hospital in Arcata. She went to school at Trinidad Elementary until the summer after the seventh grade, when our family moved to McKinleyville. Tawny attended McKinleyville Middle School and McKinleyville High School, where she graduated walking with her class of 2006. She later attended College of the Redwoods, where she studied psychology. Tawny's dreams were to eventually join a nursing program.
One of Tawny's biggest accomplishments was creating and raising three beautiful children. As an enrolled member of the Trinidad Rancheria, Tawny took great pride in recognizing her Yurok and Karuk ancestry by attending local ceremonies and events, she was very proud to be Native American. She had a love for nature; you could often find her with her kids jumping ocean waves or soaking up the sun rays at the river. She was very outgoing in her adventures and would never allow a day to go to waste, without getting outside.
She often enjoyed watching and cheering on family or friends at MYF or Little League games and would be considered one of the loudest, most dedicated fans. She was very consistent with her presence at such games, and loved to watch all, win or lose. Born a 49ers fan, she remained an avid 49ers fan, never once did her loyalties change. Tawny will be remembered mostly by her infectious smile, contagious laugh, and powerful persona. She would encourage others to step outside their comfort zone, or put themselves at risk of being called a "worry wart."
One of her strongest qualities would be her unconditional love for those she held close to her heart. Tawny was never judgmental and would always have your back, even if she thought no one else would. She fought hard, and loved hard especially when it came to family. Growing up in a super tight knit family, Tawny would do anything for those she loved. She was a very loyal friend, and a daddy's girl at heart.
She was considered by many to be their "favorite" sister, cousin, aunt, lover, and friend. Tawny is survived by her Father Keith (Erica) Ervin. Mother Libra Salcido. Husband Ray James. Children Ki-Shan (Carter) Daniels, Teyn (Ray) James, and Tyler Jr. (Tyler Sr.) Bradfield. Her Brothers Russell (Jana) Albers, and Hunter Ervin. Her Sisters Michelle (Isaac) McCovey, Hailey Ervin, Makailia Lamberson, Caroline Salcido, and Feather Salcido. Nieces, Evelyn McCovey, Davina Brown, Charlee Jo Settles. Nephews, Jordyn Albers, Craig McCovey, and Tyson Ross. Grandfather Craig Ervin. Aunts Fran (Kory) Pederson, Kim Martinez. Cousins Travis (Candy) Pederson, Dayton Moorehead, Casey Pederson, Jesse, Lisa, Amanda Martinez, Trina (Joe) Mathewson, Brianne Bates and extended relatives. Tawny is also survived by her closest friends Natae Ramos, Drew Lamberson and many, many more. Tawny is preceded in death by Grandmothers Caroline Salcido, and Carol Ervin. Step-Mother Jae Berger/Ervin. Sister Megan Ross. Uncle Rey Martinez.
Our hearts are shattered to lay to rest such an important part of us. We already miss you so much Tawny! Never will we forget our precious memories, or the amount of love we've shared. Please pray for healing for our family in this time of need.
Private viewing was held for immediate family only on Friday, September 4, 2020 at 3 p.m. at Ayres Cremation. Services will be held at a later date TBA due to COVID-19. Please understand that during this difficult time we are seeking comfort from one another and would like to prevent possible spreading of this virus at any rate. Thanks for your understanding.
###
The Broken Chain
We little knew that day,
God was going to call your name
In life we loved you dearly,
In death, we do the same.
It broke our hearts to lose you.
You did not go alone.
For part of us went with you,
The day God called you home.
You left us beautiful memories,
Your love is still our guide.
And although we cannot see you,
You are always at our side.
Our family chain is broken,
And nothing seems the same,
But as God calls us one by one
the chain will link again.
###
The obituary above was submitted on behalf of Tawny James' loved ones. The Lost Coast Outpost runs obituaries of Humboldt County residents at no charge. See guidelines here.