A Eureka man has been held to answer on murder and assault charges for striking another man with a skateboard during an altercation in Burre Center in December 2018.
Judge John Feeney, after listening to evidence presented in a preliminary hearing, ruled Tuesday there was enough evidence for 47-year-old Jason Ryan Barnes to stand trial for killing Ben Bertain and assaulting Shaelawn Jensen-Morrow. Both had tried to intervene when Barnes was screaming at a woman in a parking lot at Burre Center in Eureka.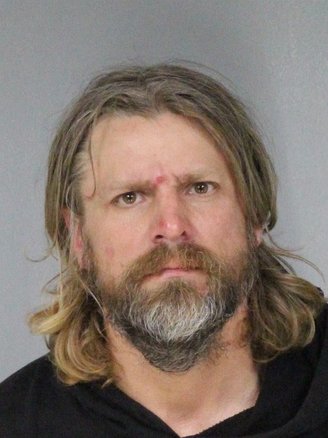 Bertain, 58, was hit in the left side two or three times. He declined medical treatment at the time, but died at a Napa hospital a few days later.
Dr. Joseph Cohen, a forensic pathologist who serves Napa and Marin counties, testified Bertain died from a ruptured spleen. Bertain's abdominal cavity contained a mass of clotted blood "about the size of a soccer ball," Cohen said, along with nearly 1.5 liters of blood.
"Approximately 40 to 50 percent of his total blood volume was in his abdomen," Cohen said under questioning by Deputy Public Defender David Celli, representing Barnes. During the hearing Barnes sat in the courtroom jury box, wearing a mask.
The fatal encounter occurred about 9:15 a.m. on Dec. 22, 2018, in a parking lot outside the laundromat in Burre Center. Laundromat employee Jensen-Morrow testified she went outside when told a man was screaming at woman.
"I saw a male aggressively yelling at (a) female," Jensen-Morrow testified under questioning by Deputy District Attorney Roger Rees. "She was sitting on the curb yelling 'Just get away from me.' "
Jensen-Morrow identified Barnes as the man she saw. She said the woman sitting on the curb "appeared quite submissive," as Barnes was yelling that she had stolen something from him. The woman kept saying "just to get away and leave her alone." Jensen-Morrow said she walked up to Barnes, who was carrying a skateboard, and politely asked him to leave. He ignored her.
She stepped between Barnes and the woman when the woman tried to leave and Barnes blocked her. Barnes then accused Jensen-Morrow of hitting him, and she put her hands in the air to show she wasn't.
"He seemed very irate," she testified. "I didn't want him to think I was threatening him or taking sides."
About this time Bertain, who had been watching from his parked vehicle, joined Jensen-Morrow and told Barnes it was time to leave. He repeated that, and Barnes lifted up the skateboard with both hands and swung it like a baseball bat.
"It would have hit me," Jensen-Morrow said, "but I stepped back and then it ended up hitting Ben."
Bertain, hit on his left side, managed to pin the skateboard under his arm. Then he tried to punch Barnes with his right fist. Jensen-Morrow didn't think the punch connected. Barnes then got the skateboard back and struck at Bertain at least once more.
"I said I'm calling the police and I called 9-1-1," Jensen-Morrow testified. "(Barnes) took off running down the length of the shopping center."
Afterward, she said, Bertain stayed in the laundromat for 45 minutes to an hour, finishing his laundry. He appeared to be in pain, Jensen-Morrow said, but he didn't complain about it. The police never showed up. When she asked Bertain if he wanted an ambulance, he said no.
Bertain always did his laundry twice a week at the Burre Center facility. He never came back again.
About a week later Jensen-Morrow saw Barnes looking in the window of the laundromat and called the police.
Dr. Cohen, who performed the autopsy, said his opinion was that the original injury caused internal bleeding in the spleen. That blood kept expanding over the next couple of days until the spleen ruptured. At first the doctor couldn't even find pieces of the spleen in the mess of liquid and clotted blood. If the spleen would have ruptured when Bertain was hit, Cohen testified, the organ would be intact but lacerated.
Celli asked whether underlying health conditions could have contributed to or caused the death. Bertain had severe lung disease, heart disease and had methamphetamine in his system. Celli also wondered whether paramedics might have caused the injury when trying to resuscitate Bertain when he "coded" on the flight from Arcata to Napa.
But Cohen maintained he was completely convinced that Bertain's spleen was injured during the assault and then bled until it ruptured.
During the time between the skateboard incident and his death, Bertain told several people about the incident and said he was in pain. On Christmas Day he called 9-1-1 and complained of chest pain and shortness of breath. Paramedics found him, conscious but unable to speak, in the storage unit he rented in Arcata.
Eureka police Detective Corrie Watson, the lead investigator in the case, testified that Bertain lived in the storage unit, which had no bathroom and "a makeshift kitchen with a sink and a refrigerator."
Bertain was taken to Mad River Community Hospital, then flown to the hospital in Napa. He was pronounced dead at 3:40 a.m. on Dec. 26, 2018.
The woman Barnes was yelling at in Burre Center was named as Desiree Henley, who was one of the suspects in the arson fire at Blue Heron Motel on Broadway in Eureka. Although Barnes was held to answer for murder, it seems doubtful he will be tried on that charge. Before the hearing began Tuesday, Celli told Judge Feeney the district attorney had offered a five-year prison term in exchange for Barnes's plea to voluntary manslaughter with use of a weapon. And during the hearing, Celli said he had come back with an offer of involuntary manslaughter.
Prosecutor Rees responded that he wanted to finish the hearing, but he would talk with Bertain's family about an involuntary manslaughter plea.
###
PREVIOUSLY: