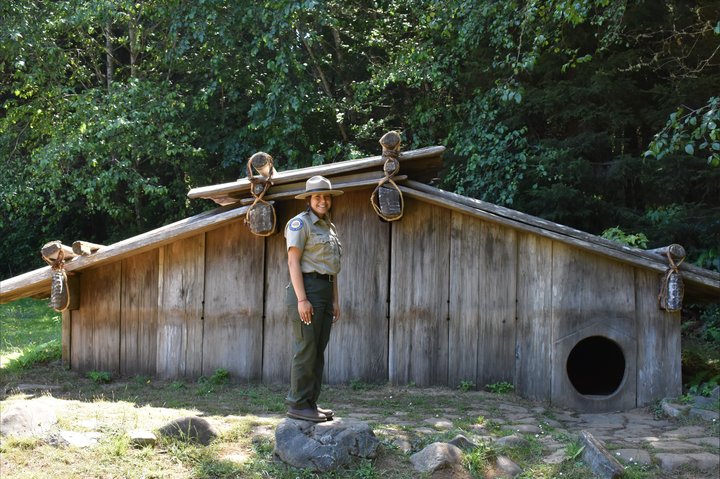 ###
Press release from the Blue Lake Rancheria:
An educational program that focuses on culturally responsive hands-on learning in Humboldt County is preparing to roll out programming this fall that focuses on the Indigenous viewpoints of the environment and land-use management in the region. Pathmakers, developed by the Blue Lake Rancheria Tribe, Humboldt County Office of Education, and Northern Humboldt Union High School District, has partnered with California State Parks to hold the culturally responsive educational activities in an outdoor setting.

"Native youth will engage with state park interpreters who are members of the local Indigenous community, and will learn through song, story and activities that are culturally appropriate and place-based," Marnin Robbins, interpretive program manager for California State Parks, said.

The programming called 'Kindling the Flame' will start in mid-September and take place during the 2020-2021 school year. It follows curriculum developed by Pathmakers and California State Parks, that follows guidelines set by KT Land Tenure Curriculum.

The curriculum will be taught weekly by California State Park interpreters who will serve as educators and mentors, using a first-person perspective based on their own local Indigenous heritage. The event will take place primarily at Sumeg Village, a recreated Yurok redwood-plank village located in Patrick's Point State Park. The activities will focus on local Native American culture and knowledge, while incorporating maker components, so the learning experience is hands-on. For example, students will learn about Yurok craftsmanship, including the construction of Sumeg Village in 1990, and what materials were used to build Yurok houses. A makerspace activity will follow, where students will learn how to create and maintain components of the redwood plank home.

"Kinesthetic or tactile learning is all about the hands-on process of making things and doing physical activities that teach the lesson to be learned, Alison Robbins, Pathmakers Program Director, said. "It's how people have learned for millennia. It's practical, and it leads to greater engagement while reinforcing efficacy in the new skills acquired."

Other planned activities will bring more attention to the deep-rooted indigenous culture in the North Coast region, while exploring area tribes' connection to the land. The first six-weeks will focus on native voice and storytelling at Sumeg Village during such activities as a fire building workshop. Stories will be told over fires started by cultural interpreters, but the fires will be maintained by the students. Stories will involve place, songs, legends, and experiences.

"Stories are intergenerational. Stories transcend time. Stories have power. Everything has its own story. Yurok culture demands that we honor own stories as well as listening to and respecting the stories of others", says Skip Lowry, State Park Interpreter. Pathmakers Native Youth will get the chance to journal and tell stories of their own, while also listening to traditional native stories about culture and tradition. Tribal elders will attend as regular presenters.

In addition to in-person makerspace educational activities, state parks will produce indigenous-focused educational videos of modified STEM activities developed by Pathmakers, focusing on the same curriculum. These videos will be posted online, and will be made available for teachers within Humboldt County Schools and throughout the state, to use in their virtual lesson plans. This will help reach more students during COVID-19, while teachers and students adjust to distance learning.


As for the in-person instruction, the activities will be COVID safe and take place in small group settings of approximately six students. Students, mentors, and staff will wear masks and physically distance during the outdoor activities.


"Cultural activities help Native American students learn about their cultural heritage, and feel a sense of pride," Jason Ramos, President of Blue Lake Rancheria's Tribal Education Agency's Board of Education and Tribal Councilmember, said. "When students feel involved in school, they are more likely to succeed and graduate. We are honored to work with our community partners, and help bring more culturally responsive curriculum in the region."


In a makerspace, students use ideas from science, technology, engineering, arts, and math (STEAM) to solve design challenges using a variety of tools and materials. Challenges can be theoretical or based on real world needs. Since 2019, the Pathmakers project team has been working with K-12 students, college students, parents, teachers, tribal members, and regional native cultural and education experts to develop its programming and curriculum. Traditional Native technologies employed sophisticated techniques and the Pathmakers curriculum strives to cohesively blend traditional ecological knowledge and today's applied sciences and technologies using maker activities.

For more information, visit this link.
###
DISCLOSURE: The Blue Lake Rancheria is a minority owner of Outpost parent company Lost Coast Communications, Inc.