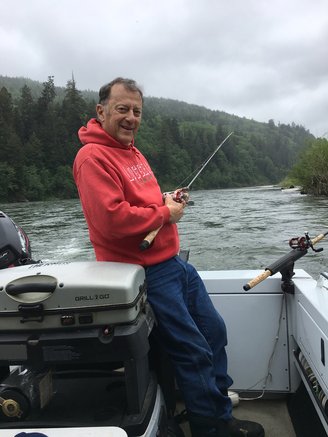 Lawrence "Laurie" Lazio, of Eureka, passed away peacefully on September 13, 2020 with his loving wife Arlene holding his hand.

In the days prior to his passing his immediate family gathered on our front lawn for memories, sharing the love for their father, laughter, good food and campfires. On one of those nights Laurie joined them from the porch to share his experiences and to impart some of his vast knowledge! On the second night he called them in either by family units, couples or individuals making sure nothing was left unsaid. It was truly beautiful and we are all lucky for the experience. He loved his family so much.
Laurie was 83 years young, born on July 19, 1937 in San Francisco to Tom and Annetta Lazio.
The Lazio and Alioto families were pioneers of Fisherman's Wharf in San Francisco, and he followed in their footsteps. As a young boy he helped his father unload crab and deliver strap boxes full of fresh fish to eagerly awaiting customers and local restaurants.
As his father expanded his fish business to include Eureka, summers were spent at their Eureka home on E Street and on the docks at the foot of C Street. Summers also meant special times on his Aunt and Uncle's summer place in the Mattole Valley. Laurie had many fond memories there with his cousin Fran Scarpulla and best friend, Rich Skidmore.
Laurie graduated from Sacred Heart High School and attended the University of San Francisco during the exciting basketball era as Bill Russel and Casey Jones led the team to two consecutive NCAA championships in 1955 and 1956.
After serving in the U.S. Coast Guard aboard the USCGC Avoyell he finished his formal education graduating from Humboldt State University while simultaneously learning the management ropes at the Tom Lazio Fish Company.
Laurie successfully operated the famed Lazio Seafood Restaurant, which opened in 1944 as a place to feed the fishermen. The restaurant grew into a world renown restaurant that over the decades served millions of customers. You could see the fresh fish being unloaded from the boats and processed right there on site. He managed the Lazio Seafood Restaurant, Tom Lazio Fish Company and Lazio Gourmet Tuna businesses. He valued and appreciated all of the many employees that worked for the companies over the years.
In the 1970s in a joint venture with the City Of Eureka Laurie built the finest fish processing plant at the foot of Commercial Street, employing hundreds of people and processing millions of pounds of seafood for the domestic and international markets.
During the mid 1970s he purchased the Healy Brothers building and established the Old Town Bar And Grill.
In the late 1970's he met Arlene and they began their incredible life together. Their story spanned an amazing forty plus years.
Laurie retired in 1995 and the north coast rivers became the place to be. He fished many rivers but eventually established a fish camp on the Klamath River. He enjoyed sharing his love of fishing with many family members and friends; Bill Williams, Rich Ames, Richard Head, Ron Coleman, Kenny Butler, and the Ferndale crew. He had a long friendship with General Chuck Yeager and together they had many experiences on the rivers. Laurie was also lucky to have made special friendships with the guys in our RV camp and shared many successful fishing adventures with Joe Kopczynski, Mike Frye, Larry Pardi and Ron Coleman.
When off the river you could find Laurie on the sidelines watching and cheering his grandchildren and great grandchildren at sporting events, recitals, FFA sheep shows and concerts. He took great pleasure watching them pursue their passions.
Laurie was very involved in many community, state and national organizations. A five-time member of the Board of Directors of the National Fisheries Institute, president of the California Seafood Institute, president of the Eureka Chamber of Commerce, President of the Humboldt Bay Fisheries Association, president of the Eureka Rotary Club and Director Emeritus of the California Restaurant Association. He was a founding member of the Humboldt Fish Action Council, the Humboldt Visitors an Convention Bureau and the Dixieland Jazz Festival. He served for 16 years on the Humboldt State Advisory Board, served on the St. Joseph's Hospital Advisory Board, the Board of Directors of Baywood Golf and Country Club, and the Ingomar Club. As director of The Pacific Far East Line Steamship Company he brought the SS Monterey cruise ship to Eureka on Mother's Day in 1975. He also volunteered at the Mad River Fish Hatchery during the spawning season.
And let's not forget the coffee gang that met daily — Craig Perrone, Carl Schneider, Dave Futardo, Ken Christiansen, Roger Lorenzetti, Rich Keihl and Ken Stoddard. Many a problem has been solved at that table.
Laurie is survived by his loving wife and best friend Arlene, and his six children — Deborah Lazio (Jim Crawford), Catherine Lazio (Robert Trachenberg), Lisa Lazio Harris (Rick Harris), Patty Lazio Callison (Tim Callison), Lauren Lazio, Thomas Lazio. He was extremely proud to be Nonno to nine beautiful grandchildren — Kassidy Banducci (Bret Banducci), Jenna Harris, Lucas Lazio Houldsworth, Gaetano Trachtenberg, Rose Trachtenberg, Connor Callison, Blake Callison, Macy Brown, and Mackenna Brown; great-grandchildren Elliot and Grant Banducci.
He was preceded in death by his father Tom Lazio, mother Annetta Lazio, brother Lorenzo Lazio, sister Stephanie Cincotta, nephew PFC Thomas Cincotta and his former wife Sharon Lazio.
We send special thanks to oncologist and friend Dr. Russ Hardy, nurse Becky, Dr. Peter Carroll and wife Laura. Thank you to Hospice for your services day and night.
In light of Covid a memorial service will be planned for another time.
Please share your memories, tell stories and send pictures to email laurielaziofishtales@yahoo.com or Facebook group "Fish tales" Lawrence "Laurie" Lazio Memorial Group.
###
The obituary above was submitted on behalf of Laurie Lazio's loved ones. The Lost Coast Outpost runs obituaries of Humboldt County residents at no charge. See guidelines here.