###
UPDATE, 8:05 p.m.: Eureka Police Department Captain Brian Stephens tells the Outpost, at the scene, that the injured protester has been checked out by medical personnel and will transport herself to the hospital.
Stephens said that police are asking the public for video and photos of the incident depicted below. Call (707) 441-4060.
Additionally, he confirmed that the office has received a few reports of vandalism on buildings and vehicles.
###
UPDATE, 7:45 p.m.: Moments ago, a pickup truck driver stopped by the demonstrators at the intersection of Fifth and I streets rammed into one person, bowling her over and injuring her.
Our reporters says that the injured person's friends are trying to figure out whether or not to take her to the hospital.

Meanwhile, the police have shown up.
###
UPDATE, 7:36 p.m.: Around 100 people are still protesting as the sun sets, says Andrew Goff. They're blocking Fifth — but not, as the video below shows, to universal disapproval:
###
UPDATE, 7:25 p.m.: The Republican headquarters on Fifth Street has been vandalized again.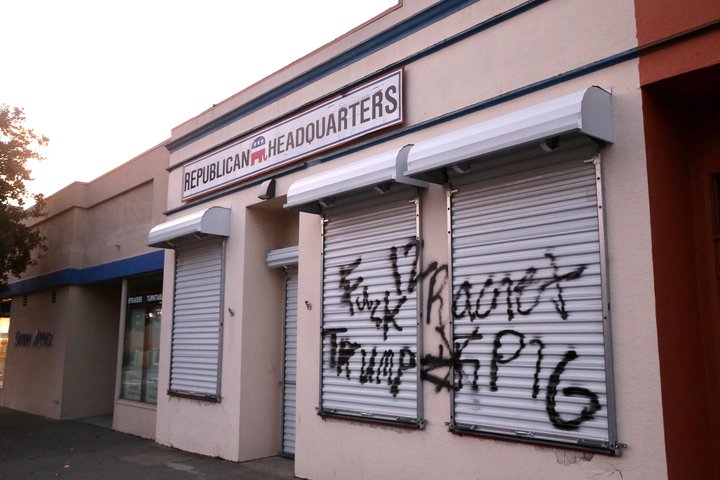 ###
UPDATE, 7:16 p.m.: Back downtown, back into the streets:
###
UPDATE: 7:10 p.m.: The protest has moved down the 101 corridor, and is mostly confined to the sidewalk at this point, Goff says. Demonstrators marched east toward Myrtle and are now moving back toward the courthouse.
The crowd is thinning out.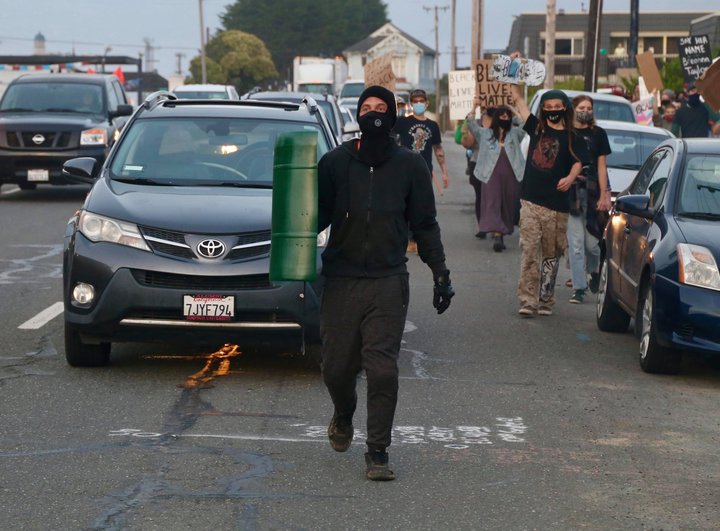 ###
In a scene similar to many throughout the country, Humboldt residents gathered in front of the county courthouse Thursday evening to demand justice for Breonna Taylor.
The demonstration comes a day after a Kentucky grand jury opted not to charge the police officers responsible for the March 13, 2020 killing of the Black 26-year-old EMT and Louisville resident.
After a few brief call to action on the courthouse steps, demonstrators marched down Fourth and Fifth streets in turn, taking up all lanes of traffic as they go. According to the Outpost's Andrew Goff, on scene, they're now parked in front of the Courthouse on Fifth. Traffic is stopped.