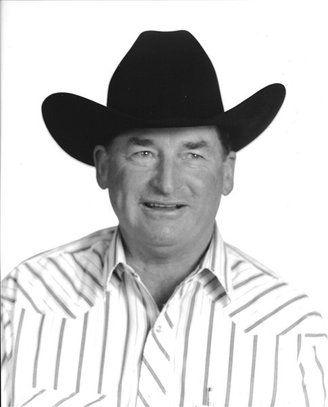 Richard Vinal Hunt
August 15, 1934-March 11, 20201
The man that I married 64 years ago on November 11, 1956, passed away from complications of Parkinson's disease on March 11, 2021. He was a wonderful husband, father and a heck of a good friend!

He was born on August 15, 1934 in Arcata to William Vinal Hunt and Esma Catherine (Duck) Hunt.
Rich attended Arcata Elementary School, Arcata High School and a two-year Animal Husbandry Program at University of California at Davis. In 1954 he enlisted in the U. S. Army and was stationed in Germany as a radio operator with an anti-aircraft group. Returning from Germany in 1956, he joined his father Vinal helping with the livestock operation on the Arcata and Bridgeville ranches.
He married me, Carolyn Ann Moore, the year that he returned from Germany. We had three sons, Dean, Brian and Scott. We enjoyed raising them in the same home where Rich and his sister Peggy grew up.
When our sons grew up and married, we finally had our "girls!" Three beautiful young women, Cindi Anderson, Sandi Stafford and Dana Lucas joined us. They gave us our six grandsons in a nine-year period; Cory, Christopher, Kendall, Tyler, Jason and Alex.
Rich was a third-generation rancher following in the footsteps of his father and grandfather Albert Nahum Hunt, who settled on the Arcata Bottom in 1887. Rich enjoyed his ranching career; and it makes for a happy marriage when a husband loves his work! Today, our son Dean and wife Dana, are the partners in the ranching business. They are the fourth generation on the family ranch. Their son Jason is Dean's right-hand man.
Our boys were a big part of our early ranching life: changing irrigation, chopping thistles, and helping their dad do whatever he asked. We couldn't have done it without them. When the grandsons came along and were old enough, they also were "invited" to help their Papa Rich.
When Rich "retired" (although ranchers never really do), the "pension" he received was a company pickup to drive and lunch at Toni's every day. Rich was fond of saying to others, "I think Carolyn pays Dean to call me to help him just to get me out of the house!"
Rich and I enjoyed traveling with others, exploring the US on tours visiting ranches as well as some foreign travel with friends and family.
We lived a life of gratitude where we enjoyed each other, our family, our home and surroundings. We enjoyed our games of dominos together and with our friends. It is true, it's the little things that you miss when you've lost such a special man. He brought stability to our home and was a role-model for his sons and grandsons.
Rich was a member and Past President of the Humboldt-Del Norte County Cattlemen's Association, and member of the California and National Cattlemen's Association. He also served on the Pacific Union School Board and the Humboldt State University Advisory Board. We belonged to Saint Alban's Episcopal Church and the Ingomar Club.
Rich lived his life well and was loved and respected. I felt that he had no regrets. Shortly before he died, he said "I don't think I have any enemies." Personally, I believe this was due, in part, to the fact that he absolutely treasured his friendships. As a close friend recently said, "Heaven has gained a remarkable gentleman, cowboy and all-around amazing kind of man."
"Happy trails to you, Honey!"
Rich was preceded in death by his father William Vinal Hunt, his mother Esma Catherine Hunt, son Brian Jay Hunt and sister Peggy Hunt Stebbins and numerous cousins.
He is survived by his wife Carolyn, his sons Dean (Dana), Scott (Sandi), his daughter-in-law Cindi (Greg), his six grandsons Cory (Andreena), Christopher (Kristina), Kendall (Stephanie), Tyler, Jason (Jenna), Alex (Shelby). His seven great-grandchildren Maya, Ellie, Bodhi, Brennan, Graham, Blaire and Josie. His brothers-in-law Jack and David Moore; niece Kit Britt (Ken) and nephew Tod Stebbins (Bianca) and their families.
We will have a small family service to honor his life.
We are considering ways to celebrate his life with a gathering, but given the pandemic we are unable to make plans at this time.
In lieu of flowers, if you choose, please donate in his memory to Saint Alban's Episcopal Church, 1675 Chester Avenue, Arcata, CA 95521 or Humboldt County Cattlemen's & Cattlewomen's Scholarship Fund, P.O. Box 915. Fortuna, CA 95540, or to a charity of your choice.
###
The obituary above was submitted on behalf of Richard Hunt's loved ones. The Lost Coast Outpost runs obituaries of Humboldt County residents at no charge. See guidelines here.