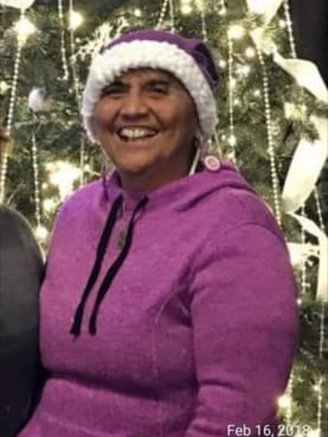 Delray Lee Bates, 64 years old, of Klamath, passed away on April 2, 2021.

Family and friends are invited to follow from Wier's Mortuary at 10 a.m. Sunday, April 11, 2021. Visitation will be held at 121 Redwood Road in Klamath. The funeral service will be held at the Aawok Ada Charles Emergency Operations Center, in Klamath California on Monday, April 12, 2021 at 10:00 am. Burial will follow her last boat ride at Waukell cemetery. Celebration of life immediately after burial at Aawok Ada Charles Emergency Center.
Delray was born October 2, 1957, in Crescent City. Delray was a proud and active member of the Yurok Tribe. She loved spending time along the river, whether it was fishing and camping with her family at Waukell or driving the fisheries boats counting nets and fish. Delray enjoyed attending her family's Jump Dance ceremony in Pecwan, spending time with loved ones and teaching her sons and grandchildren their culture from very young ages. Delray was a very family-oriented and strong woman. She was proud of her five sons and grandchildren and was considered a mom to many others. Her door was always open for family and friends to come and have a place to rest and eat.
Delray was a fantastic baker and was well-known for her homemade frybread and berry pies. She would hold fundraisers to help get her softball team "The River Riders" into tournaments and would always be on the sideline cheering on and supporting her team. Delray also enjoyed going to bingo, yard sales and traveling. Delray would always have the biggest smile while she was out camping, playing in the snow and spending time with her grandchildren. Holidays and birthdays were always fun/important for Delray, during Halloween and Christmas she would always have the brightest, most decorated house in the community. She would plan months ahead for her son's birthdays and would go all out for each one of them. Delray had the biggest heart and would always be there no matter who called. She was considered a backbone to many and did anything she could to help others.
Delray is survived by her children and grandchildren Keith Ray (Delray, Sunni); Robert/Fawn Ray (Ratausha, Robert Jr, Rylee, Kaiser, Rhianna, Bobby); Ben Ray/Ryan Colegrove (Ben Jr, Savannah, Tatianna, Gunner, Na-rec, Das, Tek, Ada); Ryan/Tara Ray (Kayah, Darren, Naomi, Ryan Jr, Hunter); Coty/Mistey Bates (Kianna, Keeni, Kellyanne, Kiara). Partner Cliff Ford. Brothers Ted Bates, Ron Bates, Allen Bates, Richard Bates. Sisters Vicky Bates, Michelle Rainer, Lisa Bates. Mother and father Fern and Bruce Bates. And SO MANY MORE nieces and nephews, cousins and loved ones.
Delray is proceeded in death by her grandmother Ada Charles, her mother and father Pauline and Arthur(Pete) Bates, auntie Joanne Moore, uncle Larry Charles, her brothers Bruce Bates, Darren Bates, and Art Bates. Her cousins: Byron Scott, Brenda Snyder, Jesse Donahue, Jenny Hendon, and Jack Scott.. Nephews: Manuel (Scooner) Frease and Nemechay Bates. Niece Natasha Bates and Angel De Los Santos, granddaughter Angel Rose Ray.
Honorary Pallbearers: Keith Ray, Robert Ray Sr., Ben Ray Sr., Ryan Ray Sr., Coty Bates, Cliff Ford, Larry Steele, Ron Bates Sr., Richard Bates Sr., Allen Bates, Arlen Charles, Lloyd Charles, Jeff Britton, James Proctor Sr., Taos Proctor.
Pallbearers: Robert Ray Jr., Rylee Ray, Kaiser Ray, Ben Ray Jr., Gunner Ray, Darren Ray, Arlen Charles Jr., Ira Thompson, Pergish Carlson, Joe Bates, Micah Evans, Shawn Ford, Bear Ford, Ron Bates Jr., Lance Bates, Nic-wec Bates, Jay Bates, Richard Bates Jr., Kai Rainer, Joe Swain, Jack Swain, Jim Swain, Ralph Martinez, John Donahue, Merle Stevenson.
###
The obituary above was submitted on behalf of Delray Bates' loved ones. The Lost Coast Outpost runs obituaries of Humboldt County residents at no charge. See guidelines here.