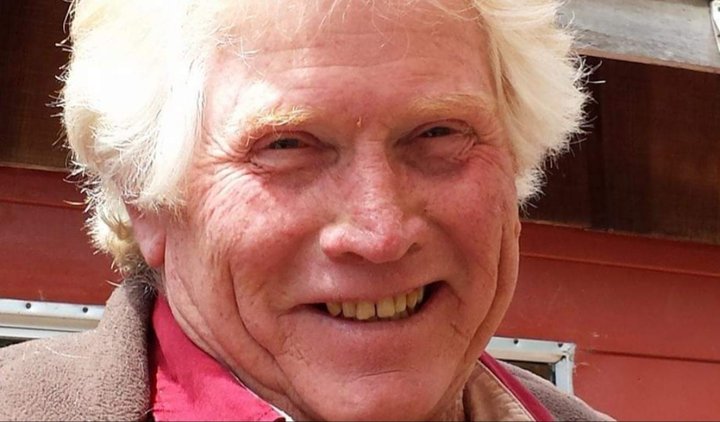 Russell Edward Mills of Kneeland, born August 20, 1947, passed away peacefully at his home on April 7, 2021 after several years battling cancer and COPD. He was 73 years old. He was the last of three children born to Robert and Ruth Mills in Methuen Massachusetts. The family soon thereafter moved to Southern California and Russell was raised in Torrance where he graduated from South High School in 1965.
Russell married Patricia, his high school sweetheart, and they made their way to Redding. They later moved to Kneeland so Russell could study forestry at Humboldt State University, and that is where they welcomed a daughter, Liana Dawn, then eventually divorced. He had a short marriage to Karen Price. Russell's plans for a forestry career were waylaid when he took an opportunity to become a painting contractor. He had his own business as a well-respected commercial and industrial painting contractor in northern Humboldt County for about 40 years. He was very proud of his job painting the Humboldt County Courthouse, and was known for his wallpaper and woodwork at the Eureka Inn, amongst many other jobs through the years. He loved to bid jobs.
Russell wanted to be the best at everything he did. During the 1960s, he surfed the Big Waves through California, Mexico, and Hawaii. He was sponsored by surfing apparel companies in surfing contests and film. He was an avid horseman and he raised his best friends Treasure and Chinquapin from foals while living in Kneeland. He competed in Endurance, Dressage, and Gymkhana riding. He was well known to trailer the horses and ride into the sunset wilderness of California and Oregon.
Russell left behind his wife Nita Brake-Mills of 18 years. They met and dated beginning in 1990 but it took Nita until 2002 to get that knot tied. They married in the Eureka Masonic Lodge, a rare privilege where few marry in the Lodge itself. Nita brought three sons to the marriage, Nicholas Womble, Christopher Allen and Timothy Mellon. Timothy was only eight years old then and Russ raised him like his own and was a father figure to Nick and Chris, who were adults at the time of the marriage. He taught them the art of negotiation. He was known to provide thoughtful, reasoned guidance to them and other youth and friends. Being a person of honor and integrity was always important to him and it showed in his actions and words. He was a role model for all.
Russell was a 50 year Mason. He was raised at Redding Lodge and transferred to Eureka Lodge #79 where he was a Master Mason in 1980 and 2000. He was a member of York Rite and Commandery.
He was a member for many years and current officer of the Eureka Moose Lodge #636. The Moose Lodge was a place where he socialized and made many friends in his later years. He enjoyed attending and volunteering at Sunday breakfasts and Friday night dinners.
Russell is survived by his wife Nita of Kneeland, brother Douglas Mills of Arkansas, daughter Liana Mills of Santa Rosa, stepsons Nicholas Womble, Christopher Allen, Timothy Mellon (Kelsy Strong), nieces Dana and Melissa, son-in-law Steven Thompson, and grandchildren Ariana Mills, Savannah Thompson, Ivy Rae Thompson, Alycia Thompson, and Ezra Mellon. A memorial service and celebration of life will be held at the Moose Lodge #636, 4328 Campton Road, Eureka CA 95003 on Sunday April 18 at 2 pm. Covid precautions will be observed, and part of service may be outdoors weather permitting.
Donations in Russell's honor and Chinquapin's name may be made to Miranda's Animal Rescue, 1603 Sandy Prairie Road, Fortuna, CA 95540, which is Chinquapin's new home.
###
The obituary above was submitted on behalf of Russell Mills' loved ones. The Lost Coast Outpost runs obituaries of Humboldt County residents at no charge. See guidelines here.