A former candidate for county supervisor was placed on two years probation today for assaulting his neighbor with a machete during a property dispute in April 2020.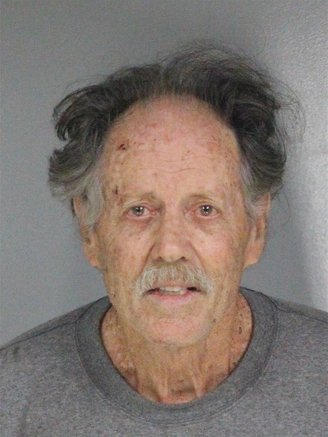 Richard "Rick" French was expected to be released today from Humboldt County Correctional Facility, where he has spent nearly a year. Judge Christopher Wilson said probation is appropriate for French, who is 76 years old and has "mental health difficulties."
The incident with French's former Hydesville neighbor Bryan Richter was "a situation that is hopefully unusual," the judge said.
French was placed on formal, supervised probation and must receive mental health treatment. Instead of the usual 100-yard stay-away order, French must stay 500 yards away from Richter and his residence.
Richter had asked that French be banned from Hydesville for life, and also prohibited from ever filing a lawsuit. Wilson said he could not legally impose those conditions.
French was originally charged with attempted murder, but that allegation was dismissed when French agreed in March to plead guilty to assault with a deadly weapon. He also pleaded guilty to a misdemeanor charge of violating a court order. He entered the pleas with the understanding that he would be placed on probation.
Deputy District Attorney Roger Rees, the prosecutor in the case, said today that Richter would feel safer if French was in prison.
"The victim is clear in his letter (to the judge)," Rees said. "The victim would be most satisfied if Mr. French received a two-year prison sentence."
Rees also asked that French be ordered to stay 1,000 yards away from the victim. Wilson said he would "split the difference" by imposing a 500-yard limit.
On April 30, 2020, French placed planted pots on a piece of property that both men claimed to own. When Richter arrived in an excavator to begin tearing up the plants, French came at him swinging a machete. Witnesses told law enforcement French hit the excavator with the weapon and swung it within 3 inches of Richter's face.
At that point Richter got out of the excavator and pulled out a gun, and French threw the machete at him.
Another person at the scene then shot French with a Taser. He was lying on the ground when officers arrived.
The sentencing today was nearly postponed because some of the conditions of probation were unclear. But Deputy Public Defender Ben McLaughlin, representing French, said he wanted to proceed today.
"I would be loath to put this over," McLaughlin told Judge Wilson. "Mr. French needs to be released and get back to his family."
French, looking much healthier than he did in his booking mugshot, appeared by videocamera today from the jail courtroom. He answered all of the judge's questions with "Yes, Your Honor."
Back in 2019, French told The Outpost that his longtime property dispute motivated him to run for Second District supervisor. He was one of four primary challengers to incumbent Estelle Fennell. French received about 4 percent of the vote.
###