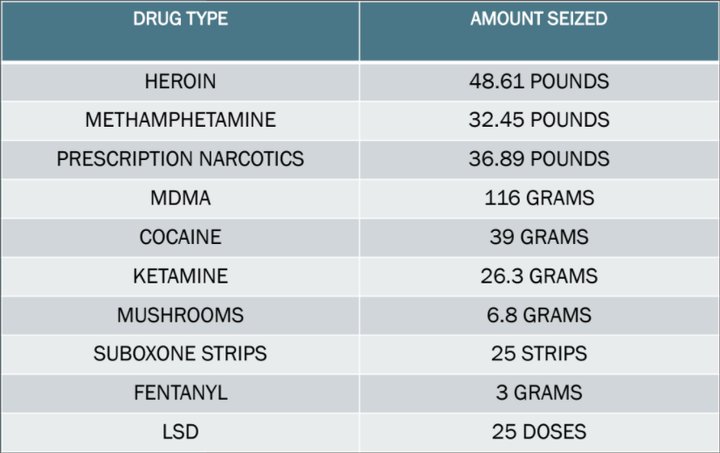 ###
Going purely by weight, heroin, methamphetamine and prescription narcotics were the most-commonly seized controlled substances last year by the Humboldt County Drug Task Force (HCDTF), according to a report released Thursday.
The HCDTF, which is composed of special agents from the Humboldt County Sheriff's Office, the Humboldt County District Attorney's Office, the California Highway Patrol and the police departments from Eureka, Arcata and Fortuna, made 53 arrests last year, a significant drop from the 79 arrests made in 2019 and the 95 made in 2018. And yet the task force seized more weapons in 2020 than in the two previous years combined.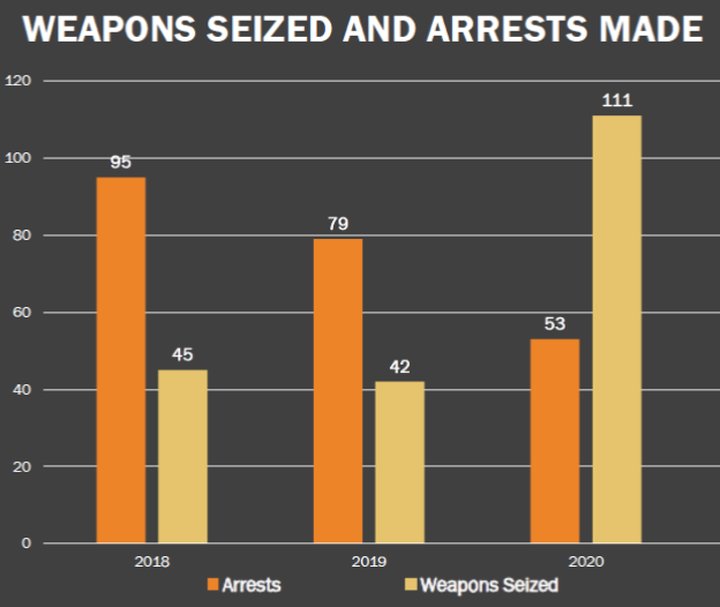 The county's drug figures reflect the nationwide opioid epidemic. According to the Centers for Disease Control and Prevention, more than 70 percent of overdose deaths from 1999 to 2019 involved an opioid, including prescription pills, heroin or synthetic drugs such as fentanyl.
Reached by phone Thursday afternoon, Sgt. Matt Tomlin with the HCDTF said the task force's drug-seizure figures are comparable to the past couple of years. He considers the 32.45 pounds of methamphetamine more serious than the nearly 37 pounds prescription narcotics, which include pills for drugs such as Xanax.
But what's most concerning, he said, is the synthetic opioid fentanyl. While just three grams of the drug were seized by the HCDTF last year, it was responsible for nine overdose deaths in the county, according to an alert issued Wednesday by the Humboldt County Sheriff's Office.
Since the start of the year, the influx of fentanyl has exploded. In the first three-and-a-half months of 2021, HCDTF agents seized more than 187 grams of fentanyl and eight county residents died from a fentanyl overdose.
"An ounce of fentanyl is comparable to probably a pound of heroin or two pounds of meth," Tomlin said.
In yesterday's press release, HCDTF Commander Shawn Sopoaga said, "Fentanyl is being transported to Humboldt County in a raw form and used as a cutting agent, by dealers, to produce more product."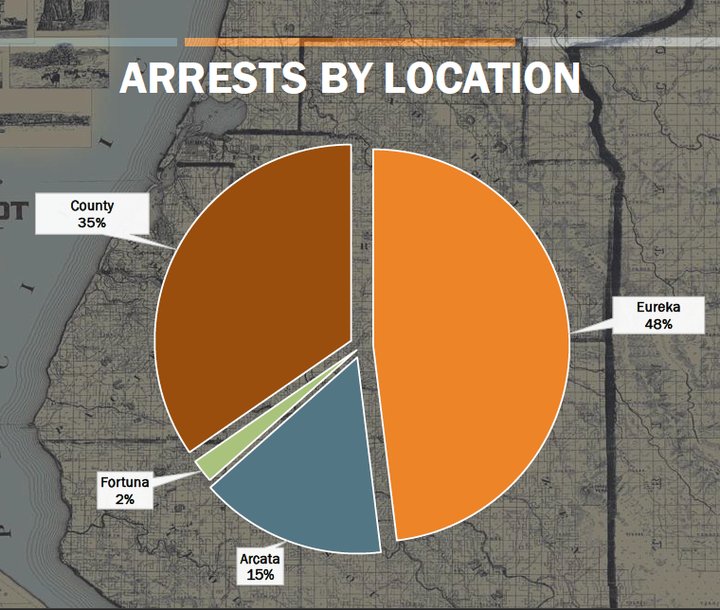 Nearly half of the arrests made by the task force in 2020 occurred in Eureka while 15 percent were in Arcata and just two percent were in Fortuna. The remaining 35 percent occurred in the unincorporated parts of the county.
A crime analyst with the HCDTF said this is the first year that the task force has issued an "annual report." The name suggests that we should see more in the coming years.
###
DOCUMENT: Humboldt County Drug Task Force Annual Report 2020