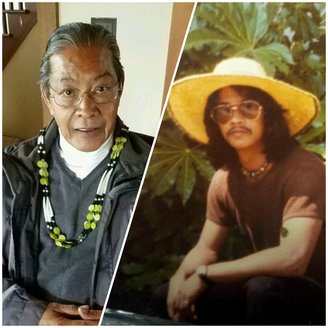 Peter Lucas Fennell
Feb. 23, 1953-April 12, 2021
Peter. Pete. Dad. Papa. Grandpa. Uncle…Peter Lucas Fennell, lover of art, teaching, learning, nature, gardening, ocean, rivers and life. How can you reflect on a life in a few short paragraphs? He was the epitome of the calming soul, the one who never lost his cool, the one who kept everyone around him grounded. Peter passed away in the arms of his loved ones on April 12, 2021.
After graduating from Monterey High School, Peter continued his lifelong career as a student, first graduating from UC Santa Barbara, and then coming to Humboldt State University to earn a teaching credential. Peter wanted to share his love of art, and became a teacher in the Hoopa Valley community. He wasn't just a great father to his own kids, he became a mentor to many youth in the community throughout the years whether teaching a class, coaching a team or interacting with the many friends his kids invited into the always welcoming home. You could always find him out in the garden bringing something to life, mowing the lawn for happiness, or under the hood of a car with one of his sidekicks, Jesse or Paul.
Later in life Papa moved into his son's household, and he was always the Number One Fan watching one or more grandkids playing every season of sporting events from the bleachers or the sidelines. Peter's serene presence was always the calm before the storm for those around him, especially his much loved kids.
Left to carry on his legacy are: Petrina Fennell (Ernest), Andrea (Jake) Marshall, Celena (Ewee) Donahue, Aja (Joseph) Lewin, and Peter "PJ" (Crystal) Fennell. The grandkids who commonly referred to him as Papa, will also miss him: Jesse (Michelle) McCovey and his great-granddaughter, Kayleigh; Paul (Chloe) Donahue; Na-Tausha Donahue; Tyus and Neiko Bryson; Trevor Marshall; and Kylee and Lucas Fennell. His memory will be cherished by lifelong friend and former wife, Roxane Ruiz, who remained a dear friend even after they parted ways. Peter also leaves behind his only sister, Teresita (Gene) Condon, a handful of nephews and nieces, and numerous extended family members across the country.
The family will hold a private Celebration of Life to send some of his ashes back into the natural world he so loved. A graveside service will be held at a later date at Mission Cemetery in Seaside to lay him peacefully near his parents, Albert and Jacinta, and brothers, Anthony and Michael who preceded him in death.
The family would love to express their eternal gratitude for the In Home Healthcare providers Dan, Cindy, and Christian who tended to him daily; the Redwood Coast PACE Program; and the staff of Hospice of Humboldt, especially his nurse, Coral. Without the support of these programs and agencies, our family would have struggled making sure Papa's last years were peaceful for him. In lieu of flowers, donations may be sent in Peter's memory to Hospice of Humboldt at 3327 Timber Fall Court Eureka, CA 95503.
###
The obituary above was submitted on behalf of Peter Fennell's loved ones. The Lost Coast Outpost runs obituaries of Humboldt County residents at no charge. See guidelines here.