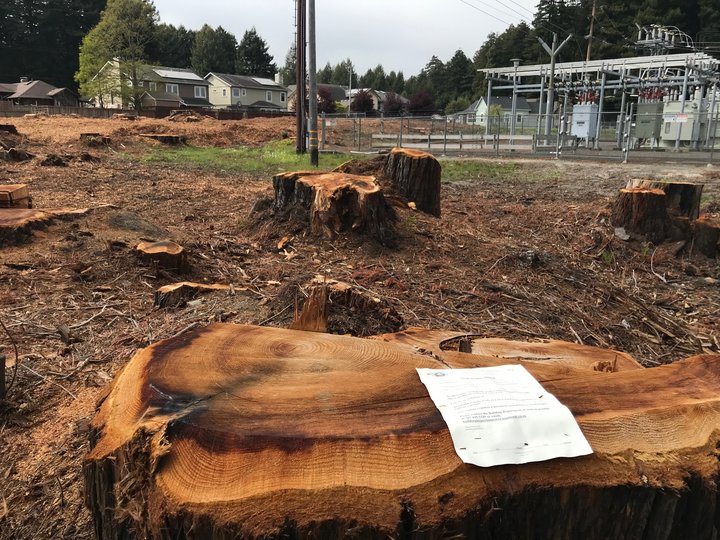 A stop work order still stapled to a freshly cut redwood stump across from Eureka's Redwood Acres spells out the details of a contentious tree clearing completed by PG&E at the end of March.
According to Humboldt County Chief Building Official Keith Ingersoll, PG&E cut down several redwood trees at its substation property on the 3200 block of Harris Street without filing for the proper county permits.
A county building inspector was called to the scene after receiving a complaint about the clearing on April 8. However, the illegal timber production work was completed days before the inspector arrived.
"The inspector posted a stop work order for the tree removal without permits that had occurred," Ingersoll told the Outpost. "Additionally, the department mailed out by certified mail a letter to the owner letting them know that a stop work order had been posted for the unpermitted tree removal, in violation of [Humboldt County Code.]"
PG&E spokesperson Deanna Contreras told the Outpost that crews cut the trees to add "defensible space" to the company's substation.
"We worked closely with the customer who resides near the facility, and he was supportive of our work," Contreras said. "We also obtained the proper encroachment and Calfire permit for this work."
While PG&E says it worked with a supportive customer in the area before removing the trees, the county maintains that the company still needs to obtain the proper permits. Ingersoll said the County Building Division has an open case file for the incident and that PG&E has until July 2, 2021 to file for the required permits. If PG&E fails to apply for permits by this date, Ingersoll said the Building division will refer the case to the Code Enforcement Unit for further action.
"With added defensible space, this PG&E facility helps us keep our customers and the community safe here in Humboldt County," Contreras said. "PG&E started the vegetation management project in late January and completed the work the first week of March. Between that time, crews did pause work during inclement weather."