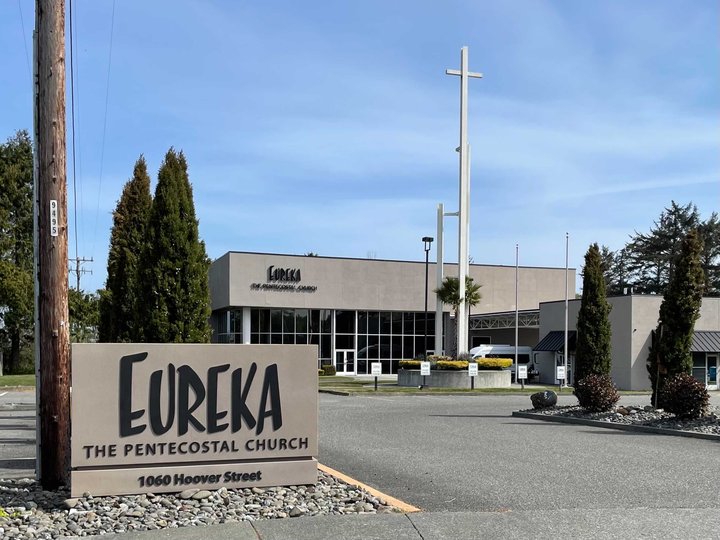 PREVIOUSLY: COVID REPORT: Thirty-Eight (38) New Cases Today; Recent Boom Associated With 'Superspreader Event,' Joint Information Center Says
###
Humboldt County's spike in COVID-19 cases this week has been traced in part to the Eureka the Pentecostal Church.

On Thursday, the Humboldt County Joint Information Center said a majority of the 110 cases reported so far this week are part of "a single outbreak associated with one or more superspreader events." Comments made on social media and an anonymous email to the Outpost identified Eureka the Pentecostal Church as the source of the outbreak. On Friday morning, a mobile testing van from the Humboldt County Public Health Branch was parked in front of the church.
In a statement issued to media via the Humboldt County Joint Information Center Friday afternoon, the church's administration confirmed that members have tested positive.
"We had gone over an entire year with no outbreak at the church, but despite our best efforts, the virus was introduced to our congregation," the statement says. "Whether that was in a church service, or from outside gatherings amongst church congregants, many who are family, we do not know."
While church administration may not know which gathering led to the outbreak, social media posts reveal at least one likely candidate.
Members of Eureka the Pentecostal Church recently posted videos shot at a regional youth gathering held April 9 and 10 in Stockton. The videos show singers and musicians on stage at an indoor venue, performing for a crowd of hundreds of people who can be seen dancing, jumping up and down and singing in close proximity to one another. Very few in the audience are wearing masks.

In another video, posted in February, Tyler Sullivan, the youth president of a Pentecostal organization called Western District Youth Division, announced the event, saying, "[A]fter almost a year of us not being able to come together, we are finally coming together for an in-person, district-wide youth gathering" at the Christian Life Center in Stockton.
Regarding capacity for the event, Sullivan says, "With churches and regulations being at only 25 percent [capacity] as of this moment, we are only going to allow 1,200 registrants in per service."
He also says, "All safety protocols will be in place for this event." However, the videos reveal that the audience mostly failed to maintain social distancing and face coverings, as recommended by the CDC and other public health organizations.
Repeated calls to Eureka the Pentecostal Church were not answered Friday, and a voicemail was not returned by the time of publication.
Here's the remainder of the church's statement to media:
Upon hearing of sickness, we took the following measures:

We immediately shut down all church functions and facilities.
We have been working with public health officials to get important information about quarantine, isolation, and testing to those exposed.
We worked with public health to set up a testing site at the church parking lot.
We will continue to work with public health officials as this unfolds.

We have been in constant communication with our church members, but if you were a recent guest at the church, we encourage you to get tested in order to prevent any further spread.

We love our community and would like to thank all of the healthcare workers on the frontlines who are caring for those who are sick. We would also like to thank the public health department for all of their guidance and continued efforts to keep our community healthy and safe.

From Eureka the Pentecostal Church Administration
On Friday, the Humboldt County Joint Information Center announced that 20 more county residents have tested positive for COVID-19, bringing the total number of cases this week to 120 130. To date the novel coronavirus has been confirmed in 3,717 Humboldt County residents, 38 of whom have died.