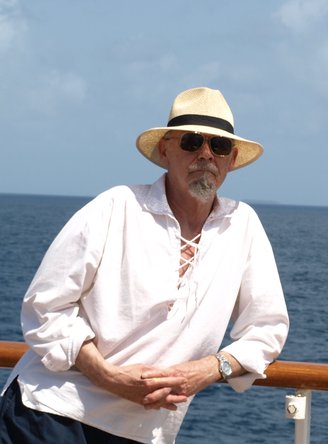 Leigh was born in Denver on August 8. 1942. He was a fourth-generation native of Denver, growing up in a number of places including Denver, San Diego, and St. Joseph, Mo.

He died March 29, 2021 of a sudden heart attack, after many years of surgeries and declining health due to back problems. He had a strong faith in the Lord. One of the last things he said to his wife, Diane, shortly before he passed was "maybe today I get to go home to the Lord and get rid of this body of pain."
For many years he was a SeaBee in the US Navy, where he learned his trade as an electrician. He had wonderful stories to tell about the years he was stationed aboard the USS Tallahatchie County, a converted LST which sailed the Mediterranean where they could pull onto any beach and set up a portable landing strip for Navy planes during the 1960s. Leigh also had many stories to tell (some not so great) of the time he was stationed in Reykjavík, Iceland.
After their retirement, Leigh and Diane took several small ship cruises — including around the Mediterranean, visiting several of the places he remembered fondly, with the last cruise being around Iceland, a starkly beautiful country. His favorite cruise was from the west coast of Panama to Tahiti, on a sailed motor yacht, lasting 27 days.
Leigh and Diane moved to Humboldt County in 1986, shortly after they married in San Francisco. They moved here to buy Old Town Bed & Breakfast Inn, on Third St, the original home of William and Sarah Carson, built in 1871. He loved being an innkeeper, meeting new friends, many who returned often; becoming Residents-in-Absentia (our term for frequent returning guests). During the 14 years of operating and renovating the Inn, they had guests from all 50 states, and 28 foreign countries. Leigh had a trademark leather top hat which he wore while greeting guests. Merchants in Eureka knew him by his hat.
He is survived by his wife, Diane, and adult children living on the east coast: Vicky Glisson, Kelly Benson, and Michael Benson; 13 grandchildren, and 2+ great-grandchildren.
Memorial services will be April 9, 1 p.m., at Telios Christian Fellowship, 1575 L St, Arcata; with burial to follow at Greenwood Cemetery.
In lieu of flowers, donations to Tunnel 2 Towers are appreciated.
###
The obituary above was submitted on behalf of Leigh Benson's loved ones. The Lost Coast Outpost runs obituaries of Humboldt County residents at no charge. See guidelines here.