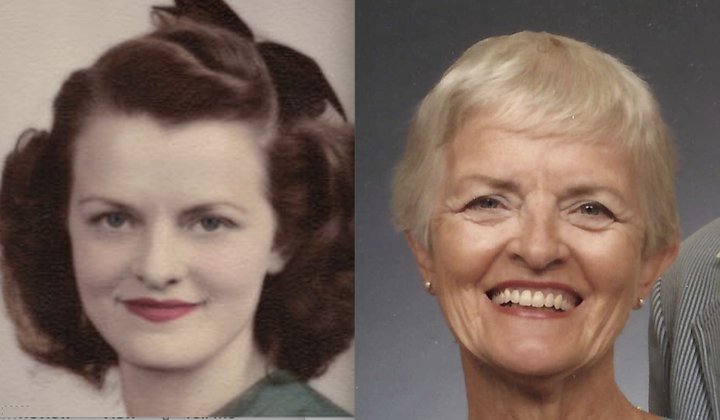 At 6:10 in the morning on March 14, 2021, Anne Thurman Stranahan Newell drew her last breath at Frye's Care Home in Eureka, California. She was just 5 months shy of living a full century. She was mother to us, Susan Stranahan Moskaly and Nancy Stranahan. We hope Mom can feel our intense gratitude and admiration. We want our mother to know that she was seen by her two daughters as a person of high integrity, and that she is deeply loved.

Anne was born Annemarie Thurman in Herten, North Rhine-Westphalia, Germany in the year 1921, the first child of the union of Bertha Fey and George Thurman. When she was almost five, she sailed past the Statue of Liberty and into the harbor of New York City, clinging to the skirts of her mother, who held baby brother, George. When they landed In America, they were greeted by Mom's father, George, who had traveled to America ahead of them to carve out a home in Willoughby, a small suburb east of Cleveland, Ohio. Anne was to spend both her childhood and the first decades of her married life in this snowbelt of Lake Erie and in the shadow of a great industrial metropolis.
As children, we girls loved to hear her tell us stories of her childhood. One of our favorite stories had to do with Mom's first day of school after arriving in America. As if they were still in Germany, Mom's mother had dressed Anne in a pinafore worn over a dress and packed her a lard sandwich. Although Anne knew no English, it was apparent to her that her classmates thought she was odd and made fun of her. I imagine little Anne was in tears. After that day, there were no more pinafores and no more lard sandwiches!
The Thurman family was very poor and ever growing. In addition to Mom's older half-brother, Ferdie, and younger brother, George, both of whom were born in Germany, Mom eventually had five other siblings: Ruth, Evelyn, Paul, John, and Ernie. Mom confided to Susan once that she was not happy that her family was so poor and envied her classmates who could afford nice clothes and take lessons. She also was ashamed of her German background, especially during World War II. In the first couple decades of her life, It was something about herself that she kept secret if she could.
After graduating from high school, she worked briefly at Ohio Rubber Company in Willoughby, Ohio, and then worked as a telephone operator. Whenever she spoke of the latter job, she seemed to glow with pride. It seems not just any young woman could get such a job!
In 1945, Anne married William "Bill" Stranahan (our father) of Euclid, Ohio. The Erieside Gospel Church in Eastlake, Ohio, had a youth group, which sponsored social activities for young adults. That is where our parents met.
Mother was, even for the era, unusually industrious, self-organized, self-disciplined, dependable and devoted to her family. She was liberal in her acceptance of diversity and individual expression, but she was old-fashioned in her deep-seated belief that a woman's first obligation was to serve the husband and the second was to serve the family. Although Mom had many good traits that we emulated, being subservient to a husband was not one of them!
In possession of a brilliant mind, Mom loved to learn and was an excellent student, but was too shy and unsure of herself to accept an offered partial scholarship to an out-of-state college when she graduated from high school. Though we girls were raised in a blue-collar family, our mother had high scholastic aspirations for her two girls. Our father, Bill Stranahan, was steady as a rock, skilled in all the manly arts of the era from homebuilding to engine repair, and thoroughly dependable. But his practicality didn't put a lot of stock in academic education other than to prepare a person for a better paying job. I think he expected that his girls might become secretaries or schoolteachers at best. At any rate, he didn't think it was his job to fund his girls past 18. Whether or not we went to college was up to us to figure out and fund.
Growing out of this difference of opinion between our parents, we witnessed – for the first and only time - our otherwise submissive mother assert herself. She set her mind on doing two things that our father had always objected to. One, she took on employment (working as a secretary in our local high school), and two, she insisted that her girls WOULD go to college and SHE would pay for it. With Dad's eventual support, she bought her first car, one well-used and a bit beat up, and used her employment income to send us to Ohio State. While we watched other college students often play and party at OSU, we almost never stopped studying. We knew of the angel who was paying our way. Studying hard and making the most out of our college experience was our way of honoring our Mom's sacrifice.
It wasn't only we daughters who benefitted from Mom's work as a high school secretary. Mom, herself, blossomed during this time. She seemed transformed, becoming obviously happier and more confident. She regretted that she had never gone to college, but now she was working and associating with, and gaining the respect of teachers and school administrators, all of whom had gone to college. She was in a more intellectual environment, and she loved it.
Mom fought for us, not only for our scholastic education, but also to give us activities which enriched us. We could have lessons in whatever we wanted, as long as we applied ourselves. So, we both had music and dance lessons. The fact that our smart and musically talented mother was never given these opportunities seemed so unfair that it would literally bring us to tears.
Mom showed a real talent for doing crossword puzzles and puzzles of all kinds. She religiously watched game shows such as Jeopardy and Wheel of Fortune, and we believe had she gone to Hollywood to be on these shows, she certainly would have won a lot of money! Why do we think this? Well, at home, she was ALWAYS yelling out the answers WAY before the contestants would! We are not exaggerating! Even as an old lady with dementia in the care home, she continued to be obsessed with crossword puzzles. Her skill at solving them was pretty meager by then, but not her desire.
Mom loved music of all kinds. Music made her want to dance, and how she enjoyed dancing! Although Mom grew up very poor, two neighbor girls, sisters, had a piano and taught her how to play. She was blessed with a natural ear for pitch, singing harmony effortlessly. She played piano by looking at a score for the melody line and improvising with the left hand, based on the given chords. Since we had not inherited her extreme musical talent, it was a mystery to us how she did this. She especially loved playing popular music from the late 1800's to the 1940's. Frequently, we girls would circle around Mom at the piano as she played these pieces, and we would all sing the lyrics together. We girls especially loved the songs with the silly lyrics such as: "Who put the overalls in Mistress Murphy's chowder?" and "Yes, we have no bananas!".
After our father died in 1984 at the age of 65, it was obvious and not unexpected that our mother floundered. Without our father, the rock, by her side, she was anxious, nervous, and probably very lonely. She left Nancy's home outside Columbus, Ohio, where our father had died, and bought a condo in Venice on the west coast of Florida. She was familiar with this part of Florida, since Dad's parents had retired in nearby Englewood and since Dad and she had enjoyed many winters down there. Before long, she yearned to have a man by her side again. Her nature was to serve others in a family setting. Living a solitary life was totally unsuitable and unsatisfying. In 1985, she married Carl John "Rick" Rickenbach, a retired serviceman. They had some pleasant years together, until Rick died in 1990. Over the next few years, mom resumed her yearning to fall in love and live with a man again. She did try to keep busy to distract herself. She bowled, she sewed, she swam, and she went on intellectually and physically challenging elder hostel adventures designed for seniors, accompanied by Dad's sister, June Stranahan Strayer. She took good care of herself, and she looked marvelous. In our minds, she was the most attractive 70-year-old woman in all of Florida. In 1993, she did fall in love again, and quickly married Wilton "Bill" Newell, a Canadian living in Florida. Unfortunately, this marriage did not last. They divorced in 2002
By the time Mom was eighty, signs of dementia began to show. The grace and humor which she approached her life, even with the increasing limitations of dementia, were notable. Because her social manners were impeccable, she was able to hide her dementia from most of our visitors in the early days of her decline. If she didn't remember who someone was, she just faked it! The only way for a stranger to notice that Mom was struggling mentally was to stay long enough to hear her begin to repeat her stories.
As it became harder for Mom to tangibly help others, she truly suffered. She literally lived to serve, the humbler the service the better. As her mind became weaker, we had to become cleverer about finding things she could do besides her beloved crossword puzzles. Nancy recalls: "One time, in desperation to find a suitable activity for Mom, I asked her to vacuum the floor but hit a wall when she couldn't remember where she had been. I distinctly remember standing at one end of the living room while she stood on the other. With vacuum cleaner in hand, she confessed to me she had no idea where she had just vacuumed. We looked at each intently for a few seconds when something magical happened. Eye met eye and soul met soul. Suddenly, our roles as mother and daughter dissolved and we were both struck with the simultaneous vision of two souls dancing the temporary theater that one was mother, one was daughter, and one of us had dementia. We were so much BIGGER than these roles. All at once, both of us doubled up laughing so hard we both fell to the ground. Following that episode, my husband cleverly opened up our hole puncher bin and sprinkled paper dots all over the floor of the house. Happily, Mom went off to clean up the mess, knowing exactly where she was going and where she had been."
While the dementia slowly grew over the years, rest of her physical body stayed relatively healthy and strong. After moving in with Susan in Eureka, California, in 2002, she religiously attended dance and exercise classes for seniors, several times a week. These classes meant the world to her. She was always telling Susan how much she loved the company of her fellow exercisers. And they loved her. As her mental facilities faded, they made allowances for her and helped her find the restroom. It wasn't until her mid-nineties when she began a major physical decline. At age 96, she had to stop the senior exercise classes as she no longer had the balance needed to stay erect while moving. She began having episodes in which she didn't remember her daughters, although she was still really good at faking it! One of the most beautiful things she ever said to Susan was, "I don't know you are, but you are a really nice person."
Anne was the last to die from her generation in our family. All her siblings and first cousins died before her. She leaves behind numerous nieces and nephews and their children. We wish to thank the great people at Frye's Care Home for their devoted service.
Mom, your daughters, Susan and Nancy, love you. If either of us deserve being called a "nice" person today, if we are people of integrity, it is because of your great influence in our lives. Now that we, too, are elders in years, we think a lot about legacies. Though we have no children of our own, we do have creations and influences that will ripple out beyond our deaths, just as yours ripple out through the lives of myself and my sister. If we are destined to follow in your footsteps and live to be 99, know that we will do everything we can to make this world a bit of a better place before our time is over. Our legacies are your legacies, and whatever we do, we do not just for the world but in memory of you.
###
The obituary above was submitted on behalf of Anne Newell's loved ones. The Lost Coast Outpost runs obituaries of Humboldt County residents at no charge. See guidelines here.