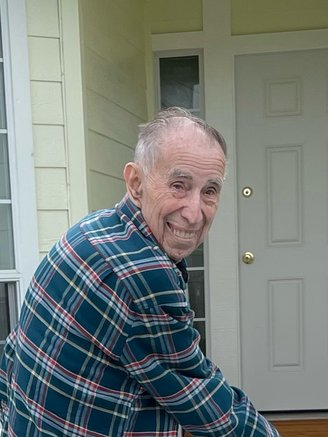 Dad was born February 7, 1931 in Broken Bow, Oklahoma, to William and Nell (Mullins) Wyse. Dad passed away at home surrounded by family on March 27, 2021 after discovering cancer only one week before.

Dad was Nell's only child but he was blessed with an older half- brother, Surrells, and half-sister, Bobbye. Shortly after Dad was born the family began moving west. As a child, Dad lived in Arizona, California and Oregon, finally settling in Prineville, Oregon when Dad was 10 and the only child at home. His mom was overprotective and wouldn't allow him to learn to swim as he might drown. She finally loosened up and allowed him to be a real boy when his best friend, Rollie Miller, and he would camp, hunt, and fish with Rollie's dad, Earl, who kept them in line. My sister and I heard great stories of their escapades in the Ochoco Forests.
In addition to camping, hunting and fishing Dad loved baseball. He was a lifelong Yankee fan. Dad played baseball all through school and joined a minor league team after high school. Dad attended schools in Crook County Oregon and graduated from Crook County High School in Prineville, Oregon in 1949. The class of 1949 had 49 graduates and all they remained close forever.
Dad was a lifelong sawmill man. In Prineville, he worked for Ochoco Timber Company from 1949 until the family moved to Eureka in 1973. His only break from the sawmill was when he was drafted into the Army in 1952. Dad spent 2 years in the Army during the Korean War. He was a Sergeant assigned to the mess hall. The whole family loved when dad fried potatoes. They were the best.
Dad married his high school sweetheart, June Clements, in 1950. Together they had two daughters, Sherry and me, Deni. While working full time at Ochoco Timber, Dad returned to college to get his electrical license at Central Oregon Community College in Bend, Oregon. Sherry, Dad, and I sat at the kitchen table every night doing homework together for two years.
Over the years Dad never lost his love of camping, hunting, and fishing. Sherry and I spent our entire childhood in the Ochocos with him. After grandkids came along they learned to camp, hunt and fish with grandad too.
When they relocated to Eureka Dad went to work for Simpson Timber Company at the Arcata Bottoms plant as the Maintenance Superintendent. He also worked for Simpson at the Korbel mill, eventually returning the Arcata Bottoms to close up the mill as the final Simpson employee at the Bottoms. He and Mom then moved to Medford Oregon where he worked for Medford Corporation as their Maintenance Superintendent. Mom passed away in 1990 and Dad returned to Eureka to be near family.
Dad just happened to move to a new subdivision in Eureka and when the house next door was built he found the next love of his life. Dad married Melinda, the girl next door, in 1993. He told me so many times how lucky he was to have found two amazing women that loved him. With Melinda came the addition of four new kids to the family. Melissa and Jennie were grown and on their own; Ellisha and Matt were still young and Dad helped raise them through their adolescent and teenage years.
Baseball was Dad's favorite sport, but he took up golf after he decided he was too old to run the bases anymore. Dad made the sons-in-law golf with him and soon they brought in the grandsons. Dad was a longtime member of Beau Pre Golf where he spent three days a week golfing with his buddies. After his last golf buddy passed away Dad continued to golf alone until I retired and he invited me to be his new golf partner. At the "butt-crack" of dawn Dad was in my driveway every Monday, Wednesday and Friday to head to the golf course. Some days we had to wait for sunrise to tee off. Rainy days meant breakfast out instead. It wasn't long before my son, Bret, joined us golfing. Dad didn't teach me the rules, but he taught me to lie about my golf game. Our score was based on the number of balls lost vs. found instead of strokes. I never heard my dad use a cuss word as a child – there were different rules on the golf course. Occasionally Bret would bring along one of his daughters and we'd have all four generations on the golf course.
Dad was a life time member and Past Master of Prineville Masonic Lodge #76 AF & AM. Dad was a 60 year member with the Masonic Lodge. He was a member of the Prineville Eastern Star (by force) where he was Worthy Patron with both June and Nell.
Dad was preceded in death by his first wife, June, his parents and his siblings. He is survived by his wife Melinda; daughters Sherry (Pete) Handy, Deni (John) McFarland; son-in-law Tom Allen; niece Judy (Marshall) Herron; Cousin Barbara Stauss and her children; grandchildren, Branden (Ryoko) Allen, Bret (Arly) Allen, Katie (Chris) Alves, Peter (Amber) Handy, Eryn (Joe) Jeffers; nine great grandchildren Nick, Cora, Abby and Charlotte Allen, Brynn and Parker Alves, Joey, Wyatt and Junie Jeffers; stepdaughters Melissa Horn, Jennie Calvi, Ellisha (Warren) Hardison, stepson Matt Lawson; step-grandchildren Bella and Luke Calvi, Dorian, Ezra and Gwennie Hardison.
We will all miss Dad tremendously, but as he said to me when he was first diagnosed: I'm 90 years old, have never been sick before and have had a wonderful life, what else could a person ask for?
In lieu of flowers please consider donations to Hospice of Humboldt. The family is planning a Masonic service at a later date.
###
The obituary above was submitted on behalf of Fred Wyse's loved ones. The Lost Coast Outpost runs obituaries of Humboldt County residents at no charge. See guidelines here.