The remnants of Eureka's Midway Drive-in.
For more than three decades, the closest Humboldt moviegoers got to a drive-in was a passing glance at the rusted Midway skeleton that still stands near Highway 101 and the Indianola Cutoff.

Last year, in response to the wave of government-mandated shutdowns brought on by COVID-19, Crescent City company Redwood Sightseeing Tours flirted with the idea of bringing drive-ins back to Humboldt. However, the company only managed to host one weekend of movies on a 32-by-17-foot inflatable screen, to mixed reviews.
But two weeks ago, local start-up Big Picture Movies surprised Humboldt with flash screenings of "Back to the Future" and "UP" on an impressive 45-foot screen at Redwood Acres Fairgrounds, complete with FM transmitter sound and food truck catering.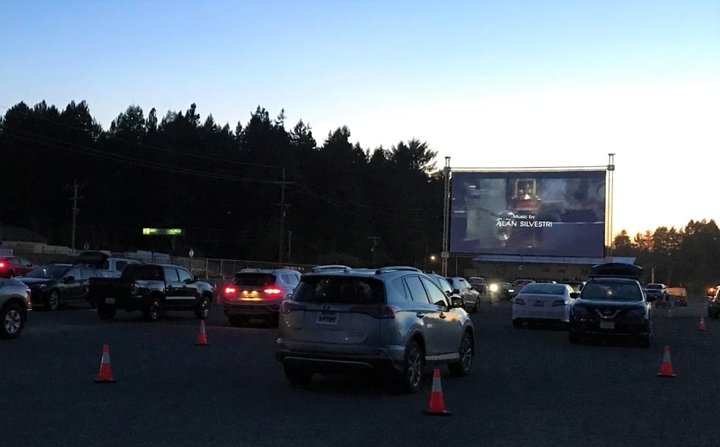 Eureka resident Jessica Olson told the Outpost that her family attended last month's "Back to the Future" screening after seeing a Facebook post about the event the night before.
"I really enjoyed it, overall," Olson said. "I grew up going to the drive-in theater in Hawaii and there is a lot of nostalgia for me. My husband mentioned that he didn't get to see it on the big screen when it first came out, so it was awesome to bring the kids out and see it."
Big Picture Movies co-owners Adam Stephens and Thorin Lynn told the Outpost that they have the potential to hook up dual screens on each side of their metal truss drive-in rig, which will be able to host 120 cars under current COVID-19 restrictions and possibly more than 200 cars if restrictions are loosened.
"When we decided to do this, we decided to do it right and make sure everybody gets a good view," Stephens said. "We invested a lot in a big screen."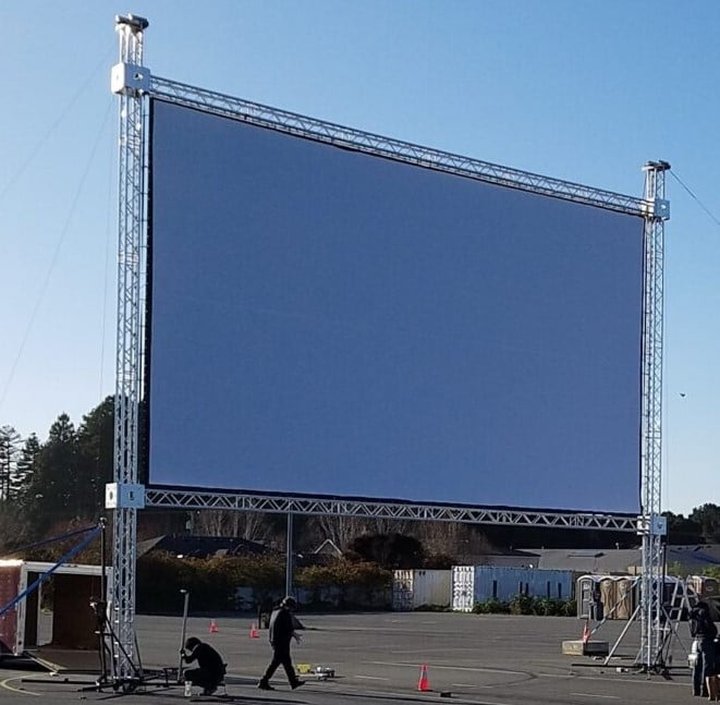 Unlike the inflatable screens used for impromptu drive-ins across the country this past year, Stephens said that his company's screens don't bend in the wind.
"With the lower-quality inflatables, the material of the plastic is such that they can't keep stable in the wind," he said. "The truss is the best way to secure the material. [Most] of the screens are just a single-layer of fabric being stretched, so you end up with a bow in the wind that creates a big bubble. We have a layer of black rubber in between the two sides of our screen. That rubber material is non-stretchable so it keeps it a lot stiffer."
While the company's first screening only attracted a few dozen viewers, Stephens said that he expects much larger turnouts in the near future.
"The first showing, we were so focused on the screen that we hadn't done any promotion or anything," he said. "I only announced [the screenings] three days before the show with no advertising. This next one we have a little more notice."
Stephens is unsure if the company will provide Humboldt with drive-ins past the pandemic, but said that it's a possibility.
"Potentially we would keep it going," he said. "The plan for now is pretty much through 2021 — weather [permitting], and we'll see where it goes from there."
Come summertime, Stephens hopes to offer up to three screenings per week at Redwood Acres. Upcoming showtimes and a list of prices are available at BigPictureMovies.com.