Gathering with your neighbors is becoming increasingly difficult again. Humboldt County continues to see a rise in COVID-19 cases and hospitalizations causing local event organizer to scramble as they try to plan against ever-changing public health conditions.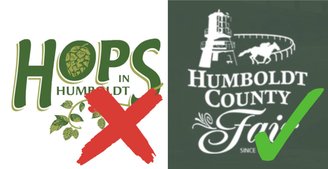 Quite a few local events have already been canceled as a result of the surge. Joining those ranks: For the second straight year organizers of Hops in Humboldt, Fortuna's annual outdoor beer festival, have announced that they've made the tough decision not to hold their event originally scheduled for Aug. 18 in Rohner Park.
Organizers explained their decision on the event's Facebook page. "This year we thought we were slowly coming away from the pandemic as we quietly sat back and watched California open back up," the post reads. "After June 15th, Hops made the decision to scale the event back to a quarter of attendees and plan a VIP only event with low attendance that we felt we could pull off safely. We jumped in with both feet and started planning like crazy and, well folks, we almost made it."
Elsewhere, Humboldt County Fair Association board members voted to proceed with this year's fair, scheduled to take place over 12 days from Aug. 18-29 in Ferndale, but said that they are upping their safety protocols.
"Masks will be required," fair officials announced Monday. "So bring one with you." Carnival rides will be wiped down and sanitized between riders and guests will be asked to eat in a food court where mask removal will be allowed. There will also be a vaccination clinic onsite for folks who've yet to get their jab.