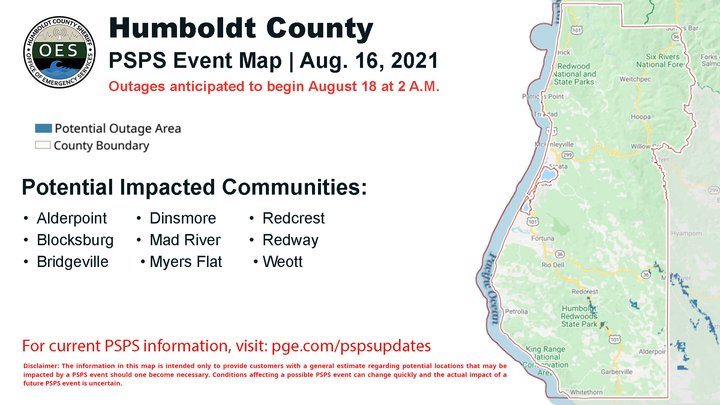 Thanks to efforts to reconfigure the Humboldt Bay Generating Station so that it can operate in "island mode," the overwhelming majority of Humboldt power users no longer have to worry about PG&E's wildfire-related Public Safety Power Shutoff (PSPS) events. But the Humboldt County Office of Emergency Services announced today that a handful of the county's far-flung communities may be subject to planned outages starting early Wednesday.
Read the OES statement below:
Due to forecasted weather conditions causing a potential for wildfire, PG&E has informed us that Southeast Humboldt County is in the scope for a possible Public Safety Power Shutoff (PSPS) beginning Wednesday, August 18 at 2 a.m.

The following communities may be impacted by this outage: Alderpoint, Blocksburg, Bridgeville, Dinsmore, Mad River, Myers Flat, Redcrest, Redway (approx. 2 impacted customers), Weott.

Estimated time of restoration is currently August 19 at 10 a.m. The scope of this event is rapidly changing/evolving. Impacted areas may change in the coming hours/days depending on weather conditions and potential for fire ignition.

PG&E will be opening an outdoor Community Resource Center at the Bridgeville Community Center, located at 38717 Kneeland Road, providing impacted residents with an ADA-accessible restroom and hand-washing station, medical equipment charging, device charging, Wi-Fi, bottled water and snacks.

For more information about the upcoming PSPS or to see if your residence will be impacted, visit: pge.com/pspsupdates.