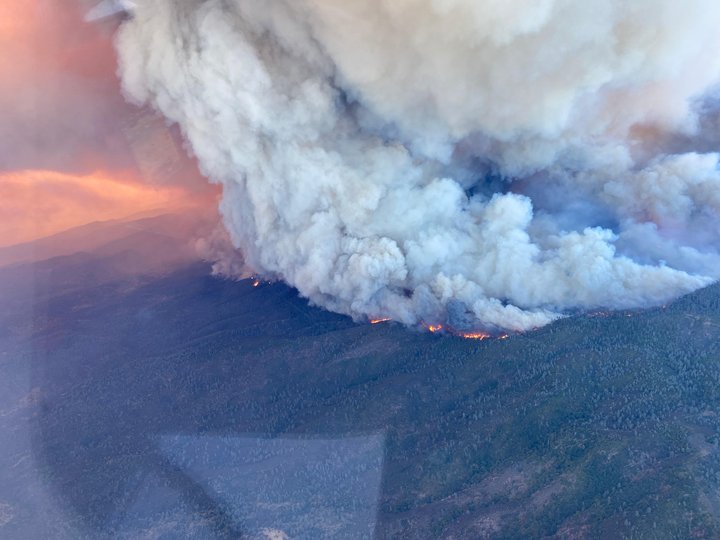 The McFarland Fire burning along Highway 36 in trinity County has nearly doubled in size in the last 24 hours, booming from 51,909 to 97,407 acres.
The rapid growth has also caused the fire's containment lines to shrink from 68 to 53 percent.
"Yesterday, significant fire growth with extreme fire behavior began at sunrise and continued well into the night," the fire's incident management team stated this morning. "Fire is established in the Wells Creek drainage and surrounding areas. Defensive actions were taken around ranches and private homes in the area of Pattymocus Butte and Ball Road."

Firefighters are also facing worsening weather conditions. A Red Flag Warning has been issued across the North Coast's interior today due to erratic winds and low relative humidity levels.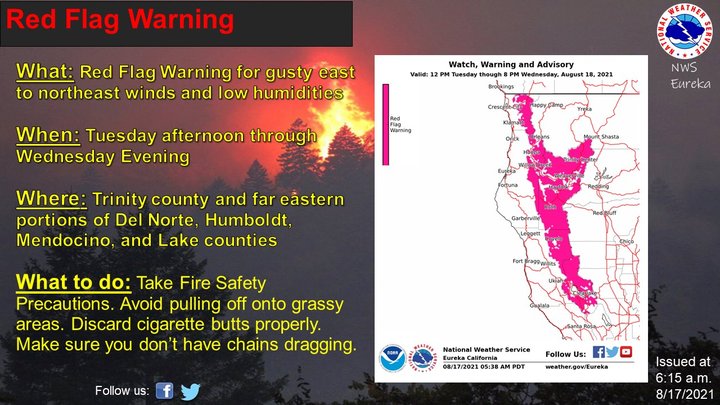 Despite the worsening conditions, the amount of firefighters dispatched to the fire has been reduced from 662 to 653 crew members.
Evacuation Orders:
1 mile north of Highway 36 from Platina to Bowman Road, all homes south of Highway 36 including all of Tedoc Road, east to and including the four corners, north of Pettyjohn Road.
Evacuation Warning:
All homes on the south side and all homes to 1 mile north of Highway 36 from the Shasta/Trinity County line to Platina; North of Bowman Road and Highway 36 west of Luce Griswold to the Tehama-Trinity County line.
Highway 36 remains completely closed between Highway 3 and Bowman Road.
Firefighters still estimate that the McFarland fire will be fully contained by August 21. See the images below for detailed mapping of the fire's recent growth.