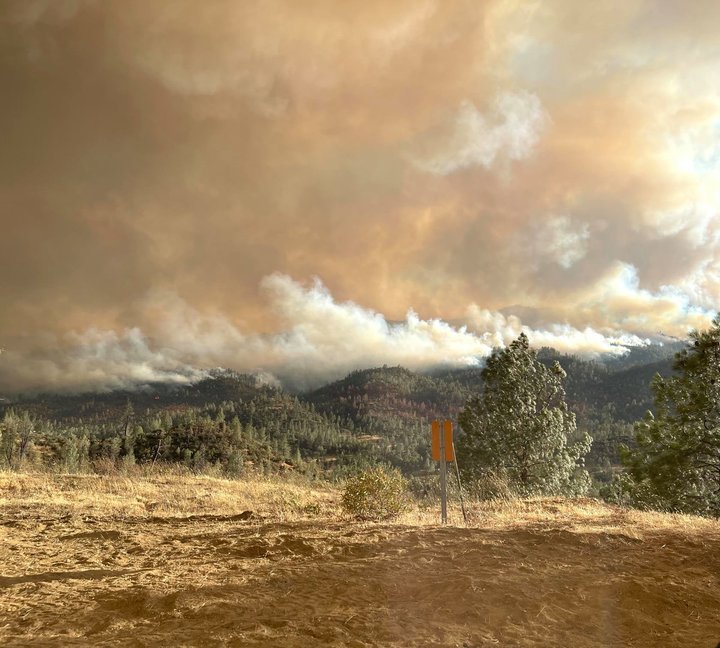 The McFarland Fire burning along Highway 36 in trinity County has grown to 107,102 acres.

While firefighters say they once had the fire 68 percent contained a few days ago, the fire's containment is now listed at 51 percent.
"Yesterday, gusty and dry west to northwest winds surfaced over the fire area and increased fire activity," the fire's incident management team stated today. "Extreme fire behavior pushed the fire to the east into Beegum Peak and over Tedoc Mountain. Fire continued to push and spot to the east and southeast. Crews were able to get a dozer line in Pattymocus Butte last night to keep fire off the Highway 36 corridor."
A Red Flag Warning is still in effect across the North Coast's interior until 8 p.m. today. Northwesterly winds with 30 to 40 mph gusts are forecast throughout the evening, making for critical fire conditions.
While containment lines continue to shrink, the amount of firefighters dispatched to fire is also on the decline. As of this morning there are 631 firefighters actively working on the fire — 31 fewer firefighters than on Monday.
Evacuation Orders:
One mile north of Highway 36 from Platina to Vestal Road, all homes south of Highway 36 including all of Tedoc Road, east to and including all of Vestal Road, north of Pettyjohn Road; North of Pettyjohn Road to Highway 36W and west of the intersection of Highway 36W and Canon Road to to Tehama-Trinity County line.
Evacuation Warning:
All homes on the south side and all homes to one mile north of Highway 36 from the Shasta-Trinity County line to Platina; North of Bowman Road and Highway 36 west of Luce Griswold to the Tehama-Trinity County line.
Highway 36 remains completely closed between Highway 3 and Bowman Road. Due to the closure, Caltrans District 2 is currently operating one-way traffic control with short delays at the August Complex Emergency Slide location on Highway 36 approximately 6 miles west of the Highway 3 junction.