A 12-hour time-lapse of the McFarland Fire. | AlertWildfire
Two lightning fires that ignited last week are affecting Highway traffic in Trinity County.

The McFarland Fire burning south of Highway 36 near Wildwood Road is currently 3,200 acres [UPDATE, 1:37 p.m.: Now 7,485 acres] in size and 5 percent contained.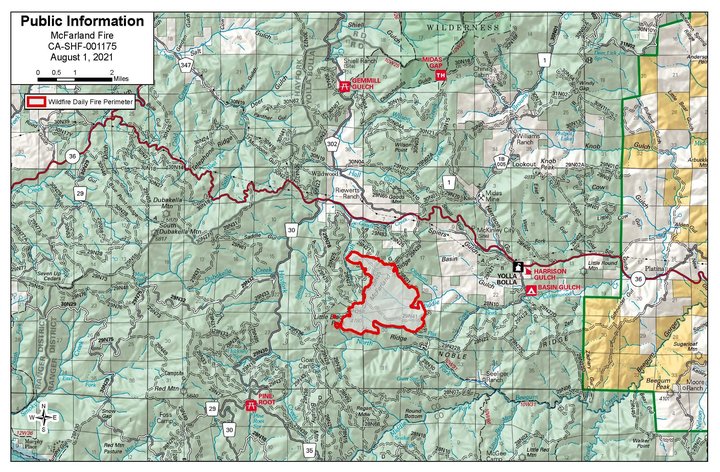 Highway 36 is completely closed from the Highway 3 junction in Trinity County to White Rock Road in Shasta County. Caltrans reports that there is no estimated time for when the highway will reopen.
California Interagency Incident Management Team 11 is now managing the McFarland fire for the Shasta-Trinity National Forest Service. According to InciWeb, 479 firefighting personnel are actively working to stop the blaze.
"Fire is actively making runs, spotting (winds or convection columns carrying sparks or embers produced by the main fire) in front of the main fire and actively backing (fire with slower rates of spread and lower intensity normally moving into the wind or slope)," CIIMT11 reports. "The fire continues to spread and burn actively at night."
Overnight winds are forecast for the area tonight and tomorrow.
The Monument Fire burning south of Highway 299 near Del Loma in the Shasta Trinity National Forest is currently 3,114 acres in size and 0 percent contained.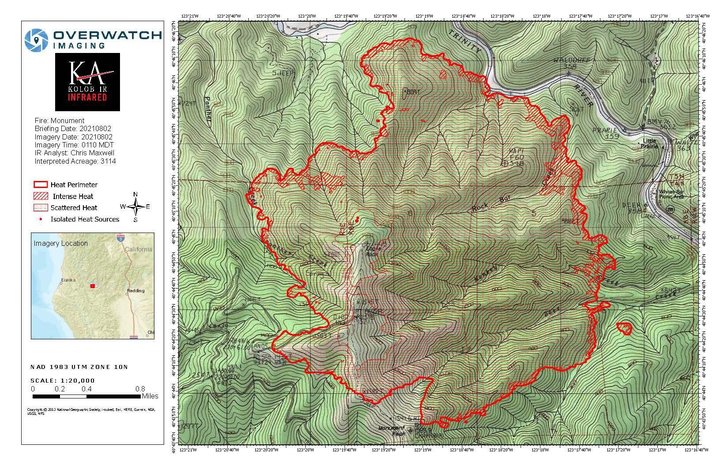 "The fire is burning in the footprint of the 2008 Cedar Fire," the fire's incident management team stated. "The terrain is extremely steep and access is difficult. Evacuation warnings have been issued for residents of Del Loma and Big Bar on both sides of the Trinity River."
Highway 299 has been intermittently closed in Trinity County due to the wildfire. The highway is currently reduced to one-way traffic control between the Hayden Flat Campground and Big Bar near the Big Flat Ranger Station.
The fire's rate of spread reportedly slowed overnight due to calmer winds and settling smoke from other fires. A team of 67 firefighting personnel are working to build indirect containment lines and assess the fire's potential to reach structures in Del Loma, Big Bar, and Pattison Ranch. Residents in these areas are advised to remain in contact with the Trinity County Sheriff's Office in case additional evacuation orders are issued.
UPDATE, 1:36 p.m.: Satellite imagery taken from midday Monday shows smoke from both fires: