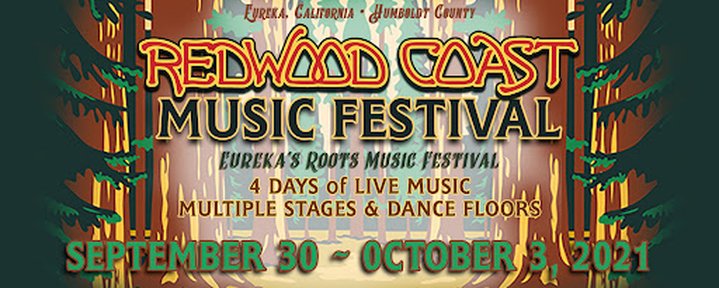 Redwood Coast Music Festival release:
The Redwood Coast Music Festival Board of Directors voted this week to postpone this year's events due to Covid-19 concerns and the rapid spread of the delta variant in Humboldt County.

The 30th RCMF festival had been scheduled for Thursday, Sept. 30 through Sunday, Oct. 3 in eight Eureka venues.

"Our primary concern is for the safety of our audience, musicians, everyone connected to the festival and our local community," said RCMF Board of Directors President Carol Lorentzen. "We had a great roster of American roots acts booked. We are working on re-scheduling the festival for Sept. 29 through Oct. 2, 2022."

"We're saddened to have to postpone, and our thoughts are with all of you that are impacted," said Mark Jansen, RCMF board member and the booker of the musical acts. "They include friends, our community, the hard-working musicians that are struggling once again with cancellations, the sound crews and venues that have been severely impacted throughout this pandemic, our volunteers and sponsors who've been so supportive. Our dedicated RCMF team has been working on this event non-stop and we are all equally disappointed but we also realize that safety is always the most important concern."

Anyone who has purchased tickets for this year's festival will automatically have them rolled over for admission to next year's events. "We appreciate your support and look forward to seeing you in 2022," Jansen said.

Ticket holders or anyone with questions can email admin@redwoodjazz.org or accounting@redwoodjazz.org.