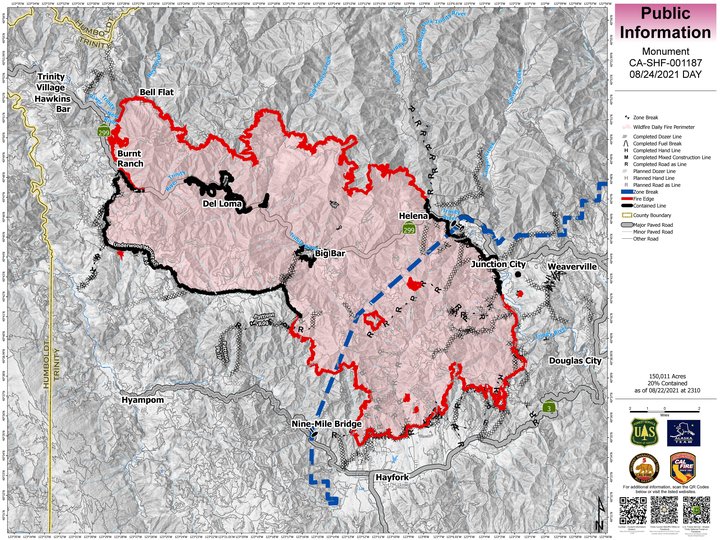 Monument Fire

The Monument Fire burning along Highway 299 in Trinity County between Burnt Ranch and Weaverville is now 152,125 acres in size and 20 percent contained.
A team of 1,798 firefighters is currently working on the fire, including 26 hand crews, 145 engines, 14 helicopters, 51 dozers, 22 water tenders, 5 skidgines, 3 excavators.
"While there was increased fire activity in the South Zone around the community of Hayfork Monday night, there was little action on the North Zone as firefighters continued to patrol and hold control lines in all Divisions," the fire's incident management team stated this morning. "However, fire activity could increase today as south, southwest winds are expected to clear smoke out on the west and south sides."
The Trinity County Office of Emergency Services is urging people to sign up with the CodeRed emergency alert system for the latest evacuation information.
Evacuation Orders: In effect for Hayfork north of Highway 3, Sky Ranch Road and Dutch Creek.

Evacuation Warnings: In effect for Big Bar, Big Flat, Burnt Ranch, Douglas City, Junction City, Weaverville, areas south from Barker Mountain to Haystack, the north side of Hyampom Road from Hayfork to 9-mile bridge, Denny, Hawkins Bar and Trinity Village. For detailed evacuation information, visit the Trinity County Office Sheriff Facebook page at Trinity County Sheriff's Office | Facebook

Evacuation Centers: American Red Cross Shelters have been set up at Shasta College, 11555 Old Oregon Trail, Building 1900, Redding CA; Willow Creek Bible Church, 39 Brannan Mountain Road, Willow Creek, CA; and Fireman's Hall Pavilion, 9 Park Street in Fortuna.

Animal Evacuation: (Domestic animals) Trinity County Animal Shelter, 563 Mountain View St, Weaverville, CA (530- 623-1370). (Domestic + Large Animals) Hoopa Rodeo Grounds on Pine Creek Rd, Hoopa, CA. (Large Animals with the exception of Swine): Redding Rodeo Grounds, located at 715 Auditorium Dr., Redding, CA (Sandy Ekman (530) 739-8469)
Highway 299 remains closed Between Pony Creek Road and Felter Gulch.
A damage assessment team confirmed that 32 structures have been destroyed by the fire. For information regarding property damages, contract the Trinity County Office of Emergency Services at (530) 623-1116.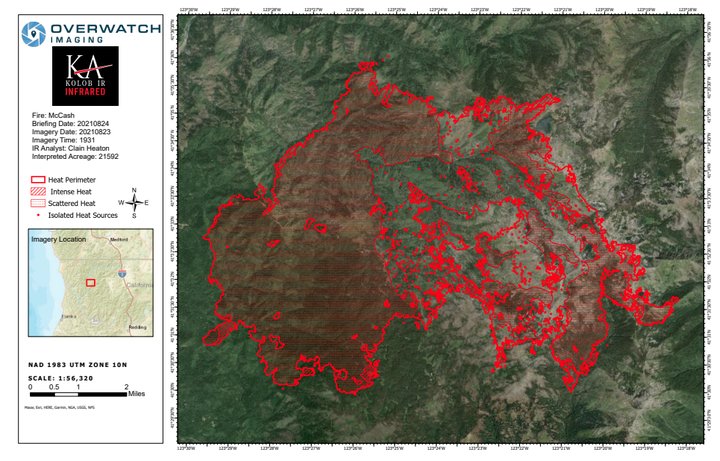 McFarland Fire
The McFarland Fire burning along Highway 36 in Trinity County saw very little growth yesterday. The fire is now 118,624 acres in size and 71 percent contained.
"Conditions were favorable again overnight, and crews conducted successful burning operations along Noble Ridge to build containment," the fire's incident management team stated this morning. "Work in Beegum Gorge will continue to be the priority for firefighters today. The fire showed little growth overnight and held well on containment lines. The northern edge of the fire has not grown in four days."
A damage assessment team has confirmed that 24 homes and 18 other structures have been destroyed by the fire. One additional home has also been deemed damaged by the fire. Damage assessments are ongoing. A map of the destroyed structures and images of the properties can be found by clicking this link: visit:https://arcg.is/1Pu8GW
A team of 895 firefighters are currently working to contain the blaze, including 18 hand crews, 69 engines, 7 helicopters, 45 dozers, 20 water tenders and 3 masticators.
Evacuation Orders and Warnings:
Shasta County

ORDERS: The Shasta County Sheriff's Office has issued a mandatory evacuation order for all residents within the township of Platina. The evacuation order includes all residences and roadways from the Trinity/Shasta County line east to the Shasta/Tehama County line. Residents are encouraged to use Platina Road as an evacuation route. There will be a temporary evacuation site at the Igo/Ono Elementary School. https://www.facebook.com/ShastaSheriff

Tehama County

ORDERS: The area west of Vestal and Weemasoul Roads to the Shasta/Tehama County line and south of Highway 36 in the fire area.

WARNINGS: Highway 36 from Bowman Road west to the county line and north to the Shasta County line (Zone 157). The area south of Highway 36, east and north of Vestal Road, and west of Cottonwood Creek (Zone 158). Please click here to view the map for Tehama County: https://tinyurl.com/Evacuation-and-Road-Closure
Highway 36 remains closed between Harrison Gulch to Vestal Road.