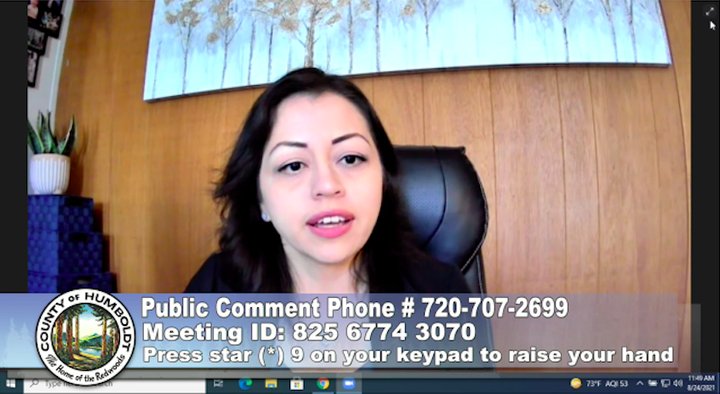 ###
Less than three years after the county moved its payroll function and staff from the Auditor-Controller's Office to the Human Resources Department, the Board of Supervisors on Tuesday voted 4-1 to move it back despite serious concerns expressed by a number of fiscal staffers, middle managers and department heads.
In a thoroughly prepared, almost 40-minute-long PowerPoint presentation, Human Resources Director Linda Le, Auditor-Controller Karen Paz Dominguez and independent consultant Scott Johnson, a partner in the accounting firm of Macias Gini and O'Connell LLP (MGO), outlined the background and reasoning behind the recommendation to move payroll back to the Auditor-Controller's Office.
Le argued that both a comprehensive staffing study and a comparison with operations in 12 other counties suggest that the move would improve accuracy and efficiency while enhancing internal controls.
Johnson agreed, saying the county should locate accounting systems analysts within the Auditor-Controller's Office to help solve finance and payroll system issues.
Paz Dominguez said she'd been approached by Le five weeks earlier, and in a subsequent review of the county's complex payroll processes, staff from both departments identified shortcomings in the system while improving collaboration and communication.
"Because of the success of this partnership, we now have a good model to follow for future recruitments and future all-hands-on-deck situations … ," Paz Dominguez said. "I am excited to see where we can go now, and I believe we are modeling the behavior we want to see across the county."
Johnson described this joint effort as a "pilot integration partnership" and said it has helped payroll run smoothly and reduce errors.
When their presentation was over, First District Supervisor Rex Bohn splashed some cold water on the Kumbaya mood, saying he'd received correspondence from a number of employees. "Their concerns are extreme," he said.
Specifically, he brought up this letter, signed by 11 county employees, including payroll specialists, business managers and administrators from a variety of departments.
The letter says that while the recommendation to move payroll back to the Auditor-Controller's Office "may make the most sense on paper, the current short-staffing of the AC office makes this recommendation at this time deeply concerning."
Essential financial tasks affecting numerous departments are more than six months overdue, and emails to the Auditor-Controller's Office don't get any response beyond an auto-reply for months at a time, the letter says.
The employees suggest that a working group be formed and an interim solution be identified to manage payroll duties until the Auditor-Controller's Office can staff up enough to manage its essential financial tasks.
Another letter was sent by Lisa Dugan, the retired director of the North Coast Regional Department of Child Support Services. She urged the board to consider hiring an outside vendor manage payroll services, saying the Auditor-Controller's Office often ignores or rejects claims without explanation and has a "propensity for dismantling current systems without an adequate new structure in place."
Connie Beck, the director of the Department of Health and Human Services, also voiced concern about the proposed move, noting that the county's single audit for the 2019-20 fiscal year has yet to be completed, which is putting the county at risk of losing millions in state and federal funding.
Beck said the Auditor-Controller's Office hasn't posted financial journal entries for her department since December — 300 entries totaling more than $74 million. "I could go on and on," she said. "I can't see us adding additional duties to an already overworked staff. … I'm super frustrated. It's not fair that we have a couple departments causing so much work for our staff."
Public Works Director Tom Mattson said that payroll actually does belong in the Auditor-Controller's Office, "but she needs to have the resources to deal with it."
The recommendation from Le's office called for some of those resources — namely, the transfer of three full-time employees to the Auditor-Controller's Office and the addition of two more.
Regina Fuller, the deputy director of administration at the Sheriff's Office and one of the signatories to the employee letter, praised the presentation given by Le, Paz Dominguez and Johnson, though she noted that even management employees had been kept "completely in the dark" about the five-week collaboration between departments.
Paz Dominguez later defended the insularity of that collaboration, saying, "We have to clean our house before we have guests over. … We have to understand our own operations before we invite others."
Le noted that a number of key payroll specialists have resigned or gone on leave, and Paz Dominguez said recruitment will be easier if the transition is made because new employees will then be trained by the qualified experts in her office.
Second District Supervisor Michelle Bushnell asked Paz Dominguez to address the concerns about adding more responsibilities to her undersized and overworked staff. In response, Paz Dominguez said she can understand how "fear of the unknown" can cause people to "scare themselves," but she reiterated the value of the recent inter-department collaboration that's been happening and argued, "There has to be a level of trust within our organization that you have hired the right people."
Johnson, the independent consultant, assured Fourth District Supervisor Virginia Bass and her fellow board members that with help from eight employees in his firm, "things are getting caught up in [the Auditor-Controller's] office." And he praised the collaborative efforts from Le and Paz Dominguez.
Bohn remained skeptical, asking why it has taken two and a half years and the addition of multiple new staffers, plus outside help, to start making progress on solving the county's various fiscal fiascoes. (Johnson clarified that his eight employees aren't working there full time.)
Third District Supervisor Mike Wilson said that all the available paths forward are probably going to be "a bumpy road."
"Not one of them is rainbows and unicorns at the end," he said. But he said the county's long-term goals for payroll management align with the recommendation to move payroll back to the Auditor-Controller's Office. He said the concerns expressed by employees are legitimate but there would also be impacts to not moving forward as recommended. He likened county payroll to a body's nervous system. "We have to make sure it's functioning," he said.
Scott Adair, the county's economic development director, urged the board to listen to the concerns expressed by fiscal management staff in their joint letter, and he recalled his own department's difficulties in getting $3.1 million in COVID relief funds distributed to recipients in the community due to delays involving the Auditor-Controller's Office. Challenges in employee retention and recruitment have exacerbated the serious challenges the county's had in fiscal management, Adair said.
Kara Fales, a previous member of the county's payroll staff, called in to encourage the board to leave payroll out of the Auditor-Controller's Office for the time being given the ongoing problems and staffing shortages there.
The board wound up deliberating for a couple of hours, debating which way to move forward. Bass and Bushnell suggested regular reporting from the Human Resources Department and Auditor-Controller's Office regarding the payroll transition. The suggestion for a working group was tossed around before being dismissed as too complicated and time-consuming.
Bushnell made a motion to move the payroll function and staff as recommended and to require biweekly reports. Bass seconded the motion. At the suggestion of county counsel, the board agreed to make the reporting a joint effort between the two departments.
Interim County Administrative Officer Elishia Hayes then said that Cheryl Dillingham, a longtime county employee with experience in both the County Administrative Office and the Auditor-Controller's Office, could be available to help in the payroll transition.
The board wound up voting 4-1, with Bohn dissenting, to approve the "payroll realignment integration," moving the responsibility back to the Auditor-Controller's Office less than three years after it was taken away.