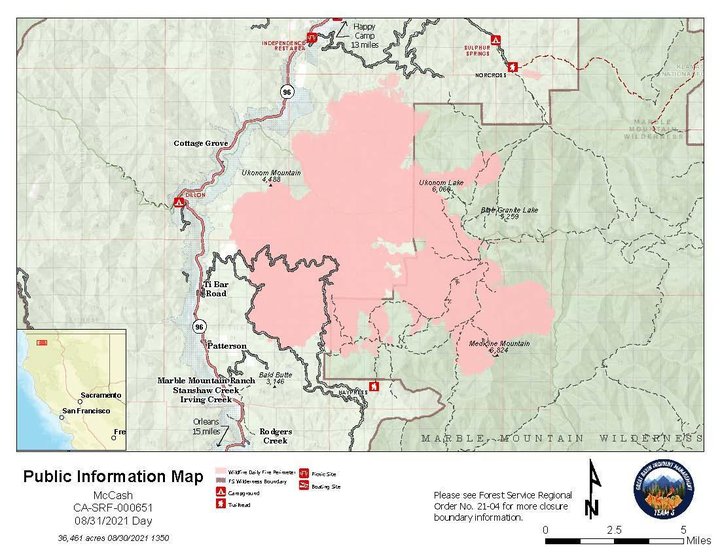 McCash Fire
The McCash Fire burning east of Highway 96 in the Klamath National Forest has grown to 38,906 acres and remains 1 percent contained.
A team of 443 firefighters is actively working to contain the fire, including three crews, 13 engines, five dozers seven water tenders and three aircraft.
"Active fire behavior on the north side of the fire created a spot across a contingency dozer line in the area of Bishop Ridge," the fire's incident management team stated this morning. "Large air tankers delivered multiple loads of retardant around the spot fire and along the north side of the line in support of the burnout operation. Crews conducted six miles of burnout on the south side of the line to create a buffer between the dozer line and the approaching fire."
Highway 96 remains open to both directions of traffic.
For the latest evacuation information use the Siskiyou County Evacuation Map.
###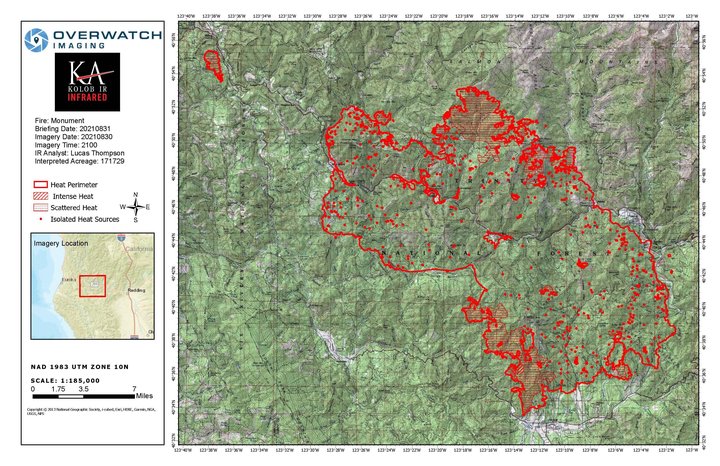 Monument Fire
The Monument Fire burning along highway 299 in Trinity County between Burnt Ranch and Weaverville is now 170,945 Acres acres in size and is 29 percent contained.
A team of 2,415 firefighters is currently working on the fire, including 36 hand crews, 174 engines, 20 helicopters, 58 dozers, 57 water tenders, 22 masticators and 8 skidgines.
"Yesterday afternoon and evening, westerly winds in alignment with the Trinity River corridor allowed smoke to clear resulting in increased fire activity in the northern and southwestern portions of the fire area," the fire's incident management team stated this morning. "Frequent spot fires during late afternoon and early evening slowed firing operations north of Hayfork. Around 11 p.m., weather conditions improved allowing fire firefighters to continue with tactical firing operations."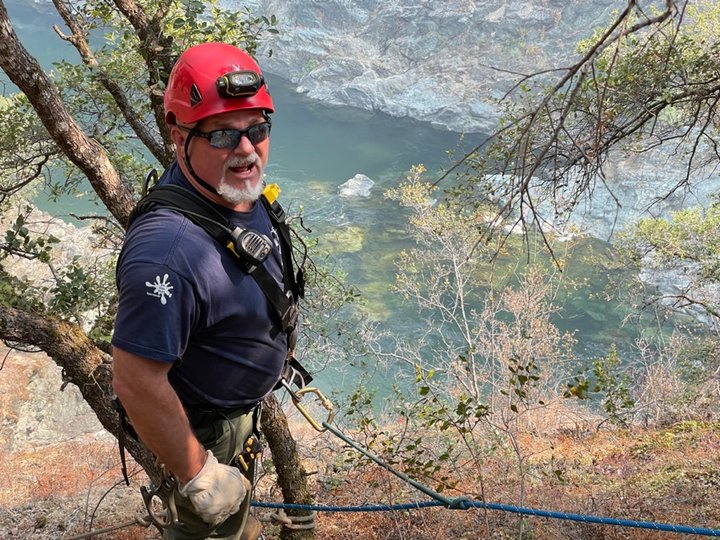 The Trinity County Office of Emergency Services is urging people to sign up with the CodeRed emergency alert system for the latest evacuation information.
See the Trinity County Sheriff's Office Facebook page for the latest evacuation orders and warnings.
Evacuation Centers:

McKinleyville Seventh Day Adventist at 1200 Central Ave. in McKinleyville and Fireman's Hall Pavilion at 9 Park St. in Fortuna.

Animal Evacuation: (Domestic animals) Trinity County Animal Shelter, 563 Mountain View St. in Weaverville: (530- 623-1370). (Domestic + Large Animals) Hoopa Rodeo Grounds on Pine Creek Rd. in Hoopa.

Clean Air Center:

Trinity County has established a Clean Air Center at the Trinity County Library, 351 Main Street, Weaverville. Hours are Monday, Wednesday and Friday from 1-6 p.m. and Tuesday and Thursday from 10 a.m. to 6 p.m. The Clean Air Center at the Murray Building at 6641 Highway 3 in Hayfork has been closed due to fire activity.
A damage assessment team confirmed that 50 structures have been destroyed by the fire. For information regarding property damages, contract the Trinity County Office of Emergency Services at (530) 623-1116.
Highway 299 remains open to one-way traffic control during the day.
"Five times a day, starting at 7 a.m. and ending at 7 p.m., pilot cars will lead vehicle caravans in the section between Burnt Ranch and Helena," the fire's incident management team stated. "These groups will leave from both sides every three hours. Residents may also travel this section of highway between 7 p.m. and 7 a.m. by showing proof of their address."