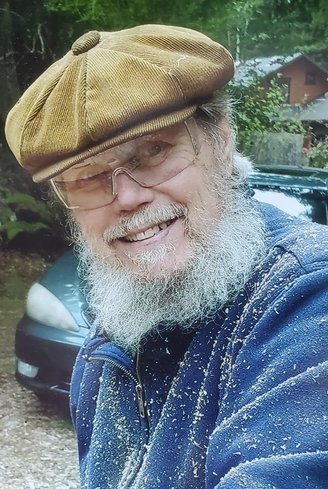 Dad passed with love and light surrounding him in the arms of his family on July 29, 2021 at St. Joseph Hospital in the ICU.

Dad was born in 1945 to Erma (Smith) and Darrel Beckstead in California.
He was the loving patriarch of a close knit family. A wonderful husband, father, grandfather, father-in-law, brother, uncle and friend. Always available to talk about anything and gave the shirt on his back to anyone. Hardworking, honest, proud, stubborn as s***, inventive, creative, loving, jovial, sensitive and loyal. Dad was a rare combination of the best qualities anyone could ask for.
Dad was always a great storyteller, advice giver, and listener. Dad would often tell stories of his life experiences, his childhood, his parents, growing up with his sister Carolyn, his dirt bike riding out in the desert, his trips with his family to national parks and his visits with his beloved grandpa on the farm up in Idaho. He loved spending time with his family and friends. He loved to have get togethers with family and friends at the house, put on talent shows and have birthday parties when I was a kid. His laughs were contagious. His eyes would twinkle. His kind heart, spirit and ability to build anything was probably the closest thing to a living Santa Claus. Beard and all.
Dad was a master craftsman who started to build things with his father at a young age and continued on until his death. He built three harpsicords, the houses we live in, cabinets, sculptures, lamps, decks, fences, brickwork and too many wonderful things to list. His shop was always filled with sawdust piles waiting to be played in, and his tools were always organized in their proper spots. Like his father, Dad was the photographer and video recorder of the family and captured many precious memories as well as documenting his creations. We are blessed with the gift that we can look back on those memories and things he built.
In 2010, Dad had a massive stroke that affected his speech. Causing expressive and receptive aphasia, it was difficult for him to speak and sometimes understand what others were saying. Many friends stopped coming by and calling after that and it made Dad very depressed. Dad went out less and became more of a homebody. He was very proud of his family and always expressed how much he loved us and that we were his world. He was ours. He was not always comprehensible with his words, but he could usually get the message of what he was trying to say with his expressive hands, or writing things down. Common words we will love to remember are, "Beautiful", "Zero", "Terrible", "Little Kid" (what he called his cat Stan), "I Like You", "Love You", "Good Boy" (what he would say to all of us when he was thankful or happy), "Perfect", "Thank You" (with thumbs up), "All I Have, One Day".
Music was always a huge part of our household. Whether it was playing music in the house, the car or on an instrument. Dad started playing trombone at the age of 7 and continued on practicing everyday filling the surrounding forest with his music until his stroke. Over the years growing up he added to his musical repertoire and learned how to play euphonium, guitar and piano. He participated in many local music groups, such as Five for the Fun of It, Tuba Christmas, CR Band, HSU Wind Ensemble, and Humboldt Light Opera. I have many fond memories of watching Dad play at many performances including the Eureka Inn at Christmas and the Christmas Crafts Fair at Redwood Acres. He picked up playing trombone again for a short time the past couple of years to play with his granddaughter Jasmin and it was really nice to hear the house filled with his music again. Prior to when COVID began, Dad had also picked up playing guitar again and loved playing with his friend Brooks every week. COVID hit, we went on lockdown and his beloved cat Two died. He never played guitar again.
Dad loved riding and restoring vintage motorcycles. Building go-carts with his Dad as a kid and working on motorcycles at Mason Motors in Pasadena, motorcycles became a lifelong love and passion. Triumph motorcycles were his favorite. He opened up a Triumph dealership in Arcata called Satisfied Cycle where he sold new Triumphs but also restored and repaired many other brands. Riding safely was always a priority and Dad always said, "You dress to crash" and always wore full gear no matter the temperature and would often shake his head at the riders who wore sandals and shorts. He rode throughout the backroads of Humboldt County for many years until his stroke. Mom and I enjoyed many rides on the back. Often riding up through Kneeland the smell of madrone would fill the air. A smell that doesn't often travel to our house. Two days after he passed, I was working on writing this obituary. I mentioned the rides and the smell of the madrones. The next morning, the smell of madrone was in the air.
Post-stroke, the lawnmower became his motorcycle. Dad loved keeping the yard looking its best. He enjoyed mowing as well as riding the mower up and down the lane just for the fun of it. Dad always kept busy with yardwork, household chores or tinkering on projects in his shop.
Dad was a Trekkie as well as loving to watch Pawn Stars, American Pickers and all of the classic car auctions or shows, anything to do with farming or tractors and animals. We enjoyed many family movie nights with Dad, who never tired of watching the real-life version of The Lion King.
Several times over the years, Dad told us he would randomly stop by the CHP in Arcata just to tell them "thank you" for what they do. He wanted to let them know they were appreciated for their difficult work.
Dad's favorite place to eat was Stars in Arcata. Known as a regular before COVID hit, enjoying an Ortega cheeseburger, fries and two diet cokes no ice. Due to his stroke and difficulty talking, he had a pad of paper with his order on it ready for any new employee who didn't know him yet. He would often comment "beautiful" or "perfect" with an "ok" hand sign to describe how good the food was. Mom and I want to thank the staff and the owners Arron and Jen for all of their special attention they gave Dad over the years. He loved all of you.
Dad was always proud to tell the story how he overcame being taught to be racist. He was taught by the church he attended growing up that God blackened the skin of people because they were sinners/bad. Dad was playing music in junior high and met a classmate with darker skin than his and found out how wonderful he was and realized that the church was wrong. It was a great life lesson that Dad passed on to always think for yourself. To appreciate people and cultures different than you. To experience, learn and explore firsthand, to expand your mind.
Dad loved being a grandpa. The kids were his sunshine. He was always coming over to the house to see the kids and vice versa. The kids were lucky enough to be old enough to have wonderful memories and spend every day with their grandpa. Jasmin and Jaden told Dad every night. "Best grandpa in the whole wide universe!"
Dad loved the outdoors and Humboldt County. Dad moved up here in 1971 and he felt this was the most beautiful place in the world. He loved to walk the Arcata Marsh and visit the beach and state parks in his more mobile years. Prior to meeting Mom he used to live up in McKinleyville and used to walk his dog Ollie down to Clam Beach every day. Even though he was raised in LA, he always was a country man at heart. He went so far as to living off the land far up in Kneeland beyond the airport with no electricity. He would tell stories of owning horses and having run-ins with wildlife like porcupines, scorpions and rattle snakes. He grew lonely of living so far out, describing he would go to the movies in town just to be around people and decided to move closer to town 3.5 miles up Kneeland. Mom and Dad both grew up in Pasadena, had never met, and were living within a half mile of each other on Kneeland. Dad had seen Mom out jogging frequently on the road past his house and he had told his sister Carolyn of a pretty blonde girl he was too shy to talk to. Mom broke the ice one October day in 1981 when she saw him putting his trombone in his car for band practice. The place he was renting had several trees bursting with apples. Mom stopped jogging and asked what he was going to do with all of those apples. Dad had never been late for band practice and stayed and talked to Mom. Mom had a voice in her head as she jogged away that she had just met the man she was going to marry. Mom joked with Dad the next day when they talked for six hours that she felt she had known him all her life and he asked her to marry him. She shook it off playfully and Dad officially proposed with a song he wrote for her called "Love Sparkling Clear" two weeks later and they were married six months later. They have been married for 39 years.
In retrospect, we believe Dad knew he didn't have much longer to live. He would give his favorite pictures and sculptures to us for birthdays and holidays. While he was still down at UCSF before we brought him back to St. Josephs, Mom found a song he had left open on his music stand.
Love Forever Lives On by John Carr
Down in the village each day
A widow works hard for her pay
A lady alone
Her children all grown
She visits the grave where her dear lover lay

He worked at the mill far away
And thought of his Rose every day
She gave him her love
He thanked God above
His life was so suddenly taken away
Love forever lives on
A love together so strong
One heart still lives
The other still gives
Memories that linger and carry her on
There in the cottage she stays
Molding her pots out of clay
Her faith stronger grows
There's one thing she knows
Some day they will meet in a world far away

I and the family would like to give a special thank you to our St. Joseph family. Everyone who looked after and took care of Dad and all of us during these difficult and heart-wrenching weeks. There are too many people to name individually and I don't want to leave anyone out, but you know who you are. Dad and all of us know that he received the best care and there are no questions that everything was done to save him. We feel your love and we cannot say thank you enough for wrapping your arms around us as we grieve our tremendous loss. Thank you Dr. Einterez, Dr. Tovian, Dr. Oliver, Dr. Sugiura, Amber Hoffman FNP, Dr. Walker, Dr. Stein and Dr. Arcidi for all of your care for Dad and our family. You never gave up hope Dr. Arcidi and we appreciate it with all of our hearts. Dr. Trieu, Dad and all of us are giving you two thumbs up with his big smiles and as he said, "I just love you." We love and are grateful for your care for Dad.
Dad always put his family first. An attentive father who wanted to be involved in everything. A much loved story often told time and time again was describing his enthusiasm of being a new parent and his disappointment he couldn't breastfeed. He was very insistent that it was only fair that he was the one who got to feed me my first solid food of bananas. Dad was always present for everything growing up. From school performances and swim practices, to coming into my classes in elementary school with his musical instruments to expose other children to music. As a teenager he always made sure that I had gas in my tank and checked on my oil every weekend up until several years ago. Dad would come by my places of employment regularly to meet my co-workers and see where I worked first hand. When I became a nurse at St. Joseph Hospital he always wanted to see where I worked but he couldn't shadow me or see what I and my colleagues do for the patients. When he had an outpatient procedure in CVU in May he requested as he was discharged if we could wheel him by my unit so he could finally see where I worked. He had such big smiles to see the unit where I work and meet some of my lovely co-workers. Little did he know he would get the full tour of the ED, OR, PCU, ICU, cath lab, Radiology….pretty much the whole hospital very soon. Although it was a difficult four weeks, Mom and I know that there was a part of him that was happy to meet so many of my wonderful colleagues and see the hospital where I work for himself. He appreciated all of you and all of the work you do to save lives every day.
Survived by the love of his life of 39 years his wife Janet. His daughters Johanna Nicoll and Jen Beckstead-Chavez. Son-in-law Juan Chavez. Grandchildren Jasmin and Jaden. His 18-year-old orange tabby Stanley. Sister Carolyn Miller, nieces Debbie, Cindy, Shirley and their children and grandchildren. His brother from another mother Lee Marks. Chosen family Lynn and Kurt Evers-Hellmich, their children Jason and Sierra, and Kurt's sister Karen and her husband Carlo, Skip and Karla Austin and their children Jodie and Mike.
Out of respect for the men and women who risk their lives everyday on the front lines, in the hospital and out in the community who are battling COVID, Dad would not want a memorial. Please wear a mask and protect my Mom, my kids, my co-workers and yourselves.
We are waiting to receive Dad's ashes from Ayres Family Cremation and will spread his ashes when Johanna is able to join us.
In lieu of flowers, please consider donating blood or an act of kindness towards a stranger to pay it forward. As Dad used to say in his aphasic way using hand gestures, "open my eyes (in the morning), look around, (I have) one more day." That's all we have. One more day.
###
The obituary above was submitted on behalf of Douglas Beckstead's loved ones. The Lost Coast Outpost runs obituaries of Humboldt County residents at no charge. See guidelines here.