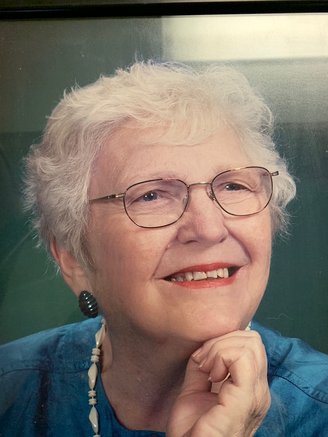 NORMA JEAN WYNNE (BLOOM)
August 21, 1931- June 9, 2021
In the evening of June 9, as Norma was resting in the presence of her daughter Sherry Munsell Hawks and granddaughter Missy Munsell, she slipped from our hands into the hands of Jesus and into Gloryland.
Norma had been ill for the past six months and Hospice of Humboldt took such loving care of her.
Norma was born August 21, 1931 in Vallejo to Adrian Tennyson Bloom and Mabel Agnes (Kronke) Bloom. At the time Adrian was working at the C& H Sugar Mill in Crockett. The family later moved to Albany, Calif., when her father began working as a researcher at Standard Oil in Richmond. Norma grew up in Albany and attended Cornell Elementary and graduated from Albany High in 1949.
She worked for Liberty Mutual Insurance Co. in San Francisco for two years. During this time her mother would ride the bus over and they would enjoy plays and movies together before coming home. They were best friends and did everything together as her father worked nights.
About this time her friend asked her to start writing to a pen pal, a Sergeant in the Air Force stationed in Alaska. So she did. His name was John Carl Wynne from Fort Worth, Texas. Norma then began working at Federal Land Bank in Berkeley. Not too much later she decided to go to San Jose Bible College. During her first semester, Sgt, J.C.Wynne came to visit from Alaska and proposed! Norma left school and went back to the bank until they were married on June 10, 1953.
After a honeymoon in Yosemite, there was a move to Denver, where he was stationed at Lowry Air Force Base. In 1954, their daughter Janet Ruth was born. In true fashion of being in the service, in 1955, it was time to move again. This time Norma was getting to see Wichita Falls, Texas at Shepherds AFB. After one short year they are off once more. This time it's for a boat ride across the pond to Denham, England for a two-year stay. This took some adapting. It was wet, dark, cold, she had to translate a few words. She also had a lot of enjoyment and met so many very close friends who helped her through those two years. She did have something else to keep her busy beside Janet being two, she now had a newborn daughter, Sherry Jean.
At the end of two years, John was a Master Sargent and worked in computers. He would have to stay behind, but in October of 1957 as Norma was once again expecting, she traveled back to Albany and to her parents with two little ones and expecting another in two months. What a brave soul. In January of 1958 Jay Adrian was born. After John came home , he decided to leave the service and got a job in computers with Chevrolet in Oakland. This was the family's new home. The girls started school and Jay was the baby for a couple of years. But as the story goes, Norma was going to have another little one. In 1960, James Keith was added to the family. Quite the little troop. Norma kept them all together and looking neat and tidy. She entertained, always attended church and taught Sunday School.
The Chevrolet plant closed and a new General Motors Plant was being built in Fremont, so the family picked out a spot , had a home built, packed their belongings and moved to their new home. Along with the home came a new baby one month later. In July 1963, David Joseph joined the clan.
When David started school, Norma began working in the school cafeteria. This is something she continued to do for 13 years – moving up to managerial positions, even going to college to improve herself.
In 1968, John and Norma separated. The children continued in school and loved living in Fremont. Adrian and Mabel moved to Fremont to be closer to the family. They all loved spending time together. They went to church together and the kids loved to spend the night with them.
As the children moved out, grandchildren began arriving and she loved each one of them. Some she was fortunate enough to have live with her and watch grow. Sarah and Jared were there often. Rebecca was born while living with her grandma. Timothy and Melissa were both born in Humboldt County but Norma traveled north sometimes with her parents to visit. She also flew to Missouri and Kansas to see Joey, Kaidence, Joe Jo Eddie and Dexter before she quit traveling. Later Adrian and Mabel moved in with Norma and they helped each other out. After her parents passed away, Norma decided it was time to leave Fremont and move closer to her daughter Sherry Munsell Hawks in Weott. So she found a nice home in Fortuna in 2002. She was very happy here and glad she made the move. She and Sherry were very close and did many things together, spent many hours at each others homes. She loved the activities out at the ranch, watching the deer making apple cider, gathering nuts enjoying their dog and always her great granddaughter Amaya who was frequently there. They talked daily on the phone. Norma was a hard worker. Aafter she worked for Fremont Unified School District, she worked as secretarial for Randy's Ranch Hand Meats for 16 years and Weight Watchers for two years. Norma was preceded in death by her parents Adrian and Mabel Bloom, her oldest son Jay Adrian, youngest son, David Joseph and great-grandson Joseph Butterbean Rutter.
She is survived by daughter Janet Zuckerman her husband Dan of Las Vegas, daughter Sherry Munsell Hawks her husband Rick of Weott, Ca., James Wynne wife Teri of Eudora,Kansas. She also leaves 8 grandchildren Sarah Vecchionacce, Jared Haizlip, Joseph Brand Timothy Munsell, Andy Zuckerman, Melissa Munsell, Rebecca Rutter, Jenifer Wynne. Also 9 great grandchildren, Amaya,Kaidence, Naomi, Gabriel, Eddie, Dexter, Trey, Lily,Jackson. She also leaves her childhood best friend, Antonette ( Toni) Durante. They stayed in close contact by phone or letters. They loved each other deeply. Toni will always be part of our family.
She was a long time member of Fremont Church of Christ prior to moving to Fortuna, then became a member of Eureka Church of Christ. She had many wonderful friends there. They came to be with her while she was homebound, called and sent many lovely card to cheer her and were supportive to her family as well.
She was also a charter member of Fortuna Senior Services and served on the board of directors for three years. She had so many friends from there, especially Jeanne Rollins.
Services were handled by Goble's Mortuary in Fortuna and they did a beautiful job. Viewing was held and a graveside service was held on June 15, 2021 at Sunrise Cemetery in Fortuna. It was officiated by her minister Frank Riley of Eureka Church of Christ.
A memorial will be held at the Eureka Church of Christ on August 21, 2021, from 11:30 a.m. to 2 p.m. Food will be served, bring a picture or a story.
###
The obituary above was submitted on behalf of Norma Wynne's loved ones. The Lost Coast Outpost runs obituaries of Humboldt County residents at no charge. See guidelines here.