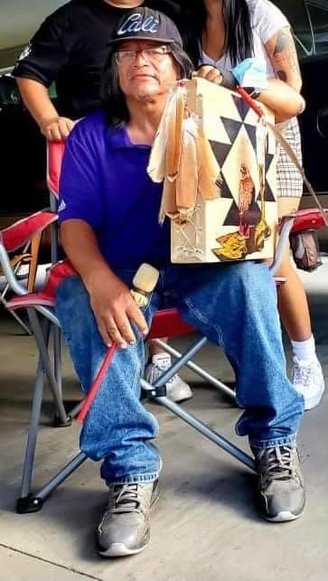 William "Smidge" Frank Colegrove, 57, started his journey home at UCSF in San Francisco on August 3, 2021. Smidge was a native of the Hoopa and Yurok tribes and a resident of Hoopa. He was born August 14, 1963 to Agnes (Jeeps) Colegrove and William (Squeaky) Frank Jr.

Smidge was a pillar of the community — he was an amazing father, a thoughtful and caring brother and a loving uncle, cousin or friend to all. Smidge's family will miss everything about him, from his big belly laugh to the unique way he spread happiness and laughter everywhere he went.
Smidge attended Hoopa Valley Elementary and Hoopa high school. From ceremonial dances to sporting events to gambling, Smidge loved to be surrounded by his people. His children look back at times with their dad surrounded by ceremony and love as some of their fondest memories. Smidge left a little piece of himself with every person who crossed his path and still had so much to give. He was truly a unique soul and his extraordinary presence will forever remain unforgettable.
Smidge was a dedicated advocate for native rights and water preservation. He "fought the good fight" as he would've said by attending the majority of the dam removal protests and Trinity River demonstrations for the past 20 years. He had the time of his life while at Standing Rock in North Dakota fighting against the Dakota Access Pipeline and still talked about it to his girls up until his last days. Smidge loved his native ceremonies most of all, he was a very spiritual man with a very strong singing voice and a very loud and proud Injun holler. If there was an Injun card game going on that's where you would find Smidge. He was happiest when singing and laughing with his brothers, uncles, cousins, and lifelong friends. Hoopa will forever feel the loss of our great seal, but the memory of him will live on forever — in our dances, in our hearts, and in his children.
Above all else Smidge was a proud dad, he loved all four of his children with every part of his heart and was so thankful to have been their father. Smidge is survived by his daughters Sharissa Sergeys, and Danielle Frank, sons Jess Mclaughlin, and William Frank IV, grandson Darvin Davis, Father William (squeaky) Frank Jr., brothers Eugene (EFC) Colegrove, and Robert Blake, sisters Maggie Sylvies, Cecilia Sylvies-Frank, Alexis Carlene Pratt and Charlotte Frank, aunts Darlene Titus (Cyd Colegrove), Mary Anne Colegrove, Carol Anne McCullough, Cherlette Colegrove, Suzie Mclaughlin, Itsy Frank, and Jewel Frank, uncles Carl (Si-mooch) Colegrove, Alex Pratt, Ricky Frank, and Jack Vadgley and countless nieces, nephews, cousins, and friends whom he loved each in their very own way.
Smidge is preceded in death by his brother Jay Lee Frank, his mother Agnes (Jeeps) Colegrove, grandma Charlotte Colegrove, grandma Ada Florence Jones, grandpa William Barney Frank Sr., aunt Carolyn Frank, great aunts Louise Vadgley, Minnie Mcwilliams, Muriel (Diddy) Jackson, and Louise Kiesner, and uncles Eugene Fredrick (Fada) Colegrove, Johnson Colegrove, and Dennis Jackson, great uncles James Jackson and Peter Jackson. Pallbearers are Jess Mclaughlin, William Frank IV, Eugene Colegrove (EFC), Tony Risling, Darvin Davis, James Gensaw, Manuel Frank, David Maloney, Boyd Ferris, Robert Wolf Colegrove, Salish Jackson, Sherman Norton, Lincoln (Loggie) Jackson, Robert Colegrove, and Christian Colegrove. Honorary Pallbearers are William (squeaky) Frank Jr., Shaun (Snacks) O'neill, Carl (Si-mooch) Colegrove, Ticmil Ashley, Blaze Carpenter, Donte Natt, Ricky (Dimpy) Frank, Dean Powell, Panther Colegrove, Henry Frank, Rodney (rowds) Robbins, Marcus Williamson, Quentin Mosier, Henry McCullough, Arlen Doolittle, Glenn Moore, Deacon Ferris, Sylvester (Flabs) and Freddy Brown, Tom Vanbergen, Lance Lammon, David (Hootie) Lewis, Burr Rogers, Eli Erickson, Caw-tep Thompson and all his dance brothers.
The funeral arrangements are being made at Paul's Chapel in Arcata. There will be a wake held for Smidge at the pink Baptist Church located at 0 loop road on highway 96 starting at 8 p.m. Monday, August 9. The funeral will be at the same location the following day Tuesday, August 10, starting at 10 am from which we will go to the Brown Family Cemetery on Pine Creek to lay Smidge at his final resting place.
There will be food available after the burial at his niece Angela Saxon's located at Hostler Field Housing, there will be a sign posted. Covid precautions will be in place and masks will be mandatory with absolutely no exceptions. The family would like to give thanks for the enormous amount of prayers and strength being sent their way and to everyone who provided Smidge with medical attention .
###
The obituary above was submitted on behalf of William Colegrove's loved ones. The Lost Coast Outpost runs obituaries of Humboldt County residents at no charge. See guidelines here.