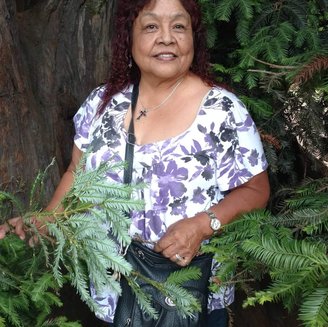 Charlene "Char" Horne Muro Marshall, 72 of Hoopa, passed away to be with our Lord and Savior on December 12, 2021 at 12:45 a.m. She was surrounded by her loved ones singing and reading scripture to her.

Char was born on August 28, 1949 to Rev. Frank Horne Sr. and Pauline White Horne in Hoopa at the old hospital on Loop Road. Char was the oldest of six children — along with Char there are Caroline Horne, Frank "Badge" Horne Jr, Jonathan Horne (deceased), Raelene Cobb and Gerard Horne (deceased). She was a tomboy. When she was a teenager she would wrestle her boyfriends down when they asked her out. She also taught herself how to do hair cutting, perming, dyeing, etc.
In November of 1964 she lost her mother, brother, grandmother and cousin in a tragic car accident and took on the role of helping her father raise her siblings when her dad was out preaching the word of God. She helped with caring for her siblings, she became the mother figure to them and they looked up to her.
Char married a preacher named Leland Muro in the year of 1969 in Reno. She had six beautiful children with him – Charlena (deceased), Linnie, Leland "Brody", Tani, Tamera and Raina Muro. After Char and Leland got divorced she moved to Hoopa and remarried Russell Marshall and had her last child in 1987, her baby, Russell "RJ" Marshall Jr. In November of 1997 she took on another role as mother for her grandchildren Danielle and Angel after they and their mother got in a bad car accident and her daughter-in-law didn't survive, she raised Danielle and Angel as though they were her own. She loved them and taught them about the Lord.
She loved to travel to see her children in Santa Rosa, then to Point Arena to see her Aunt Bim and Cousin Oshie along with other family members who reside there. She also loved to traveled for her religion. She would go to all kind of church meetings, whether it be in Covelo or over to Nevada. She was a true woman of God – she put all her faith in him and trusted him with all her heart. All she wanted in life was for her children to know God. Char had a smile that we will never forget or the voice of angel when she would speak or sing.
She is preceded in death by her Father Reverend Frank Horne Sr, Mother Pauline White, Grandmother Ella, Brothers Jonathan and Gerard Horne, Sister Juana Gault, cousin Nadine, Daughter Charlena Muro, Uncle Darnell "Dart" White, Uncle Willington "Duke" White, Aunt Eileen White, Aunt Dolores Starky, Aunt Margaret Horne, Uncle Jake Horne, Uncle Robert Horne, Aunt Christine Horne, Aunt Caroline Horne, Uncle Reginald White.
Char is survived by her Sisters Caroline Horne,, Raelene and Pat Cobb, Brother Frank "Badge" and Chopsie Horne, Children Linnine Muro, Leland "Brody" Muro, Tani Muro, Tamera Penaloza, Raina and Nicoma Sanderson, Russell and Laurie Marshall Jr, Grandchildren Fernando Muro, Danielle Muro, Angel Muro, Tonewhan "Bubba" Muro, Joaquin Muro, Jose Muro, Marco Calixto Jr, Emanuel Muro, Leanna Cisneros, Jaime Muro, Javier Penaloza, Lorenzo Penzola, Carmen Penaloza, Juan Hernandez, Nicoma and Skye Sanderson Jr, Shania Sanderson, Sativa Sanderson, Indica Sanderson, Gerard Marshall, Donald Hostler Jr, Jocelyn Baldy Marshall, Taiya Baldy, Tyler Harrington, Eva Marshall, Ella, Marshall, Great Grandchildren Xiomara Cisneros, Amella Muro, Ariella Muro, Killian Dickey, Castiel Dickey, Yuri Dickey, Nieces Elizabeth Nix, Raelene Carpenter, Melody Horne, Michelle Horne, Andrea Cobb, Krishell Cobb, Nephews Tillman Anderson, Shane Anderson, Darren Blaze Carpenter, Duane "Roogers" Carpenter, Bubba Horne, Jonathan Horne Jr. Ther also numerous great-nieces and -nephews and cousins she loved them all.
Pallbearers:
Blaze Carpenter, Duane Carpenter, Shane Anderson, Tilman Anderson, Gabe Anderson, Nathan Nix, Gerard Marshall, Donald Hostler Jr, Michael Gabriel, Roy Ridenour, Nicoma Sanderson Jr, Leland Moon, Gabe Moon, Jason Marshall, Whits Marshall, Marco Calixto Jr, Emanuel Muro, Jaime Muro, Juan Muro, Caleb White, Lester "Mesket" White, Josh White, Verle Moon,
Honorary pallbearers:
Badge Horne, Russell Marshall Jr, Leland "Brody" Muro, Nicoma Sanderson Sr, Russell Marshall Sr, Willy Hoglen, Leland Muro Sr,
Viewing at Paul's Chapel in Arcata Friday Dec. 17 from 12 to 4 p.m. Graveside Service in Hoopa on Saturday Dec. 18 at 11 a.m.
Pot luck style reception at the Fire Hall in Hoopa to follow after the services.
###
The obituary above was submitted on behalf of Char Marshall's loved ones. The Lost Coast Outpost runs obituaries of Humboldt County residents at no charge. See guidelines here.