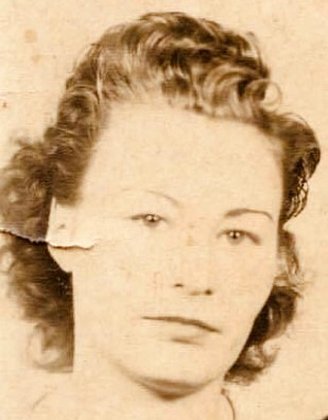 Zona Trella Ferris
August 31, 1924 – December 7, 2021
Zona Trella Ferris was born into the arms of her loving parents Dave Drake, Sr., and Lonnie Snapp-Drake on August 31, 1924. She was a Karuk tribal member born to the Village of Panamnik. Her mother Lonnie delivered her and her twin sister, who passed the day after birth. Zona was the oldest of eight. She was raised with her six sisters and one brother at the Drake homestead on the Salmon River. She attended elementary school at Somes Bar and waited two years before circumstances allowed her family to send her to high school in Etna.
The opportunity to attend high school at the time was no easy feat. WWII was in full force and caused increasing responsibilities on women as the men were drafted to fight in the war. Despite these obstacles, her parents chose to earn money that would allow her to move to Etna, where she enrolled and graduated with the class of 1943. Two sisters, Ethel and Betty, soon followed in Zona's footsteps and moved with her to the valley to attend high school. All three sisters worked while attending school and were only able to make the trip home to the Salmon River during vacations. Their uncle Charlie Snapp, who was the mail carrier for over 75 years, would allow the girls to ride over Salmon Mountain on his Caterpillar through snow and rain to visit their parents at home.
Zona's sister Betty is 94 and resides in Bishop, California and is married into the Paiute and Shashone People. She recently shared a story about their adventures from Etna to the Salmon River. She recalled,
One time us girls wanted to go visit our parents and Uncle Charlie told us he didn't think we would be able to make the trip because a blizzard was coming. He said it would be too cold for us to travel over Salmon Mountain and it wouldn't be safe. We were determined to make the trip and begged Uncle Charlie to go. Uncle let us go and we left from Etna at 8 a.m. and didn't reach the Salmon River until 2 a.m. It snowed the entire time. We were wet and cold.

Uncle Charlie had a sled to hold freight and mail that was hooked to the back of his Caterpillar so he could get the mail delivered to the Salmon River. Zona saw some eggs Uncle had in the sled and asked Uncle if she could have them and Uncle said, "of course!" Zona traveled up the mountain with those eggs sitting on her lap until Uncle hit a bump and all the eggs went flying. When we arrived to the Salmon River, our parents said they were worried to death and could not believe we survived the trip.
Zona's father owned and operated a pack train of mules. The family all helped with the pack train and was responsible for packing prestigious guests like President Hoover high into the Marble Mountains. The government delivered all of the supplies the President would need to stay at Haypress Meadows for one month at a time. The Drake family used their pack train to transport the supplies more than 12 miles into the back country. The family helped build President Hoover a cabin which the family called a "Mansion." The cabin had a walk-around porch and overlooked the beautiful Marble Mountain water and meadows. The family cooked and took care of the President while he stayed and hunted in Karuk ancestral lands. One time the President's chauffeur sent for Zona's mother, Lonnie, to come meet them because he was too scared to drive the one-lane dirt road to the Salmon River, so she drove his Cadillac and parked it in the garage while they went to the mountain. The Drake family knew the Marble Mountains well and traveled them regularly.
During Zona's upbringing, the 1964 flood washed away the bridge and town of the Salmon River. The store, fuel station and Post Office were once located along the South river bar a few miles up the Salmon River. This had an impact on the family and put pressure on them to ration supplies. Several years later, the current store, gas station and post office were built and still remain.
The Drake homestead was a happy home where all of the siblings were woven as one. They did everything together. There was plenty of books to read amongst the family, as their mother Lonnie housed the Siskiyou library in their home. The family did not have electricity but used kerosene lamps when they needed lights. The siblings did not have a playhouse but rather used the entire river system to create memories. Zona grew up during a time when people knew their neighbors and families along the river. The people looked out for one another by sharing their food. Deer, eels, mushrooms and more were shared regularly.
Betty shared,
We had a good life! People were always kind to one another along the Salmon River and we took care of one another. We had fun times and entertained ourselves. We used grapevines to swing like Tarzan to create memories and we wouldn't trade what we had growing up for anything else.
In 1945, Zona met and married Wilfred Ferris, Sr. and together they raised six children. She was a determined woman who worked hard to help provide for her family. She had a long career, which began in High School at the Etna Hotel pressing laundry. When she moved back home she worked at the Ti-Bar Ranger Station, the Orleans Hotel, the Ishi Pishi Restaurant, Ukonom Ranger Station and later for the United States Forest Service as a Firewatch at the Buckhorn Lookout in Siskiyou County. She retired in 1997. She was known as somewhat of a sharpshooter. She could take out a rattlesnake from her fire lookout tower.
Zona truly enjoyed being with her family while camping, hunting, and fishing. She was well-known for her cooking and learned from her parents at a young age how to can food. She always prepared delicious food and gifted her children and grandchildren with canned fruit, jams and jellies of all sorts. The river community knew her best for providing food for ceremonial dances, community gatherings, basketweaving events, birthdays, and much more. She taught all of her children to be good cooks and they continued the tradition by cooking for events like Following the Smoke and Salmon Camp.
Zona was a basketweaver and avid gatherer. She helped the California Basket Weavers Association (CIBA) develop an herbal book called The First Full Moon in April.
Zona's knowledge of history was unparalleled. Her family and friends loved sitting and listening to her stories because she knew everyone and had memories associated with all the places from the rivers to the mountain tops. She was very fond of Salmon Summit and the Ferris hunting camp, where she and Wilfred raised their children and grandchildren. Many Birthdays, special events, and memorials happened at Ferris Camp. The amount of quality time Wilfred and Zona spent with their children and grandchildren tells a story about how important we all were to them. She raised her great-grandchildren Ashley and Richard Myers, and Tuekwe Hunsucker and raised her granddaughter Cassandra Wescott, Sandra's daughter.
Zona would call her siblings every week to talk and laugh about old stories. Zona had a great sense of humor and was not against playing a good joke on people. "Gram" had a large family and so many friends. Words cannot explain her connection to her community and family. She was a true Mountain Woman and her stories and contagious laughter will be missed by all who knew her.
Zona is survived by her daughters Elaine Stevens (Lester) and Sandra Ferris, her brother Dave Drake, Jr., Sisters, Betty Baycock, Sherley Bates and Beverly Drake (Dr. Doyle Bradshaw), and Daughter-in Law Patricia Ferris, Grandchildren, Josh (Carly) and Ben Saxon, Kim Chiokai (Hailey), Michael and Ulysses McLaughlin, Dana Lane (Kevin), Poppy Ferris, Trisha Ferris (Adam), Rick Bradberry, Raymond Ferris (Trissy), Stanley Ferris, Ilene and Francis Ferris, Cassandra Wescott. Zona was blessed with many great-grandchildren, nieces and nephews, family and friends; far too many to list.
Zona is preceded in death by her parents Dave Drake, Sr. and Lonnie Snapp, her late husband Wilfred Ferris, Sr., her children Dwayne Clyde Ferris, Sonny Buck Ferris, Dale Blue Moon Ferris and Noreen Ray McLaughlin, sisters Ethel Star, Ella Benedict and Helen Beck, her grandparents Nellie Morris-Snapp and Ezekiel Snapp, Grandson Wilfred Ferris III, Granddaughters Stephanie and Julie Ferris, and Sister-in-Law Adriane Drake.
Paul Bearers: Rick Bradberry, Josh and Ben Saxon, Michael and Ulysses McLaughlin, Stanley and Raymond Ferris, Tuekwe Hunsucker and Dave Drake, Jr.
Zona will be laid to rest in Etna, California at the Etna Cemetery with her parents, aunts and uncles and many other family members. The Ferris family will hold a graveside service at the Etna Cemetery on January 15, 2022 at 1 p.m. A Flower Drop over the Orleans bridge will be held on December 23, 2021 at 3 p.m. Join the river community by bringing your flowers and dropping them off the Orleans bridge in memory of Zona Trella Ferris.
The Ferris family would like to thank all of those who have reached out by offering food and comfort. Yootva!
###
The obituary above was submitted on behalf of Zona Ferris' loved ones. The Lost Coast Outpost runs obituaries of Humboldt County residents at no charge. See guidelines here.