UPDATE, 5:12 p.m.: Humboldt County First District Supervisor Rex Bohn shared the following security camera footage of the earthquake as seen from inside Ferndale's Golden Gate Mercantile:
###
UPDATE, 3:15 p.m.: The old Creamery Building in Loleta didn't fare so well during the quake. North Coast News was live at the scene a moment ago:
###
UPDATE, 1:57 p.m.: A total of 38 aftershocks as of this writing, the largest being a 4.3 magnitude quake out at sea that hit just a few minutes ago.
As usual, it seems that the greatest damage was in the lower Eel, with plenty of reports of broken windows and emptied shelves in Ferndale. Caroline Titus, late of the Ferndale Enterprise, has been filing to Twitter:
Valley Grocery moments after quake. Owner said ten volunteers showed up and helped cleanup. Store now back open. #ferndaleca #Earthquake pic.twitter.com/6rNCoTrMG2

— Caroline Titus (@caroline95536) December 20, 2021
Valley Grocery closed. Next door, Ferndale Liquors open as employees pick up the broken bottles. Strong smell of bourbon. Broken water lines in upper building. Buckets everywhere. #earthquake #ferndaleca pic.twitter.com/8SuRRjHOZP

— Caroline Titus (@caroline95536) December 20, 2021
Another shattered window on Main Street at The Abraxas. #ferndaleca #earthquake pic.twitter.com/Z1Styg9KdB

— Caroline Titus (@caroline95536) December 20, 2021
###
UPDATE, 1:43 p.m.: The Humboldt County Office of Emergency Services reports that the Mattole Road and Southern Humboldt's Redwood Drive are closed due to rock slides occasioned by the quake — the largest to hit Humboldt County since 2010:
#UPDATE
Road Closures due to rock slides:
- Redwood Drive between Evergreen and Bear Canyon
- Mattole Road near Postmile 11

— Humboldt Co OES (@HumCoOES) December 20, 2021
The OES is also asking people to report any personal damages suffered during the quake at this link.
UPDATE, 12:50 p.m.: Lots and lots of aftershocks coming in, most of them tiny. Here's a live map.
###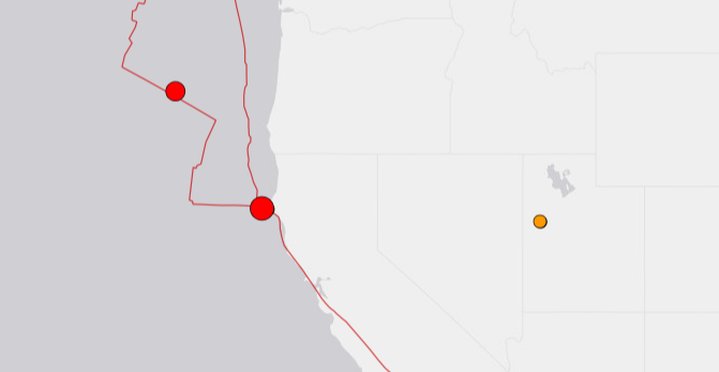 Christamighty, that was a rocker and a roller!
What the USGS is calling a 6.2 magnitude earthquake struck just offshore a few moments ago. Here in Eureka, it went on and on and on, with a couple of very solid lurches.
For the first time in your reporter's experience, the earthquake advance notification system worked. I was just saying to Ryan: "Weird, I just got a…" when the building started moving. Next time, dive under a table.
How was your earthquake? Any damages? Report in, please.