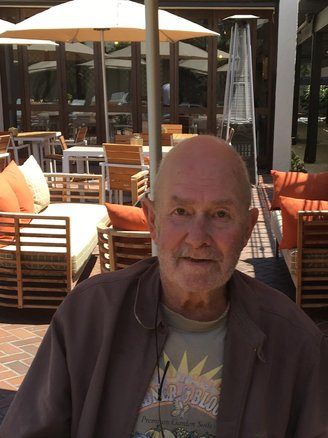 Kenneth J. Hinman
February 7, 1936 – October 20, 2021
Ken was a Humboldt County native who taught elementary school for 32 years. He was a natural born and beloved teacher whose students fondly referred to him as "Mr. H." He found a way to weave his love of music into his curriculum and could often be found playing John Denver tunes on his guitar for his students. He especially enjoyed his colleague Lannie Nelsen and the collaboration they shared between their classrooms. Prior to his teaching career he spent four years in the United States Air Force as a court stenographer. He was stationed in Albuquerque, New Mexico.
One of Ken's favorite hobbies was gardening, and his is specialty was growing flowers and vegetables. After he retired from teaching, Ken helped to manage Pierson's Garden Shop for 20 years. His depth of knowledge and love for gardening helped him to win many gardening awards from the city of Eureka throughout his years. Another favorite hobby was music. His love of music included both classical and rock genres. Ken went to see music as much as he could, and was able to see both Neil Diamond and Elton John live in concert.
Ken was fond of good food and was referred to as a "foodie." He enjoyed visiting the San Francisco Farmer's Market at the Ferry Building. His all-time favorite food was Italian, and he was often found covering everything with parmesan cheese.
Ken's favorite place to travel was the Caribbean. He loved to feel the wind on his cute bald head. His sense of adventure made him an exciting and very fun travel partner. He was a bit of a daredevil and was always up for a zip line adventure, a rollercoaster ride or a parasailing adventure.
Ken was a runner and loved to participate in organized runs. He participated in all the local events he could, including the annual Foggy Bottoms and Clam Beach runs. He also enjoyed several Bay to Breaker runs. Ken met his longtime partner Steve in July of 1993 while on a Clam Beach run.
Ken leaves behind the fondest of memories for his beloved dogs. Most recently Maddie, a rescue dog and cute little bundle of joy, stole Ken's heart. Codie, a "cotton-ball with an attitude" was another favorite who was very active and loved to play, and finally, Rhandi, who was Ken's princess.
Ken is survived by his partner of 31 years, Steve Frizzell. He also leaves behind his daughter Tami, son Todd and wife Ireta; three grandchildren, Mitch, Brendon and Shalisa, and one great-grandchild, Oliver. Ken also leaves behind his sister Lucille Huddleson from Fortuna and his brother Norman Hinman of Yuba City. Ken remained good friends with his ex-wife Jean Hinman until her death in 2009.
Ken was a kind and gentle man with an incredible sense of humor. He will be missed dearly by all who loved him.
In lieu of flowers, please make donations in Ken's name to Miranda's Rescue.
###
The obituary above was submitted on behalf of Ken Hinman's loved ones. The Lost Coast Outpost runs obituaries of Humboldt County residents at no charge. See guidelines here.