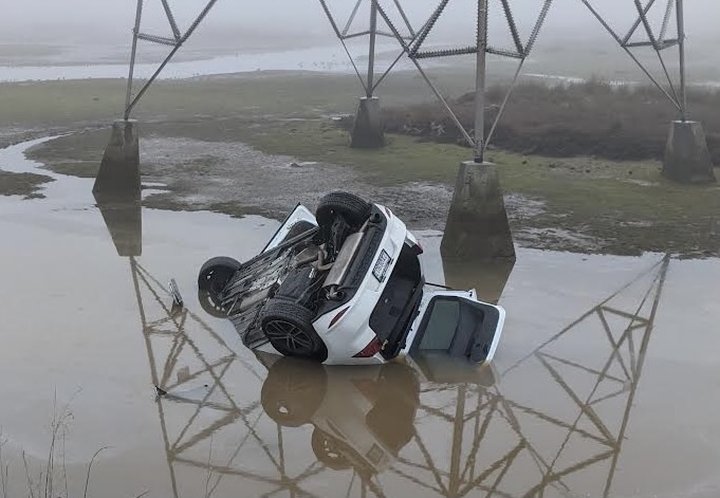 ###
An Arcata motorist somehow managed to completely mis-navigate a bend in the road that wends through the Arcata Marsh, sending their vehicle up and over a levy and then ass over teakettle into McDaniel Slough.
Emily Sinkhorn, Arcata's environmental services director, said the semi-submerged VW hatchback was reported to authorities this morning as the sun rose and the fog lifted. The Arcata Police Department called out a tow truck, and the vehicle had been pulled back onto the roadway by the time Sinkhorn arrived.
"We called the [Environmental Protection Agency's] National Response Center, which is a network that anybody can call if they observe an oil spill," she said. (You can also notify local agencies, Sinkhorn suggested.)
An environmental services crew from the city responded quickly, placing booms along the edge of the levy to prevent oil or other contaminants from sliding into the slough as the vehicle was pulled from the mud.
A member of Coast Guard Sector Humboldt Bay's Marine Environment Protection unit came to the scene to assess the situation, as did personnel from Humboldt County Environmental Health and the California Natural Resources Agency's Office of Spill Prevention and Response.
"We definitely have environmental concerns as the marsh is such an important habitat and sensitive area," Sinkhorn said. "But both the Coast Guard and state and local spill response [teams] said the city did all we could do and it likely was only gasoline that leaked [into the water]. They said the most prudent response is to let the marsh break down those materials [because] active recovery of that level of spill would do more harm than letting the ecosystem recover on its own."
Arcata Police Officer Luke Scown said there was nobody inside the vehicle. The owner has not yet been identified.
For reader reference, you can contact the National Response Center at: 800-424-8802.