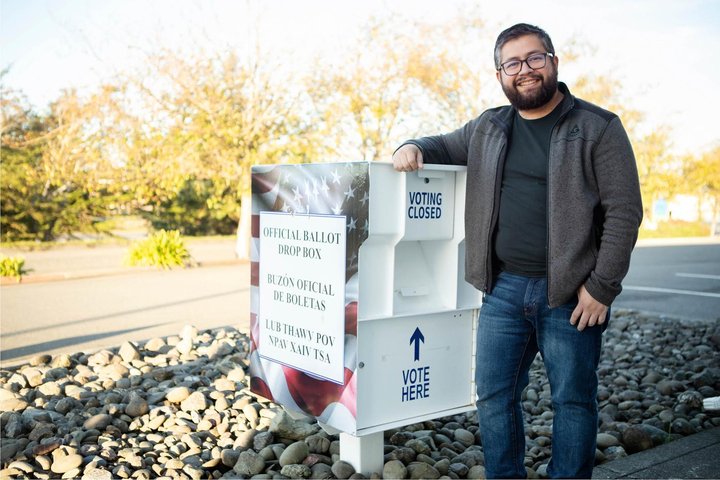 ###
News comes to us this Friday morning that a challenger has arisen for the office of Humboldt County Clerk-Recorder/Registrar of Voters. Juan Pablo Cervantes will challenge incumbent Kelly Sanders in next year's election.
CORRECTION: Turns out Sanders will not seek re-election. She told the Outpost this morning that she originally planned on sticking around for a third term in office (she's about a year away from wrapping up her second) but decided she's ready to move on to other chapters.
"You can buy a lot of things in life but you can't buy more time," she said.
Sanders has worked in the county Elections Office since 2005. She was elected in 2014 and her second term will end in January 2023.
Here's a press release from the Cervantes campaign:
Today, Elections Specialist for the Humboldt County Office of Elections, Juan Pablo Cervantes, announced his candidacy for the office of the Clerk, Recorder & Registrar of Voters. On December 4th, the public is cordially invited to come by the campaign booth at the December Arts Alive! event in Eureka to get to know the candidate.

"I'm running for County Clerk, Recorder and Registrar of Voters because I'm passionate about transparent, accessible and efficient government. The previous two recorders have been paragons in fulfilling those same values and I believe that I can build on the foundation that they've set.

The past few years have highlighted the importance of transparency, accessibility, and efficiency in local governance. Whether that's in combating misinformation with increased transparency, furthering access through online services, or finding efficiencies in how we do business that allow for more staff time to provide person-to-person help navigating bureaucratic processes.

I'm committed to ensuring that this office continues functioning with the public at the forefront of our policy making." Cervantes said.
This is one of several offices that will be on the ballot for the June 7th, 2022 Gubernatorial Primary Election.

The office is comprised of two main roles:

The Clerk-Recorder is responsible for the maintenance and accuracy of vital records of the residents of Humboldt County; records that establish the facts of birth, death, property, ownership, contractual agreements, and wills.

The Registrar of Voters is responsible for the operation, administration, and direction of the Elections Office, with primary responsibility for the registration of voters, the holding of elections, and all matters pertaining to elections for the people of Humboldt County.

In these two capacities, Juan Pablo looks forward to continuing the tradition of democracy and accessibility in Humboldt County. Please direct all inquiries and comments to electjuancervantes@gmail.com.