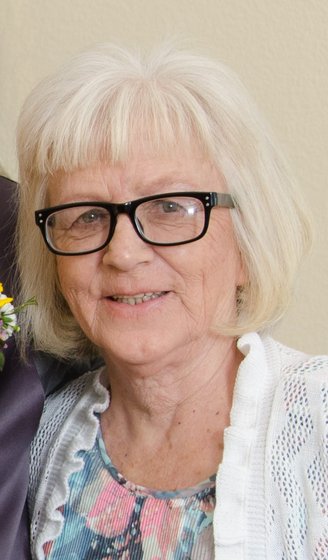 Lola Ann Bailey was born on December 16, 1943 in Burnt Ranch to Violet Green Bailey and John Westley Bailey Sr. She passed away on November 29, 2021, at the age of 77 years old, surrounded by her family. She was a Yurok Tribal Member and resided in Hoopa most of her life.

Lola enjoyed reading, gardening, playing the slots and talking on the phone with family and friends. She liked to travel, and watch her family play at sporting events. Lola had a big heart and was kind to everyone she met.
Lola received her Associates Degree in Business graduating from College of the Redwoods. She worked at Hoopa Elementary for 35 years, creating special bonds and taught three generations of children.
She leaves behind her sons Leonard "Chum" Bailey (Taylor) and Michael Bailey Sr. (Falona). Her brother George Bailey Sr. (Dona) & family and sister Linda Crawford (Wayne King) & family. Her Grandchildren; Shalissa, Shantel, Shantae, Brandon, Michael, Denzel, Nate, Nellie, Kylee, Charles, Khoko, Robert, Lola, Elaina, Liam, Chinook, Eliyanah, Jerimiah, great-grandchildren; Keyden, Mila, Kenny and Aiyana, and numerous nieces, nephews and relatives, to many to list. She was proceeding in death by her parents, her brothers, her nieces and nephews and her partner, Wally Kingsly.
We would like to give special thanks to St. Joseph Hospital and K'ima:w Staff that provided her with excellent care.
A viewing will be held on Friday, December 3, 2021, from 1 p.m.-3 p.m. at Paul's Chapel in Arcata. Graveside services will be held on December 4, 2021, at the Green Family Cemetery in Burnt Ranch at 12 p.m. The reception will be immediately following the services at The Hoopa Fire Department.
Paul Bearers: Leonard Bailey, Michael Bailey Sr., Babs Bailey, Brady Brink, Brandon Bailey, Charles Sorrell, Minot Moon, Orico Bailey, Sherman Norton, Uriah Chang, Woodie McCovey.
Honorary Paul Bearers: Her Grandsons, Benton McCovey, Chalite Bailey, Clifford Ferris, Dale Lara, Daniel Bailey, Gary Carrigan, Gary Colegrove Jr., George Bailey Jr, Jake Reed, JD Gerstner, Justin Cover, Lawrence Orcutt, Lincoln Ammon, Lincoln Jackson, Loren Norton, Lyle Jackson, Michael McCovey Jr. Mike Lente, Mikywe Jackson, Murphy Green, Pete Lara, Richie Smith, Rocky Reed, Roger Bailey, Silish Jackson, Slyvester Brown, Virgil Moorehead, Wally Weaselbear, Wayne King.
Thank you for understanding if we left anyone out.
###
The obituary above was submitted on behalf of Lola Bailey's loved ones. The Lost Coast Outpost runs obituaries of Humboldt County residents at no charge. See guidelines here.