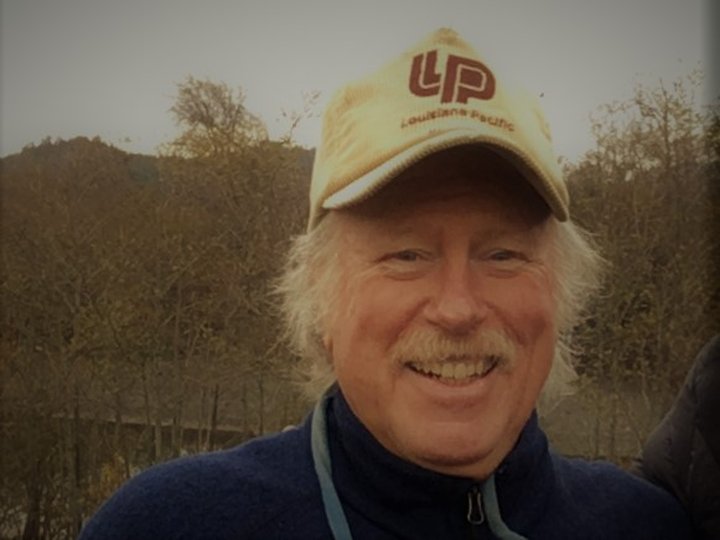 Rick Harvey Tolley
Dec. 25, 1948 - Oct. 5, 2021
Rick Harvey Tolley was born was born on Christmas Day, 1948, to Ralph Manning Tolley and Dorothy Mae Tolley in Gridley, Butte County, California. The first of three sons, he was an energetic and enthusiastic child who loved exploring the outdoors. The family shared many camping trips with friends, which began his lifelong love of the great outdoors and the natural world. He was very athletic and enjoyed playing multiple sports including baseball, football and especially basketball. Rick was involved in Boy Scouts of America becoming an Eagle Scout and achieving The Order of the Arrow, of which he was very proud.
The Tolley family moved to Sacramento when he was in fifth grade. He later attended and graduated from La Sierra High School in Carmichael, California where he lettered in several sports including track, basketball, and football. He served as Student Body President during his senior year (1967) and was chosen as an Outstanding Youth for the Sacramento County.
Rick attended CSU Sacramento majoring in Government. It was a very political time during the Vietnam War and Nixon era. He joined the Students for a Democratic Society and began his lifelong commitment to social justice. This was also a time of growing environmental movements which played a major role in his ongoing environmental and conservation values.
In 1973, Rick married Melanie Zelle. They were friends since their high school years where they first met in geometry class sophomore year. When he later showed interest in taking the relationship in a romantic direction, Melanie was initially reluctant, not wanting to hurt their friendship. Both later credited their friendship and its good communication and mutual respect as the secure foundation of a lasting and happy life together. He described their relationship as "A lifelong conversation."
Rick began his working career in recreational planning. He then worked as a student counselor in high schools under a grant from the National Institute of Mental Health. His great appreciation and compassionate understanding for adolescents began at this time. Rick enjoyed mentoring many young people over the years and was fondly remembered for providing attention, guidance, and opportunity to those when they most needed it. Rick became a builder because he always liked creating things and identified as a "maker."
In 1976, Rick and Melanie put their things in storage, packed up their van and went in search of a new home with a list of things they were looking for: better weather, coastal environment, a greater interface with nature, bookstores, a university, and good food. Humboldt County fit the bill and so they relocated staying with friends until they established work. Rick began his thirty-plus year career in construction, doing everything from the ground up to custom homes and fine woodworking. He excelled in creating beautiful custom cabinets and presenting the "beauty in the wood by matching the grains."
Rick and Melanie had two children — Matthew Tolley, their son, was born in 1979 and their daughter, Terra Tolley in 1982. Rick always had a special way of relating to children and absolutely loved being a father. He taught his family to explore and appreciate nature with hiking, camping trips, river rafting and swimming, snow trips for skiing and snowboarding. He always included his children's friends who might not otherwise have the opportunity and made friends feel like family. Rick was a wonderful mentor, creating an environment of acceptance and adventure. He was the memorable father who would take a gaggle of junior high girls and teenage boys snowboarding at Lake Tahoe when no other parent found such a task as enjoyable.
He had many interests and hobbies throughout the years: photography, music, leather working, coaching basketball, backpacking, yoga, back country skiing, gardening, drawing, and painting. When diagnosed with lung cancer he quit woodworking to explore his passion for painting. He combined this with his love of nature and spent the last five years of his life in search of natural beauty to paint. He made friends with many local artists and had wonderful times painting favorite locations. He often said these last years were very happy because he was free to do what he loved by "following his bliss". He delighted in sharing stories of his travels to Hawaii, Mexico, Herzegovina, and Italy to pursue his love of art, history, religion, music, and friendship.
Rick had incredible, strong friendships and valued his friends deeply. He loved working side by side with Stephen Rice and painting with the "Usual Suspects." He wanted to encourage the passion for art and basketball in his grandchildren and sang to them since birth. His happy place was sitting among the roses in the garden with his wife, overlooking the Mad River, and watering his garden and grandsons with the gardening hose.
Rick had an easy way with people and an appreciation for life that was unique and special. He considered himself a "renaissance man," working the trades by day, enjoying sports by night and painting every chance he could. He had many "Rickisms" that will be remembered fondly by those who knew him. Rick always had an easy smile, wonderful sense of humor and a rare ability to communicate his love as a man. He gave the most incredible bear hugs and was truly one of a kind.
Rick is survived by his wife, Melanie Tolley, his son Matthew (Monica), daughter Terra (Tom), grandchildren Alek, Leland and Rosalynn Lukins, grandson Esko Haynes-Tolley, his brother Bruce (Kim), Paul (Diana), nieces Annastasia Tolley, Emma Tolley, and nephews Nathan Tolley and Bill Gollihur (Julie), great-niece Ella Gollihur, and sister-in-law Valerie Donner. He is preceded in death by his parents Ralph and Dorothy Tolley. The family would like to express our gratitude to Hospice of Humboldt and everyone who has supported us during this challenging time.
There will be a celebration of Rick's work and life and a benefit show for his family on January 1, 2022, at C Street Studios in Eureka. Please contact Paul Rickard for more information.
###
The obituary above was submitted on behalf of Rick Tolley's loved ones. The Lost Coast Outpost runs obituaries of Humboldt County residents at no charge. See guidelines here.