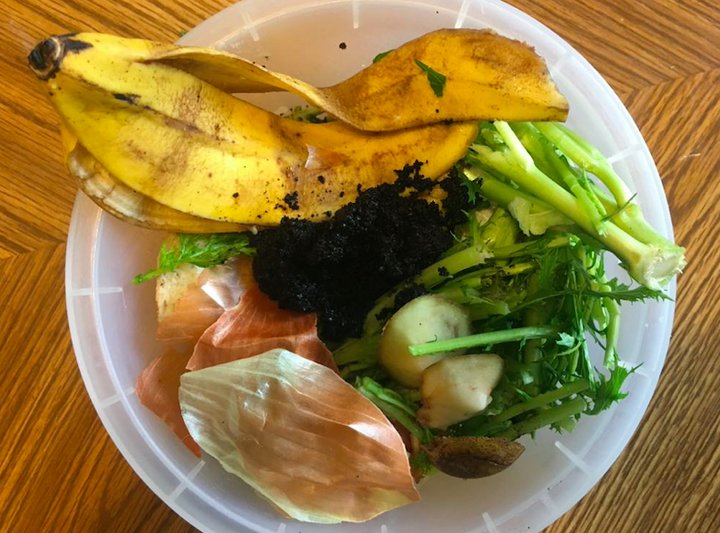 The new year is upon us and if reducing your waste was not already one of your new year's resolutions, it is something you will soon need to think about thanks to a new California law that will require you to keep your food scraps out of the trash.

California's Short-Lived Climate Pollutant Reduction Strategy – also known as SB 1383 – takes effect in January, 2022 and will require city and county jurisdictions to compost their green waste, such as food scraps and yard debris, in an effort to reduce the release of greenhouse gasses emitted by organic materials decomposing in our landfills. And although our local waste management agencies, including Humboldt Waste Management Authority (HWMA) and Recology Humboldt County, do accept people's yard waste, they do not currently provide a composting service for food scraps.

Aware that this legislation was coming down the pipeline, the Humboldt County Solid Waste Local Task Force – which includes representatives from our local municipalities – has been working for more than a year on reviewing the legislation guidelines and creating a plan for coming into compliance. Emily Benvie, deputy of environmental services for the City of Arcata and member of the task force, says that rolling out the necessary changes will be no easy feat.
"Especially given the rural nature of Humboldt County, it's huge legislation," Benvie told the Outpost of SB 1383, adding that California's Department of Resources Recycling and Recovery (CalRecycle) posted the compliance guidelines in November, 2020. "Between the publishing of guidelines and the deadline for enactment, there hasn't been much time for municipalities to sort through everything."
And SB 1383 is definitely huge legislation. In addition to requiring California cities and counties to provide organic waste pickup and processing, the law requires jurisdictions to reduce waste by establishing food recovery programs (which require food service businesses, like restaurants and grocery stores, to donate edible food) and by using composted or recycled products – such as compost, mulch and renewable gas – for city projects. The bill also outlines new recordkeeping requirements for waste management facilities, requires regional capacity planning and requires jurisdictions to conduct extensive education and public outreach.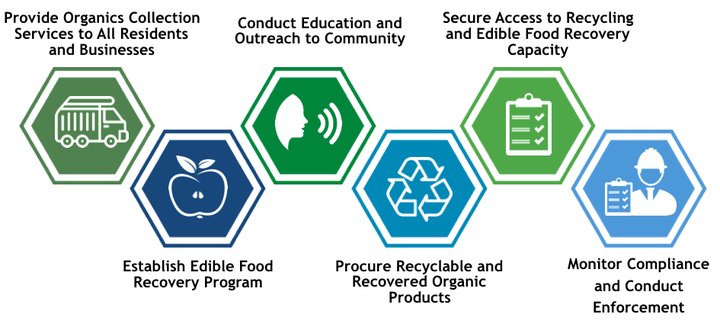 This all might sound like a lot, and it kind of is, especially considering the new regulations technically go into effect on Jan. 1 and, clearly, Humboldt has not made all of the necessary changes. Luckily, Calrecycle understands that implementing these changes will take longer for some jurisdictions than others. Benvie explained that Humboldt has been granted more time to come into compliance and needs to show that it has a comprehensive plan and timeline in place to meet the requirements.

So where is that plan? Well, Benvie told the Outpost that it is still in the works, but will be released very soon. A few months ago, the county task force developed an ad hoc committee to address SB 1383 and the committee decided to enlist the help of a third party consulting firm. With HWMA working as the lead agency, the committee just recently contracted with Edgar and Associates – a Sacramento-based environmental engineering company and lobbying firm. The firm has been tasked with developing a "compliance roadmap," Benvie said, which should be released within the next month.

Though the official plan itself is not yet complete, Edgar's service proposal includes a rough timeline for developing a plan that would largely have Humboldt in compliance by the end of 2024. Some enforcement will take place on a regional level, while some will fall on individual cities and require adopting ordinances. Lower population municipalities, like Blue Lake and Rio Dell, however, will likely be granted exemptions, giving them until 2027 to comply with the new legislation.

One of the biggest components of the legislation and the first area the consulting firm plans to address is establishing organics collection services, which will eventually mean all residents will have a three bin pick-up system – with separate bins for trash, recycling and compost. Changing this system will be a big undertaking, since Humboldt does not currently have the infrastructure in place to process food scraps and Linda Wise, general manager of Recology Humboldt County, told the Outpost that it will probably take a while to get something like that in place. Wise is still not sure how it will all look but said it's possible that local waste management agencies will need to take compostables to an outside facility – similarly to how Humboldt's waste is transported to landfills outside of the area or how Recology transports residents' yard waste to Wes Green Company in Arcata.

In addition to the question of where the County will process our compostable materials, the change brings up many other questions: Will this additional service require an increase in rates? And what about residents who do their own composting or who use a different composting service? Will they be able to request an exemption?

Hesitant to provide much information yet on this ongoing process, HWMA's new executive director, Peter Fuller, said that the answer to most of these questions is "we just don't know yet." Donna Wood, community service director for the City of Eureka and a member of the local task force, was able to tell the Outpost, however, that for people who choose to opt out of the service "exemptions will likely be looked at" as part of the planning process. Wood said that the City of Eureka will focus a lot of energy on public outreach in the coming months to try to gauge the community's needs when it comes to some of those factors.

Another big part of the legislation is establishing food recovery programs, which will require food service businesses – like grocery stores and restaurants – to collect edible food that would otherwise go to waste and redistribute it to feed people in need. This component of SB 1383 will be rolled out in stages. "Tier one" businesses – including grocery stores, food vendors and food distributors – are required to start food recovery Jan. 1, 2022, whereas "tier two" businesses – including restaurants, hotels, hospitals, schools and events venues – need to start in January 2024.

Many of our local businesses already utilize food recovery programs, with local food banks like Food for People collecting edible food from local grocery stores like the North Coast Co-op. But Wood says that more outreach will need to occur with local business owners before we can accurately say how many businesses do or do not already donate their food to local food recovery programs.

Though the City still has a lot to figure out, Wood feels that Eureka is in a good position and says that the regional efforts have been successful. "Even though cities won't be taking the same exact measures, no one has to feel like we're alone in navigating this effort," Wood said. "We're all going to get through it together."

Outreach and education are going to be a huge part of Humboldt's ability to wade through the changes that come with SB 1383 and teaching people how to properly dispose of their food scraps will likely be one of the biggest challenges. Wise told the Outpost that preprocessing is one of the largest and most time-consuming aspects of waste management. Recycling is full of contaminants and people place many things in the recycling that aren't actually recyclable. Luckily, another piece of California legislation – SB 343 – enacted this year targets this issue by banning non-recyclable plastics from carrying the recycling symbol. But it certainly won't address the issue entirely and Wise anticipates that this will be a difficult aspect of processing compostables as well.

"It won't come in a form that's ready to compost," Wise said. "We have to separate things and take contaminants out – banana stickers, mayonnaise packets."

Wise says that, although residents will not be required to start putting their compostables in a different bin right away, now is a good time to start preparing yourself for the transition by making changes to your habits that help reduce waste and help make waste management workers' lives a little easier. If you produce lawn clippings or other yard waste, you can start by adding the current green waste pickup to your service. Try to be better about only placing things that are actually recyclable in your recycling bin and be sure to remove stickers or labels from your containers. More than anything, Wise suggests that we all focus on reducing our consumption and trying to avoid putting things into the compost, recycling or landfill in the first place.
"We all just need to buy what we need and nothing more," Wise said. "If you're going out to dinner, or going to the grocery store – plan ahead. Think about what you really need. It's better for your pocket book, it's better for these programs and it's better for the environment."
###
CORRECTION: A previous version of this article stated that HWMA provides pickup service for yard waste. HWMA accepts yard waste at its transfer station, but does not offer pick up services of any kind. The Outpost regrets the error.