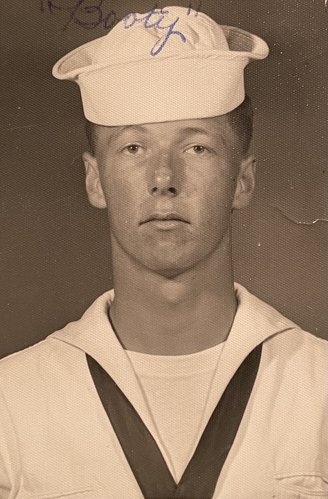 Donald Gene Buchanan was born on August 5, 1940 to William and Charlie Buchanan, in Twilight, Oklahoma, he was 81 years old. Don passed away peacefully in his home on December 16, 2021 in Eureka. We will have a Celebration of Life/Funeral for Don Buchanan on January 7, 2022, at 2806 Dolbeer St., Eureka. The service will start at 11 a.m. with a graveside service immediately following.

Don was born in a small house in the middle of a cow pasture in the community of Twilight, Oklahoma. He spent most of his life in Oklahoma. When he was in High School they would close the school when the cotton was ready to be picked, then the high school students would help to pick the cotton. Don and his cousin Jerry joined the Navy a short time after they graduated High School. He served during the Vietnam Conflict.
He meet his loving wife Peggy Young in California while he was in the service. They were married on June 21, 1963, and enjoyed 58 years together. They settled in El Centro for a short time then moved to Indio, where he worked as an employee of the Federal Government. Don received a promotion as a manager of the Agriculture Stabilization and Conservation Service which moved their family to Eureka in 1976.
Don loved serving in The Church of Jesus Christ of Latter Day Saints as a Scout Master, a member of the Eureka Ward Bishopric, Sunday School President, and other various positions. His last position was in the Family History Center (Genealogy Library) where he loved to help others trace their ancestors.
Don will be remembered as a wonderful and loving husband, father, father-in-law, grandfather, great-grandfather, uncle, leader, and friend. He was preceded in death by his parents and 14 older siblings, one daughter Lucinda, and son William. He is survived by his wife Peggy Buchanan and their children Jeffrey Buchanan (wife Laurel, children Rhys, Peyton, and Cole), Kathryn Luna (husband Michael, children David & Jenn, Daniel & Zoe, Blake & Amy Luna-Beltran, Kohan & Saili, Joseph & Hannah, Brayden, and Sarah), Ryan Buchanan (wife Maria, children Catja, Nickolette & Keefer Kocherhans, Francesca, Antonio, and Freya) as well as his Great Grand Children Adyson & Lief Luna, and Harper & Rilie Luna. He is also survived by his brother Clarence Buchanan (wife Cherill) and several Niece's and Nephews.
The family would like to thank the Veterans Administration for all their help and support, Hospice and Agape for their care, making Don transition at the end of his life much easier.
The family deeply appreciates your kind expression of sympathy in their time of great sorrow.
Love all whom you hold dear,
Precious is the time you share,
Do not wait for tomorrow,
For tomorrow may not be…
###
The obituary above was submitted on behalf of Don Buchanan's loved ones. The Lost Coast Outpost runs obituaries of Humboldt County residents at no charge. See guidelines here.