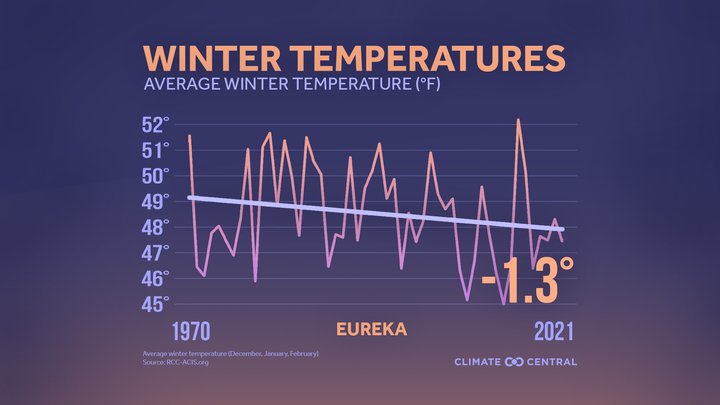 While much of the earth is heating up, data shows that Eureka winters are getting progressively colder.
Of the 250 U.S. cities studied by Climate Central — an independent organization of climate change researchers — only five have experienced colder winters on average since 1970: Eureka; Biloxi, Mississippi; Denver; Idaho Falls, Idaho and Marquette, Wisconsin.
While uncommon, Deputy Director of Climate Resilience for the California Department of Water Resources John Andrew told the Outpost that Eureka's climate trend isn't unexpected.
"We never expected climate change to be the same everywhere, and our experience is confirming that perspective," Andrew said. "While winters are generally getting warmer, it is not unusual that specific locations are exceptions to that rule. And even places that are warming on average can still experience cold events in winter, sometimes severe ones."
During the last 51 years, Eureka's average winter temperature has dropped by 1.3 degrees Fahrenheit. While experts were unable to give a more definitive answer without proper research, local NOAA meteorologist Matthew Kidwell told the Outpost that this trend is likely related to Eureka's proximity to the Pacific Ocean.
"Temperatures in Eureka are driven by different factors than inland areas due to the proximity of the ocean," Kidwell said. "One example of that is the past few weeks. The coastal clouds have kept the temperatures at the coast below normal while the inland areas have been above normal. Beyond that, it is difficult to say without doing more research."