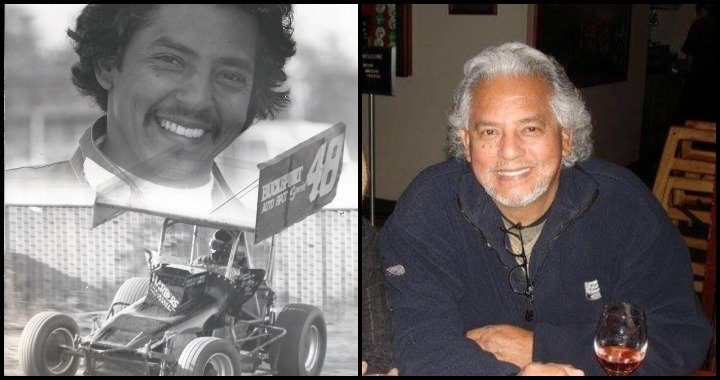 Wallace "Wally" Martins Jr. passed at his home surrounded by love on November 30, 2021 due to complications from leukemia. He was born October 23, 1948 in the beautiful valley of Hoopa — Natiniwh, place where the trails return. He was a proud Hoopa Valley Tribal member and will be laid to rest in Hoopa on December 11, 2021 alongside his parents Wallace William Martins Sr. and Pauline Opal Campbell, and the Campbell family.
Wally's family moved to Eureka when he was very young. He attended Eureka City Schools and College of the Redwoods. He participated in little league baseball, football, and theater activities. Wally had many good childhood friends, a few of these included Jerry and Tim Jacobson, Bill Hunter, Vince and Bob Freemantle.
His big brother (in-law), Jack Thompson was more than family, he was his role model. "Unc" was a pinnacle part of Wally finding his love for speed. He taught him how to be a man and showed him many ways to have fun. They were long time members of FarWest motorcycle club and raced flat track on Ossas and Triumphs at numerous tracks including Hoopa, Willow Creek, and French Camp. A few of his racing buddies included Wayne Bower "Wizard", Dennis McFarland "Chicken", Jay Stradley "Jay Bird", Brack Zollo "Toad", Scott Sinclair "BS" and Ron Matsen. He also raced enduros, hare and hound, numerous trail rides at the Farwest property in Kneeland.
He was drafted in 1969 and Served in the US Navy. Wally was stationed at Pearl Harbor submarine base until 1972. Before reporting to his station, he married his love, Margie Barnard, and she and their daughter Tosha moved to Honolulu to be with him.
Upon their return to Eureka, he worked for Honda of Arcata and Richard Miller Motorcycles before Jim Lowe told him about Cal Farm Insurance. Wally studied and obtained his insurance license and began his 50-year insurance career. In 1978 he was hired by Maurice "Red" Shaw to work at Shaw & Petersen in Eureka. He looked up to Red as a mentor and always held a special place in his heart for him. Wally began working with Red's son, Pat Shaw. The Shaws bought Harbers Insurance Agency in Fortuna, (a two-person office) and asked Wally to run it. He then became a co-owner of Harbers and his 40-year partnership with his friend Pat began. Harbers employed 15 people when he retired in 2001. He and Pat had a hell of a lot of great days and nights. Even if it was a "bad" day they made it a good one together. They were the true meaning of partners. They were there for each other, utilizing their different strengths to run multiple successful businesses, enjoying lots of play time, and having the toys do it right.
Wally and Margie were married for 12 years living in and being a part of the Fortuna and Eureka communities, as well as their summer place in Hoopa. Many cars and lots of motorcycle racing, they shared many good times together and a lifetime of dear friendship as they continued to raise their daughter together. Later they gained a son-in-law C.J. Bowling and a grandson, Jesse.
Wally met Cheryl Hurst in 1986 and they were married until 1994. They enjoyed his car racing career and traveling. He loved her and her family. His step kids, Saunda and Cory Price remained special to him his entire life.
In 1981 Tim Marsh introduced him to modified race cars. He saw "sucker" on dad's forehead and the story was written the first time he saw a race. Next thing you knew he was in Sacramento with a trailer and bringing back a "slightly" (ha ha) used modified and a whole lot of used parts. Beginning in a one car garage he spent hundreds of nights of "tools and parts slinging". Steve Sells was his racing partner for 15 years. His crew included Wiz, Ernie DeCarli and other great supporters and friends. Racy Casey, Scott Stephens, Vic and John Blanc, Scott "Animal" Teasley just to name a few. Together they won the 1981 Modified Track Championship at Redwood Acres.
In 1997, Wally rekindled the flame he had in junior high with classmate Beverly Bingham Buckland. They built their home in Palo Cedro, California in 2001 and spent 24 beautiful loving years together. He was blessed with three more bonus daughters, Lisa, Mandie and Holly. Wally had a total of six grandchildren and three great grandchildren.
Bev and Wally's life in Palo Cedro and Redding was a full-tilt boogie. They enjoyed concerts, many great parties with friends and family at home, a Mexico cruise, and many motorhome trips with good people. They were co-founders of The Nationals Harley Club in Redding and enjoyed their Harley runs, trips to Street Vibrations in Reno, decorating the float for the Redding light parade and winning best float award. These times were special because of the people they were with, their big family and numerous friends, to name a few- Mike Marciano, Sharon Smyth, Rocky Marciano, Lee and Colleen Kline, Martin and Pam Graeff.
Wally was a proud veteran and like other endeavors in his life he wanted to help. His work with many veterans in the Redding area was an honor. He enjoyed that "work" the most.
In recent years, Wally also enjoyed traveling to see Chase McFarland race street bikes with the pros and helping Beau Layne, his wife Johanna, and his team as they ran the NHRA Top Fuel Harley season.
He enjoyed fast women, fast cars and fast motorcycles, not necessarily in that order
He's survived by his siblings, Constance "Connie" Thompson (Martins), Jackie Martins, Cheryl Martins, Wayne Martins (K.D.), Patricia Andrew (James), Jackie Bainbridge. Preceded in death by brother Mel Martins and brother-in-law Jack Thompson.
He is also survived by his love Beverly Bingham Buckland and Lu (their doggie) Children: Tosha Martins-Bowling (CJ Bowling), Lisa Scott (Randy), Mandie Jaso (Tom), Holly Buckland (Jean Guyot) Nieces & Nephews: Loren Thompson (Missy), Brent Thompson, Joy Hostler-Herrera (Marco), Jeremy Johnson, Lateese Denton, Robert Warner, Ali, Tiffany, Elijah Dancy Grandchildren: Jesse, T.J., Tess, Jonah, Judah, Cameron and Great Grandchildren: Hadley, Hudson and Jackson
Graveside service will be held December 11, 2021 at Hoopa Cemetery on Highway 96 at 12 p.m.
###
The obituary above was submitted on behalf of Wally Martins' loved ones. The Lost Coast Outpost runs obituaries of Humboldt County residents at no charge. See guidelines here.