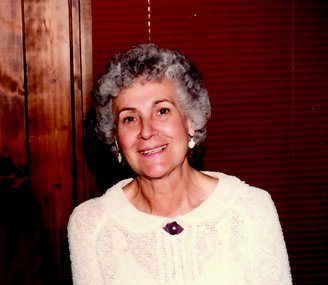 Mary Marie Carson (Picchi) was born at home in Korbel on August 22, 1921, and died 99 years later at her home in Arcata on November 9, 2020, of natural causes. She was the daughter of Zelindo and Elena Picchi, immigrants from Paganico, Italy, who came to America via Ellis Island in 1920.

When she wasn't in school at Arcata High, Mary was busy working at her aunt and uncle's restaurant and hotel, the Buon Gusto (known as the Eagle House today). After high school, Mary and her sister, Lily, became owners of Bordens Ice Cream Parlor on the Arcata Plaza. Bordens became a hub of activity during difficult but memorable times: WWII air raid drills (Mary and her sister were air raid wardens), rationing, the loss of loved ones to the war.
During this time Mary met her "sailor boy," Jack Carson, from Nashville, Tennessee, who was based at the navy air station in McKinleyville. Mary and Jack were married at St. Mary's Church in 1945, and they welcomed their dear son, Mark, a few years later. Mary's most creative times followed. Her artistic gifts flowed through her hands into the creations she sewed. Pattern, or no pattern, reconstructing, altering, designing — her talent was a marvel to behold. Following in the footsteps of her mother, Mary was the "go-to" seamstress for so many in Arcata. Wedding gowns were a particular specialty of hers.
Mary's communities were always important to her and she devoted many hours supporting her neighborhood Sewing Club, as well as her parish, St. Mary's Church, and its affiliates: St. Mary's Catholic School, Altar Society, Ladies Guild, and the Appennini Lodge. Saturday nights were set aside for dressing up "to the nines" for dinner and dancing at the Big Four Inn or the Deluxe Club, progressive dinners, birthday parties, poker games, and going to shows. Also important to Mary and her extended family was their cabin in Willow Creek, California, which provided memories for a lifetime. These were known as the "Glory Days."
Mary and Jack were married for 65 years. After his passing, Mary continued to live in their home where she became the neighborhood grandmother to so many. She loved children and always had a full cookie jar and a bowl of candies to share with them. Her neighbors became her extended family and her kindness was rewarded through the love and the care they gave back to her, often in the form of homemade soups, Portuguese sweet bread, her favorite jello salad, breakfast casseroles, lemon squares, roast chicken, and Kahlua cake.
Mary is preceded in death by her parents, Zelindo and Elena Picchi; her mother-in-law, Gertrude Carson; sister and brother-in-law, Lily and Dick Boemker. She is survived by her son, Mark, daughter-in-law, Jane, and grandson, David; her niece, Dede, and her children, Jonathan (Noel), and Cristina (husband James and son Louis).
Special recognition goes to Dr. Senffner and his staff for decades of attention; Eleanor King and Jeri Nicholas for their years of loving care that allowed Mary to live in her home until her death; her niece, Dede, who loved cooking for her aunt and uncle; Fred Vanni, a forever friend; Mary's neighborhood family.
Mary was loved by many and we miss her. To honor her memory, reach out to those you cherish, tell them you love them, and be kind to your neighbors.
Condolences may be emailed to: MaryCarsonFamily@gmail.com.
###
The obituary above was submitted on behalf of Mary Carson's loved ones. The Lost Coast Outpost runs obituaries of Humboldt County residents at no charge. See guidelines here.