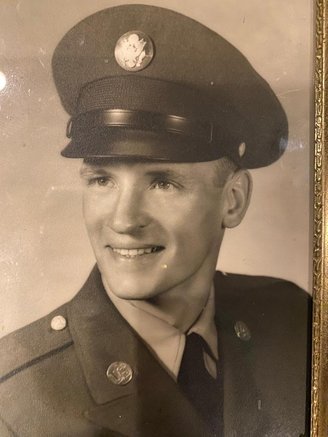 Billy Ray "Bill" Rist, 84 passed away on Jan. 23, 2021, in Eureka. He was a long-time resident of Humboldt County. He also lived with his beloved wife, Gloria Rist, in Hawkins Bar for several years.

Bill was born in Washakie, Wyoming to Irwin and Mary Rist. At a young age his family moved to Washington State and then migrated to California for employment. He enlisted in the Army and served in Korea. He was assigned to the 76TH Engineering battalion. He was a very gentle soul and touched many lives, especially his grandchildren.
He leaves behind the love of his life, Gloria Rist, a daughter, Natalie and husband Michael, sister Karen, five step daughters, Faith, Karen, Robin, Leaha, and Sarah. His grandchildren, Angel and Johnnie, Rachel Norton, (Jake) and great grandson Ben. Cassidy, Kenna, Daniel, Connor, Paige, and numerous others. He had a special bond with Rachel and Daniel.
Rachel met grandpa Bill when she was three and they loved each other deeply. She loved to cuddle with him and he was an amazing grandpa. There are many pictures of him hugging her and holding her and big smiles from the two of them. Daniel and Grandpa Bill have a military bond like no other. Grandpa Bill gave love and advice to Daniel prior to Daniel going into the Marines. His life experience from his days in the Korean war helped guide Daniel and keep him safe. On his return home from deployments there were many heart felt exchanges that will always be in Daniels head and heart. He will be sorely missed. Bill was an amazing wood worker and made many beautiful cabinets and dressers. Bill met the love of his life in 1993. I have to say that Gloria and Bill had a love like no other. When they met, he worked at Kenworth Trucking as a Diesel Mechanic and worked there for many years. Gloria was a nurse. They met through his sister Karen, who was Gloria's friend and neighbor. The two of them were inseparable. The following is a look into their life and Bill's personality written by their granddaughter Rachel Norton.
There is always that scene in a movie where, whether it be between a couple, a pair of friends, or even a parent and a child, someone will say "I have never loved anyone the way I love you." And it is very sweet and the audience sighs and cheers. I, however, when confronted with these scenes am left going "Okay…. but elaborate." Not that I don't believe the characters are insincere, because they surely are. It's just that when it comes down to it, I could say that line to anyone and everyone I love and still be telling the truth. Because I like to think love is like the snowflake metaphor, where no matter how many similarities there may be, it occurs differently every time. Therefore, I can say with confidence that I have never loved anyone the way I loved Bill…but allow me to elaborate.

I loved how he dealt with every situation with an overwhelming casualness, no matter how extreme or dangerous it may be. For example: For most people having a mountainside collapse under you while you were taking a pit stop on a long road trip would most likely define their entire day. Most would probably give up and go home after that. Not my grandfather though. He climbed back up the fifty or so feet of dirt and rocks that he had just tumbled down, dusted himself off and got back in the truck with grandma, who, if not for Bill looking like he had just fallen off a mountain, (because he die), would have been none the wiser to what had just occurred. They continued the road trip from there. As I said, falling off a mountain would define most people's days, if not their years. For Bill, it was Tuesday.

I loved that he needed to keep busy. I'm sure that the first thing he did when he arrived in heaven was ask if there was anything that needed fixing. If there was anything he could help with. At this point, he has probably built god about 15 aviaries and a new front porch.

I remember whenever I would call, Bill would answer, and I would ask how he was doing. Most of the time he said he was fine, but there was always an "except". Like "Like, I'm fine, except I fell off the roof again and I think I broke a finger." Or, "I'm fine, but my knee is turning a funny color because I dropped a hammer on it, but anyway, I need to get back up on the roof, do you want to talk to grandma?"

I loved how patient he was, because with six children and almost two dozen grandchildren and great-grandchildren that is a gift. That patience probably saved his life on more than one occasion. He took the time to know each of us as we were, and loved us all, even when we acted out or acted unlovable. He understood that was when we needed him the most.

But what I loved the most is how he loved her. My grandmother. There was a quiet fierceness and determination about him whenever it came to her. Whatever she needed, he would either build it, cook it, buy it, or invent it. She would do the same for him. They were painfully adorable together and hopelessly in love until the last minute. If they happen to meet again in another life, I can only wish that they come together a little sooner, so that they can enjoy each other's company that much longer.
###
The obituary above was submitted on behalf of Bill Rist's loved ones. The Lost Coast Outpost runs obituaries of Humboldt County residents at no charge. See guidelines here.