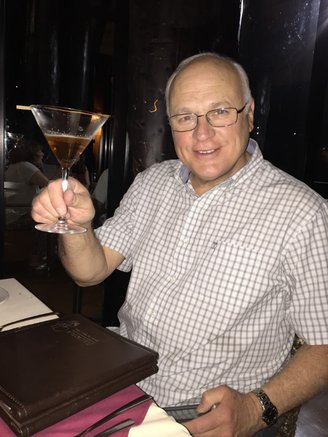 Craig Leo Perrone passed away January 29, 2021 after a courageous and hard-fought battle with ALS (Amyotrophic Lateral Sclerosis or Lou Gehrig's disease) at the age of 73. Craig was born to Leo and Clara Perrone on September 25, 1947 in Eureka.
In his younger years Craig loved and played baseball. He played on the Eureka High School championship teams of 1964 and 1965. Craig enjoyed deer hunting, duck hunting, and fishing. He had a profound love of nature and animals. Craig was a huge boxing fan and attended several Oscar De La Hoya fights in Las Vegas with his daughter Jennifer who shared his love of boxing.
Craig had many passions in life, one of which was his family. He married his high school sweetheart Jeanne Perrone in 1968. They would have celebrated 53 years of marriage this April 26, 2021. Craig and Jeanne had two children, daughter Jennifer and son Jason. Craig had two grandchildren, Malia and Jamin Guilbert. He loved attending their soccer, basketball, volleyball and football games, never missing a chance to cheer them on. Most recently, he attended every high school game for both Malia and Jamin in his electric wheelchair. Wearing his breathing machine, he refused to miss a second, including attending the Dick Nicali championship game at HSU in 2020, to watch Malia hit the game winning shot to clinch the title for Eureka High School. Craig loved spending time together every summer on the family houseboat at Shasta Lake. He despised the heat, and complained the entire time it was too hot, but toughed it out year after year because he loved the quality time with his family. Craig often took the grandkids out for adventures to parks, zoos, shopping, ice cream, pottery painting, target shooting or anything else they told him they wanted to do.
Craig loved business and had a knack for it from an early age. In 1958 at 11 years old he started selling popcorn in the Food Mart parking lot. His popcorn was such a hit with customers Food Mart bought a commercial popcorn machine and put him out of business. They in turn, offered him his first job sweeping sawdust on the floor of the butcher department which Craig quickly accepted. He went on to graduate from Eureka High School and Humboldt State University (Cum Laude) where he received his Lifetime California Secondary Teaching Credential. He intended to become a History Professor. He instead ended up following in his father and grandfathers' footsteps and began a career as a liquor salesman with McKesson Liquor Company and Andrew Rosaia Company.
In 1987 at the age of 40, Craig completed the purchase of Andrew Rosaia Company and changed the name to DelReka Distributing Company. His work ethic, drive and desire to succeed was unparalleled and he worked 60+ hour work weeks for the better part of 25 years. He continued to work until his disease no longer allowed him to. He met many great friends and colleagues over his years in the Beer business. As his illness progressed his close friends sent him texts or emails that he sometimes shared with his family.
His sales supervisor, just two days before his passing, had this to say: "I and all of us here at DelReka miss you and keep the lessons that you instilled in us as a basis of our daily actions. Good is never good enough, there's never enough time in the day, all business relationships do not start with business they start with relationships. We really love you and your family very much and are striving to do our best to make you proud."
His friend and longtime accountant said: "You are a man of passion, integrity, empathy and fun. I will miss you, the strength of your message and mostly, the twinkle in your eyes."
Dave Jensen of Redding Distributing, whom Craig considered a brother, said: "You and only you gave us small distributors credibility with your involvement with CBBD and NBWA. Not sure any of us ever got respect but you did because you earned it. Thanks for helping us when none of us were willing to do what you did."
Finally, Duke Reyes, CEO of Reyes Holdings, the largest beverage distributor in the nation, who served on the California Beer and Beverage Distributors board with Craig, captured who Craig was and who he wanted to be when he sent, "I will miss you. You have been the best of partners when certain people could not behave. You stood and fought the fight with me. You have a great family, great business and the heart of a lion." He was a small distributor yet stood amongst the giants of the industry.
Craig was a strong believer in supporting his community and did so throughout his life. He donated to, contributed to and sponsored many events over the years, the majority of which were anonymous. His professional and community service involvement included:
Chairman, California Beer & Beverage Distributors
Regional Director, 7 Western States, Management Board Member, National Beer Wholesalers Association, DC.
Director, Carrington Company
Founding Director, Redwood Capital Bank
Director, Bank of Loleta
Director, Castle Management Group 50+ Chains
Director, St. Joseph Hospital Foundation and Advisory Boards
Director, Special Olympics
Director, United Way of Humboldt
Director, Eureka Rotary Club
President, Ingomar Club
Chairman, Humboldt State University, President's Advisory Board, 4 years, member 8 years.
Humboldt State University Distinguished Alumni Award Recipient.
Humboldt State University Athletic Booster of the Year Award Recipient.
There was nothing Craig loved more than a good martini, food and conversation. In his final minutes on earth, he signed to Dr. Le he wanted a martini. He loved Christmas, especially Christmas lights. He had a passion for coin collecting and was an avid history buff. He had plans to write history books about the historic bars in Old Town Eureka and to get involved with several local museums in his retirement. He loved to give his friends and family nick names. Malia was "Missy M" and Jamin was "Big Guy" or "Mister Muggles" when he was younger.
Craig never met a stranger, he loved people. He talked to people he had just met as if he had known them all his life. He often enjoyed inviting people to join the morning coffee group he was a part of. If one became a friend of his they would be a friend for life. He had a huge heart, quick wit and a sparkle in his eye that stayed with him until the end. Craig had a huge circle of friends and acquaintances but a small circle he considered family. A special thank you to Dave Furtado, Dave Jensen and Rob Arkley for your continued friendship, visits and texts throughout this very difficult last year. Craig's devotion to his family and close friends was unwavering.
Craig was preceded in death by his father Leo Perrone and his mother Clara Perrone.
Craig is survived by his loving wife Jeanne Perrone, daughter Jennifer and her husband Rico Guilbert, son Jason Perrone, grandchildren Malia and Jamin Guilbert, sister LeAnne Morini, nephew John Elam and his son Tully Elam, niece Janelle Jackson and her children Gregory Jackson, Collin Jackson, and Clara Jackson, and sister-in-law Dee McKittrick, her husband Tony Cutsforth and nephew Steve Hill.
A special thank you to Dr. Long Le of St. Joseph Hospital for providing exemplary care.
Craig had a devout resolution to accept this brutal disease which he could not control. He lived his final days with grace, courage, love and humor. He sent an email to a friend early on in his disease, "While no disease is good, ALS is particularly brutal. It challenges one's endurance and tests one's faith. It is torturous in so many ways. It strips you of your dignity, but I refuse to give in to it. My spirits remain high, and my faith is strong."
He fought a good fight. His love and light will be missed. As he so often told his family in his last tough couple years, "All is well……."
Memorial contributions can be made in Craig's honor for research through the ALS Therapy Development Institute via Go Fund Me at this link.
###
The obituary above was submitted on behalf of Craig Perrone's loved ones. The Lost Coast Outpost runs obituaries of Humboldt County residents at no charge. See guidelines here.