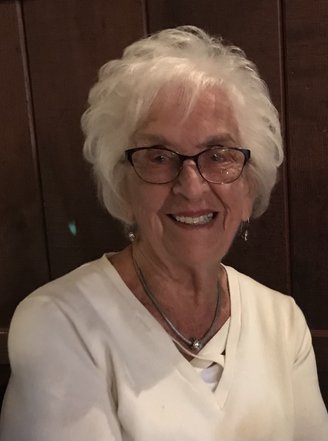 Erla Crabtree Jadro was born May 10, 1929 in Hydesville and passed February 1, 2021 at her home in Fortuna. She was a fourth-generation Humboldt County resident; Erla's great grandparents, Alonzo and Mary Jane Crabtree, traveled by ox team across the plains in 1848, first settling in Lake County and then moving to the Yager Valley in 1910. She grew up on the Crabtree Ranch and attended school in the one-room Redwood House School. Kids in the Crabtree family learned to drive at an early age, so they often drove themselves to school in the family car. Erla cherished memories of her youth growing up on the ranch. This is where her love of family, friends, food, fun and foolishness began. She was number 10 of a family of 11 children born to John and Susan Crabtree; with a family of that size there were lots of reasons for celebrations – birthdays, all holidays (even Groundhog Day), and just the joy of getting together. Erla shared her child hood memories of attending "school house dances" where ranchers from Kneeland, Iaqua, Bridgeville and Yager gathered for dancing and midnight suppers. Erla also fondly remembers coming "to town" every year in July for the Fortuna Rodeo; the annual festivities became a Jadro Family tradition that continues to this day. Growing up in the "hill country" instilled in her an appreciation of the beauty of nature and a lifelong appreciation of Fall leaves, acorns, pussy willows, Spring-blooming daffodils and new lambs in the fields.
She was a member of the Fortuna High, class of 1947 and continued to meet with her classmates throughout her life. She married Paul "PJ" Jadro on May 20, 1949 and the two of them built a life and family in Fortuna. Her life was devoted to being a mother to Paula, Gary, Jon, and Ann. She was actively involved in her children's activities; serving as a Bluebird leader, a Cub Scout leader and a 4-H cooking leader for both her kids and grandkids. Her appreciation of good food and finding a reason to celebrate has been passed to her children and grandchildren. Erla's greatest joy and accomplishment was in being a mother and grandmother. She had a large extended family and valued the relationships with her many nieces and nephews ("Aunt Ursala" to some).
Erla always believed she was incredibly fortunate to have been employed at Fortuna Elementary School District; first as an aide and then retired 28 years later as the Business Manager of the District. Working at Town School was a perfect fit; her love of children and her stenographic/bookkeeping skills led to, not just a career, but also lifelong friends of staff and students. Many students benefitted from the generosity of co-worker, Doris Scalvini and Erla. They made sure students were able to attended school trips, purchase school pictures, get a ride home, or just had an understanding ear. Neither Erla or Doris were above bribing a student to keep them from cutting class so they could graduate.
PJ and Erla spent many years involved with the Fortuna Fire Department and again, many lifelong friendships were established. After retiring she took an interest in researching her Wiyot Indian ancestry. Her maternal grandmother, Mattie Forner Cassidy, was born in 1847; the massacre on Woodley Island was very relevant to Erla. She relished the lessons she learned from the Wiyot tribe. Her retirement also allowed her to spend more time as "Gram" to her seven grandchildren and six great-grandchildren. Time spent at Gram & PJ's house was filled with fun, silliness, and more good food. She passed on important life lessons like, there is pure joy in rolling in Fall leaves, there is peace in talking to trees, you should play with your food, and a little silliness is good for the soul.
Erla's style, humor, and generosity will be missed by many. She is survived by her children, Paula Jadro-Bettiga (Mike), Gary Jadro, Jon Jadro (Karen), Ann Jadro-Bettiga (Kyle); her grandchildren Nathan Barnwell (Wendy), Gail Brady (Bob), Jason Jadro (Stacey), Jevin Jadro, Zachary, Emily, and Wyatt Jadro, and Cole and Clint Bettiga; her great-grandchildren; Nolan, Caleb and Amy Barnwell, Tyler Brady, Jordan Brady, Cole Bettiga, Raelynn Bednar, and arriving in April, Alivia Mona Jadro. She was preceded in death by her husband Paul, her parents, her nine brothers and sisters, her daughter-in-law, Mona Jadro, and many special friends.
The family would like to give heartfelt thanks to the cadre of caregivers, friends, and family that graced Erla with friendship, food, and shared memories. Special thanks to the Visiting Angels, Allison Brown, and Carol Kinser. The family will plan a memorial celebration (Erla would not want us to pass up the opportunity for a party) at a later date. Memorial contributions can be made in Erla's name to Fortuna Rohner Park, 5 Park Street, Fortuna, CA 95540, or the Humboldt County Historical Society, 703 8th Street, Eureka, CA 95501. In Erla's honor take some time to appreciate the beauty that surrounds you, love your family, and find a reason to celebrate.
###
The obituary above was submitted on behalf of Erla Jadro's loved ones. The Lost Coast Outpost runs obituaries of Humboldt County residents at no charge. See guidelines here.